HOUSING TRUST ENDORSES SUPPORTIVE HOUSING PROJECT AT 132 NORTHAMPTON ROAD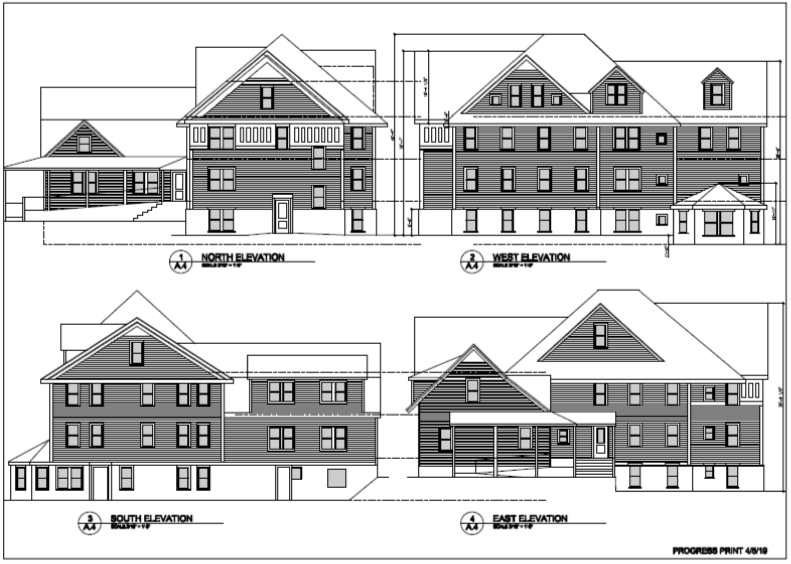 REPORT FROM THE MEETING OF THE AMHERST MUNICIPAL HOUSING TRUST (6/11/2020)
The June 11 meeting of the Amherst Municipal Housing Trust was held via Zoom webcast and was recorded. All members of the Trust participated, along with Amherst Assistant Planner Nate Malloy and Trust staff member John Page.
The Trust heard an update on Valley Community Development's project to construct a 28-unit building for single adults at 132 Northampton Road. Laura Baker, Valley CDC planner, outgoing Director Joanne Campbell, and incoming Director Jane Loechter presented slides portraying the current design and plans for the project, which recently received its Comprehensive Permit from the Department of Housing and Community Development. The project will be presented to the Zoning Board of Appeals on June 25 and probably also on July 2. Public comment is currently being accepted at this link.
The project is essentially unchanged since it was presented at the February 18 Planning Board meeting
The current residence on the property will be demolished. The new building consists of 28 studio apartments, two of which are handicapped accessible. Ten units are reserved for very low income individuals who earn less than 30 percent of area mean income (AMI) ($17,950 per year), giving preference to previously homeless people. Two units are reserved for clients of the Department of Mental Health. Individuals from both of these groups will receive subsidies and have service provider sponsors. Eight units are for those earning 50 percent of AMI ($29,900) and will pay about $740 a month in rent. Eight more units are for those earning 80 percent of AMI ($47,850) and will pay $795 in rent. In response to input from the public, Valley CDC has increased the number of parking spaces to 16 and increased the hours of an onsite Resident Services Coordinator to between 27.5 and 30 hours per week. There is a 35-foot buffer with Amherst College's Pratt Field behind the project.
Trust member Tom Kegelman wondered if the $740 rent for the 50 percent AMI residents is too high. It is higher than comparable rents in Northampton, he said. Baker replied that this rate was adopted in response to nearby residents' worries that there would be too many low income renters. No full-time undergraduates will be allowed to live in the property, but older working adults who are taking classes will be permitted.
As a comparison, Baker presented Sergeant House, a 31-unit studio apartment building soon to open on Bridge Street in Northampton. Valley CDC received 250 applicants for space in the building, 152 of whom stated that they were currently homeless. A lottery will be held to choose who will be given units. Baker stated that there is clearly a need for this kind of housing in the Valley.
In response to other questions, Baker stated that the units will be unfurnished. The aim is to make the building passive energy-certified with triple glazed windows, double thick walls, and photovoltaic panels on the roof. All utilities will be electric. Neighbor Kate Trost voiced some concern about the small outdoor smoking space in the surrounding area. She also wanted to know whether Amherst residents will be given preference. Baker said that the ZBA can specify that up to 70 percent of the residents should live or work in Amherst. Abutter Barbara Wilbur asked about the diversity of the potential tenants. Baker answered that this is usually not a problem with Valley's projects. They publicize the projects in areas where diverse populations live, she said.
The Trust voted unanimously to send a letter in support of the project to the Zoning Board of Appeals. Trust Chair John Hornik said that the letter will stress the need for the project, the reputation of the developer, and the small margin of viability for the project. Other Trust members pointed out the sustainability of the project and the changes made in response to concerns of community members. Kegelman hoped the community would respect the individual lifestyle choices of the potential tenants and not place too many restrictions.
Emergency Rental Assistance Program
The Trust has hired Community Action of the Pioneer Valley (formed by former Northampton Mayor Claire Higgins) to administer the Emergency Rental Assistance program. The contract for $38,500 should be signed in the next few days, and then the program can be publicized. Preference will be given to families.
Family Outreach of Amherst received $50,000 from the Community Development Block Grant—CARES Act to provide services to those negatively impacted by the COVID-19 pandemic.
Lindsay Sabadosa, State Representative from Northampton, and Paul Mark have sponsored a bill to freeze rents during the current pandemic. There is also a bill to increase funding for the RAFT (Rental Assistance for Families in Transition) program. State representative, Mindy Domb and State Senator Jo Comerford support both of these measures.
Malloy reported that the town is working on getting quotes for wetlands evaluation for the East Street School site and Strong Street site (Town owned land, previously considered for a Habitat project). Asbestos assessment will have to wait until town buildings are open, he said.
Upcoming meetings over Zoom are:
Tuesday, June 16 at 7 p.m.: Amherst Affordable Housing Coalition
Tuesday, June 23 at 2 p.m.: Regional meeting of CHAPA (Comprehensive Housing and Planning Association)
Thursday, June 25 at 6 p.m.: Zoning Board of Appeals meeting to discuss 132 Northampton Road
Thursday, July 9 at 7 p.m.: Housing Trust meeting