LETTER: AMHERST POLICE BUDGET SHOULD BE REDUCED BY 52%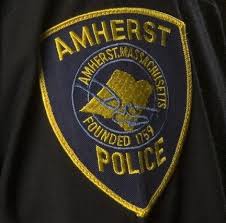 AN OPEN LETTER TO THE TOWN COUNCIL
You state in your June 1st, 2020 Resolution in the Aftermath of the Death of Mr. George Floyd that it is your "duty to use [y]our legal and moral authority to protect all members of our community no matter their race or color or where they fall on the power spectrum. It is our duty to foster a community free of fear, intimidation and violence – a community in which people are not targeted or hurt unnecessarily by law enforcement – and provide equal protection under the law."
I'm writing to you today to urge you to follow through on this promise with real action.
Words only go so far, and a clear and concrete way to support Black lives is to immediately reduce the Amherst Police Department's budget by 52%. This call is not exceptional: the Black Lives Matter movement has issued a national call to defund police departments, and major cities like Minneapolis, Los Angeles, and Seattle are already taking steps to do so.
Policing only compounds public health crises and the terror of this pandemic, particularly for Black, Indigenous, and Brown People of Color, and homeless residents who are disproportionately affected both by the current economic and health emergency and by police brutality.
You might have heard that Northampton is reducing their police budget by 10%, and many other cities around the U.S. are also reducing the budgets of their police departments. Amherst has an opportunity right now to support the Black people in our community with more than words.
But recent conversations about the Amherst town budget have been framed all wrong.
Instead of focusing on how to provide the same level of policing services that we've always had despite our tight budget, we should be honoring the Black folks in our community who say that the Amherst PD actively makes them less safe.
If we disabuse ourselves of the idea that more police presence equals increased public safety – and there's plenty of evidence to show that it doesn't – then we can address the inequities that are harming our community.
It's true – we have a tight budget this year. But there are so many other things we could be spending our money on instead of the police! Things that speak to our values of community support and racial justice. We could use our limited resources to directly help BIPOC people flourish in our community. A few ideas I've heard suggested include: funding community spaces for BIPOC people, starting a Black entrepreneur grant program to support Black-owned business development, investing in the Common Share Food Coop, and increasing accessibility, funding, and routes for the PVTA. But none of that can happen while we continue to invest in policing instead of Black lives.
Some friends and I have conducted some research on how the APD spends its time and money, and here are some data points that we think you'll find informative:
93.6% of the calls our police get are for non-violent behavior that clearly don't require weapons, why aren't these needs filled by EMTs, mental health professionals, or a community resource people? – pg 52 of FY21 Budget Book Final
Only 6.4% of calls are for reasons including: disorderly conduct, resisting arrest, assaulting a police officer, homicide, deaths, rape, and domestic violence.
Source: Fy21 budget doc pg 52: 1,132 calls involving violent behavior/17,483 total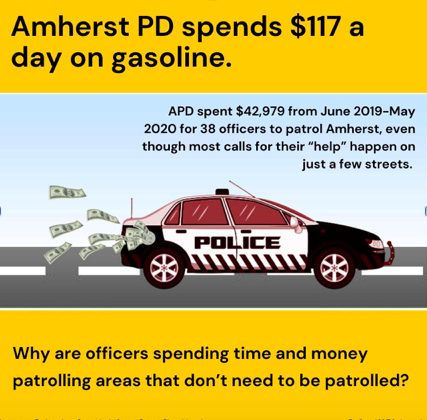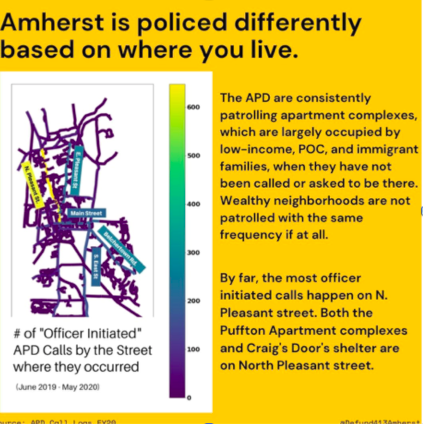 Numbers on the amount spent on gas = $42,979 from June 2019-May 2020 (that's $117 a day for gas) for 38 officers to patrol Amherst even though most calls for their "help" happen on just a few streets – Why are officers spending time and money patrolling areas that don't need to be patrolled. – Data downloaded from the Open Checkbook
Amherst is policed differently depending on where you live. The APD are consistently patrolling the apartment complexes when they have not been called or asked to be there. The richer neighborhoods are not patrolled with the same frequency if at all.

Based on data from the publicly available Police Call Logs, the most officer initiated calls happen on North Pleasant Street (About 600 in the last year, which is double the number of officer initiated calls on any other street in the same time frame.)

Puffton Apt Complex is on North Pleasant
Craigs Shelter is also on North Pleasant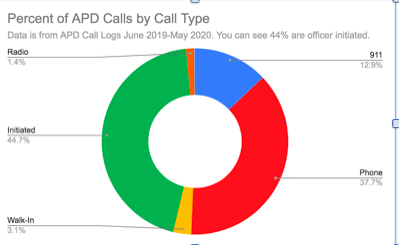 Only 12.9% of activities logged as police calls from June 2019 – May 2020 were initiated by someone calling 911, while 44% of calls were initiated by police themselves.
Because of this reality about policing in our town, a group of community members have joined together to form Defund413 Amherst, under the larger Defund413 network, whose mission is to center "the leadership of Black visionaries who have been working towards police abolition for many decades" and support "BIPOC-led organizing efforts and campaigns to Defund the Police."
Defund413
Amherst has put together the following working list of demands for the FY21 budget to share with the Town Council. We understand that this is only part of a larger and longer conversation that must be led by BIPOC, as the folks most affected by the police presence in our town.
Demands:
52% Cut to the APD budget ($2,677,892), which includes:

Cut $155,625 from APD operating expenses (amount spent in the past year on gas, vehicle maintenance, training, and uniforms)
Cut proposed increase of $108,683 from APD personnel line item (amount for step raises)
Cut $2,413,584 (50%) from the personnel line item, approx. 25 FTEs

Under no circumstances should any of the $2.5 million set aside in delayed capital be spent on the police department.
Do not give any of the 80k set aside in the budget for combatting structural racism to the police department, instead spend it in a community-directed way guided by Black led organizations and community members.
Implement a permanent hiring freeze for the APD.
Freeze all applications for state and federal funds for grant programs for the APD.
Repurpose transferable state and federal funds already received for APD programs and return non-transferable funds.
No money from the Town of Amherst reserves should be used for the APD and policing, even in the event of reduced state aid for the 2021 FY.
Because of the looming budget hearing on July 13th, these demands focus entirely on things the Council can do to amend the proposed budget and direct money away from policing right away. However, as Black organizers and community members have shared, racism is rampant in institutions beyond the Amherst Police Department, and the conversation about how to invest in Black life in Amherst must continue beyond this month's vote.
The community is making their values and commitments clear; we ask that our Town Government do the same.
To hear more about issues of racism and policing in Amherst, I recommend that you follow @countercultureeducator, @youthofblm, @blackamherstspeaks, @blackvoicesumassamherst, and @defund413amherst on Instagram and join the Racial Equity Task Force of Amherst on Facebook.
Zoë Crabtree