Safety Tips And Special Events For Amherst's COVID-19 Halloween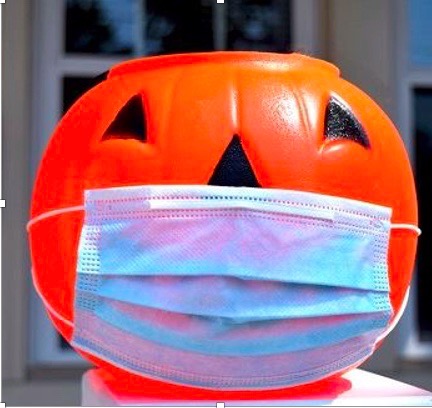 Source: amherstma.gov
Halloween will be different this year and in response to the ongoing pandemic, the Town offers the following advice on how to maximize the health and safety of our children.
The best way to stay safe is to stay home!
However, we all understand that Halloween is an annual event that provides the opportunity for fun and creativity. Not everyone will be able to participate in Halloween this year. Many households will not participate by handing out candy this year because the household may have vulnerable members living there and should not have visitors at their doors.
The Town's LSSE Department is offering several activities to serve as an alternative or supplement to trick-or-treating.
The Town is also providing the following tips to help community members plan for Halloween that is consistent with the best public health and public safety advice. Spread the love, not the virus!
Trick Or Treating
If you feel sick, please, stay home.
Wear a face mask that covers your mouth and nose (even over or under your Halloween mask. (Costume masks are not enough protection.)
Wear reflective material so that drivers can see you easily
Carry a flashlight if you are out after dark for greater visibility
Enjoy Halloween outside. Do not attend indoor events.
Talk about safety expectations before you leave the house.
Plan your route so everyone knows where you are going and so you can remain socially distanced from other families who are out at the same time.
Wash your hands thoroughly before you leave.
Keep your outings shorter than normal.
Travel only with members of your own household.
While out:
Walk on the right side of the road and stay on a sidewalk whenever possible.
Maintain 6 foot social distancing from other families out trick-or-treating.
Use hand sanitizer frequently especially after touching doorbells and knocking on doors.
Don't reach into communal bowls of candy – stay six feet away from candy givers.
Respect households whose front lights are off. There are lots of good reasons why certain people cannot take part in normal Halloween activities this year.
When you return home:

Wash your hands thoroughly.
Parents/guardians should inspect the candy before any is handled or eaten.
Households/Candy Givers
Porch light off = the residents aren't able or choose not to participate in trick-or-treating this year. Porch light on = yes, we are offering candy to trick-or-treaters
Do not hand out candy if you are feeling sick.
If you are elderly, live with elderly people, have a pre-existing condition that puts you in a high-risk category, we ask that you not take part in the Trick-or-Treating part of Halloween.
Wear a face mask that covers both your mouth and your nose. A costume mask is not sufficient.
Use a flat platter instead of a bowl to hand out candy.
Provide hand sanitizer next to your treats.
Place a table between you and the trick-or-treaters.
Offer pre-made goodie bags spaced out all over your lawn or entry way. Touch-free treats would be best!
Consider using your driveway or front entry to keep people away from the surfaces of your home.
Wear gloves to touch the candy.
Wash your hands frequently. Or use hand sanitizer if you don't have access to handwashing.
Special Events Offered By The Town
The Town's Leisure Services Department (LSSE) is offering free events during October, visit www.lsse.org to learn more:
Do your Mask Contest – October 5-19 (no registration required)
Halloween Window Painting – 2 Sundays: October 18th and 25th 9:30am-11:00am (Registration Required)
Halloween Car Parade (Trick or Treat my Ride) – Saturday October 31st 3:00pm-4:00pm  (Registration Required)