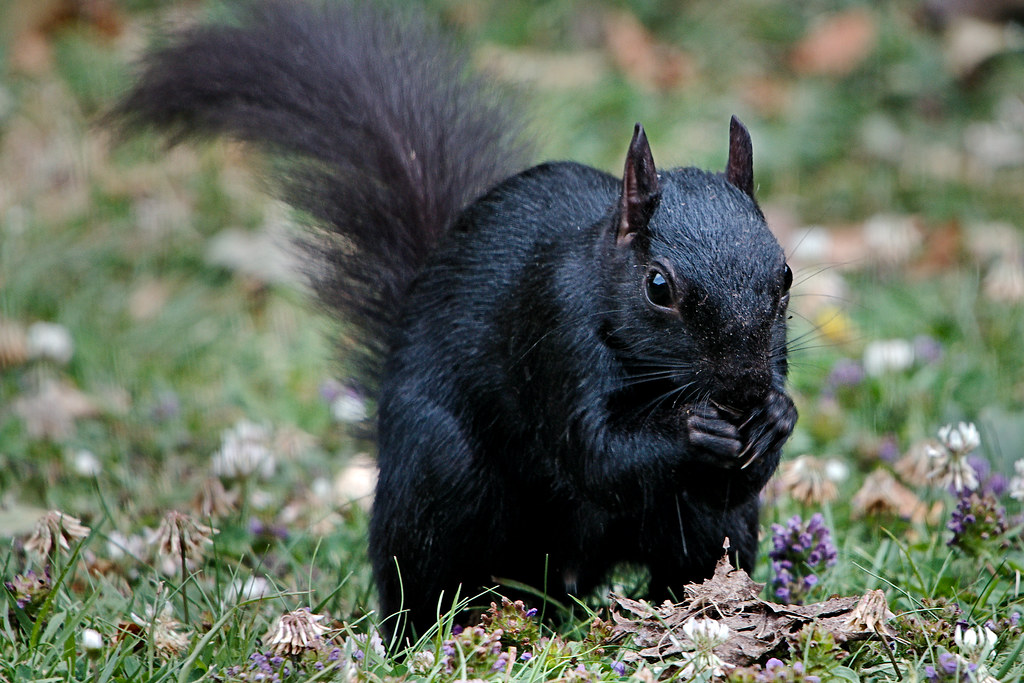 On a visit to Ottawa in the early '90s I was walking with friends along the Rideau River when I spotted a jet-black animal climbing up a tree. I did a double-take. "Is that a squirrel?" I asked my friends. They sort of shrugged and said, "Well… yeah… of course." I explained that where I was from (Rochester, New York, at the time) squirrels are grey, not black. My friends found this only mildly interesting and the conversation moved on, but I kept thinking about it. I had done an informal study of eastern gray squirrels as part of a course in wildlife biology and nowhere in the reading I did for that study were black variants of the species mentioned.
It was probably at least a decade ago now that I saw my first black squirrel in Amherst. Since then, I've seen quite a few in my neighborhood, adjacent to the Town center, although never in my own yard, which continues to be dominated by dozens of gray squirrels drawn to my large burr oak and black walnut trees.

I have a grudging admiration for these animals. Admiration because they're obviously a successful, resourceful species honed to squirrely perfection by millions of years of evolution. Grudging because the varmints can be real pests. One year, at least one (though I suspect several) infiltrated my attic and stashed hundreds of walnuts there. The industrious little buggers proceeded to loudly gnaw on the hoard throughout the winter, which was highly disconcerting. No amount of banging and cursing persuaded them to leave permanently. I solved the problem the next spring by having the large hemlock adjacent to the house removed. The hemlock branches overhung the roof, providing the squirrels an easy on-ramp to my attic via some small holes gnawed through the eaves.
I believe removing the tree annoyed the squirrels mightily, and they decided to plot bloody revenge. It was only about a month after the tree was gone that I went out to my back deck to fire up my propane grill for the first time. I was just about to click the lighter when I smelled gas. A lot of gas. "What the…??" Bending down to take a look I saw that the rubber hose connecting tank to grill had been gnawed nearly all the way through, allowing the gas to spew forth in an invisible — and potentially disastrous — cloud. I imagined the furry demons watching from the trees eagerly awaiting my immolation, and then chattering ruefully among themselves when I narrowly escaped.
But back to the black squirrel story.

The local blacks squirrels did not, as I had thought, represent the leading edge of a slowly expanding population originating in Canada. There is some expansion of that population, but our black squirrels have a more interesting origin. In the late 1940s, the founder of Stanley Park in Westfield, the businessman Frank Stanley Beveridge, was given a gift of some black squirrels from Michigan. Set loose in the park, the squirrels thrived and have been expanding their range locally ever since.
The black squirrels are not a separate species—meaning they can mate with the native gray squirrels and produce viable young. The black fur is caused by the deletion of a gene involved in creating the fur color. The deletion is recessive, which means that jet-black squirrels will only arise from the mating of two black squirrels. But the details of the genetics appear to be complicated — or, at least, more complicated than I have the energy to untangle. I have read that an in-between brown/black fur color is possible due to mating of a black squirrel with a gray squirrel, and that this is due to "incompletely dominant" genes of the gray squirrel. But I have yet to observe any of these in-between squirrels. (If you've seen such critters, leave a comment below.) 
Whether there are any behavior differences between the two color variants remains unsettled. One study found that black squirrels were less likely to flee when they heard the sound of a red-tailed hawk, a major predator, leading the authors to suggest that black squirrels are "bolder." (Seems to me you could argue, equally, that the black squirrels are more oblivious to danger.) Another study found no differences in the behavior of gray vs. black squirrels in response to simulated attacks by either humans or dogs.
Some evidence suggests that black squirrels can out-compete and displace gray squirrels, which may be happening here, although I don't know of any research on the issue. In England, captive gray squirrels imported from the U.S. escaped and have been outcompeting the native red squirrels there since the late 19th century. Black variants have occurred naturally, and now the black variants are increasing their geographic range within the gray squirrel population.
Whatever their color, you can see squirrels being active all year, unlike their cousins the chipmunks, which hibernate during winter. By this time of year, the gray squirrels I see are looking pretty lean, having lost most of the fat they put on in the fall to help get them through the winter. Squirrels eat all sorts of things besides nuts: wild fruits and berries, bark, tender young tree buds, mushrooms, insects and their larvae, and occasionally even baby birds. Of course, they're not above dining on human garbage and compost either.
The squirrels bury many of the nuts they gather in fall, finding them again in the winter with their extraordinarily keen sense of smell. Of course, they don't find all the nuts, which is fortunate for the walnuts and oaks. Without the squirrels' help, the nuts would fall to the ground under their parent tree — just about the worst spot for them to sprout.
Now, it's possible that black squirrels are just as evil… er… I mean, cunning… as their gray counterparts, but I find them much more beautiful than the gray versions and so, for now, I'm rooting for them. I would welcome them to my yard if I could do so. At least until they try to kill me.
Almanac is a regular Indy column of observations, musings, and occasional harangues related to the woods, waters, mountains, and skies of the Pioneer Valley.
Stephen Braun has a background in natural resources conservation, which mostly means he is continually baffled by what he sees on explorations of local natural areas. Please feel free to comment on posts and add your own experiences or observations. You can also email at: braun.writer@gmail.com.