AMHERST MEDIA'S NEW BUILDING WILL BE AN ASSET TO COMMUNITY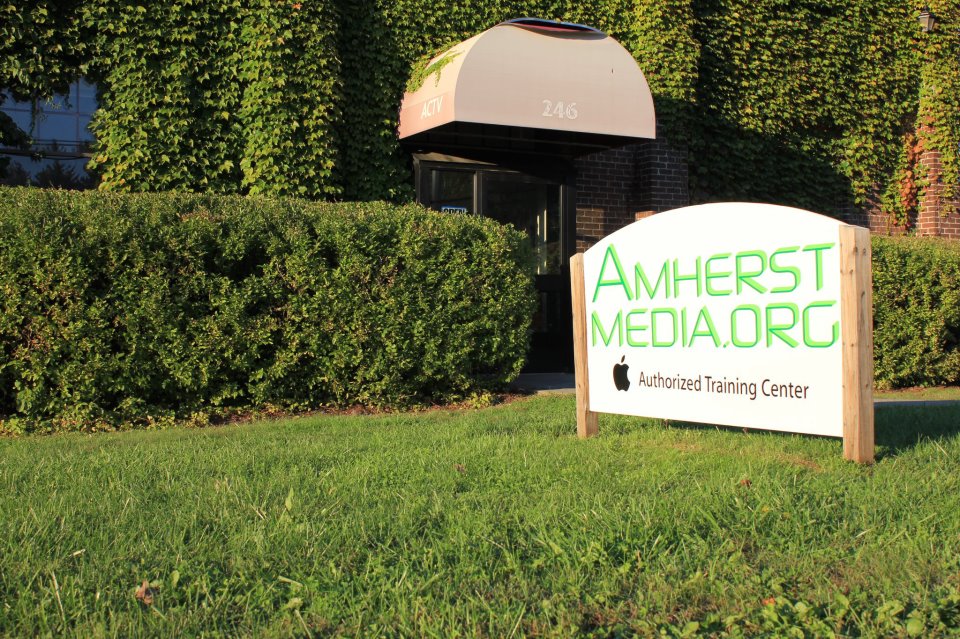 by Demetria Rougeaux Shabazz

Amherst Community Television, known as Amherst Media https://amherstmedia.org, is a community-driven, nonprofit, public access communication and technology center.
We provide the Amherst community with the ability to "produce and promote locally created media content to support an informed and active citizenry, increase the transparency and quality of civic decision-making," according to our mission statement. That statement explains that Amherst Media aims to "deepen understanding of local and worldwide issues of importance and promote civility in public dialogue while respecting the rights to free speech and creative expression."

For over forty years, Amherst Media has been guided by the principle that free speech and civic engagement empower people. The question that is before us as a community is how can we move forward to continue to serve the people of Amherst?

For ten years, Amherst Media has pleaded with Eversource Electric, owner of the premises we rent at 246 College Street, not to take back the building. Eversource has been patient, extending our lease each year, but at the cost of sharp increases in our monthly rent. The situation is not sustainable. We have to move. Finding an appropriate home has not been an easy process. We researched no less than twenty-five potential places to relocate, including the old East Street School building. None of these sites worked due to prohibitively large investments required to make spaces Americans with Disabilities Act compliant, paying for asbestos abatement, redoing electrical wiring to accommodate our computer and media equipment, retrofitting spaces to fit our studio.
In addition, the Comcast cable hub required for cable casting is a structural and economic reality. It is $100 per foot to run a connection to our facility from the nearest cable hub. Further, many negotiations fell apart due to tenuous funding partnerships caused by shifts in town governance, town managers, and school superintendents over the past few years.

We are not complaining — life happens — but the existential need to move our operations requires us to cut through the storm and stress of everything that is going on in Amherst to secure the best site possible and as quickly as we can within our financial constraints. We purchased property on Main Street in the center of town for $340,000 in 2013, and intend to submit a revised plan to the Planning Board in two months that we hope will be approved. We will do whatever we can to make the building exterior and overall design compatible with the historic district where the land is located.

Amherst as a community must continue to move forward while respecting the past. Life is change. Amherst Media helps democracy work as the town's provider of Public-Education-Government coverage on cable television. As part of the democratic process, we welcome community input and will do our best to respond in our revised plan to the valuable comments and suggestions we have received.

The new facility will be an asset to the town and to the historic district. As a nonprofit with very limited resources targeted for operation of our facility, we rely on funding from memberships, a small portion of funding from cable subscriptions, and donations from supporters who believe in our mission. We respect the hard work required to create and maintain Amherst's Dickinson Historic District. As media people, we must strive to address public concerns. At the same time, we must serve the community by continuing to cover cultural, educational, and political events such as local elections, "A Window into ARPS," "Tour of the Hitchcock Center," recording and broadcasting School Committee and government meetings like Town Council and the Planning Board, as well as continuing to produce popular, award-winning children's programs such as "The Curious Giraffe."

We ask the people of Amherst to work in partnership with us to develop solutions that will preserve the town's cultural aspirations and preserve a 43-year-old community-driven organization that represents, in action, the democratic values and principles that first founded local cable access. We are moving forward and asking for your patience as concerned and engaged citizens.

Our next appearance before town boards is May 29, when we will present our design based on the guidance and suggestions of the Local Historic District Commission and the Planning Board.
We are recruiting architects with experience in historic design and preservation, and look forward to working with the district and the larger community to help make the building a reality.

Editor's Note: a version of this column appeared in the April 5 edition of the Amherst Bulletin.