AMHERST'S FIRST DUAL LANGUAGE IMMERSION PROGRAM SET TO BEGIN AT FORT RIVER ELEMENTARY SCHOOL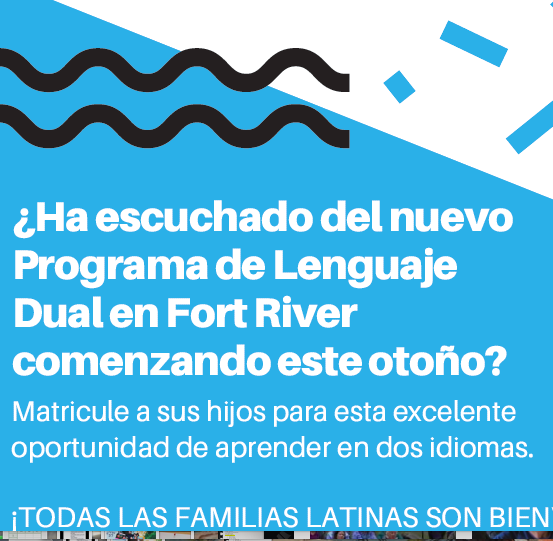 by Lissa Pierce Bonifaz
This fall at Fort River Elementary School a group of kindergarteners will have the opportunity to learn in two languages -Spanish and English. For almost twenty years, local scholars, educators, school board members and working groups of parents have clamored for dual language programs for Amherst. As a means of interrupting declining enrollment and addressing the over thirty percent increase of Spanish speaking students in Amherst, Superintendent Michael Morris decided it was time to bring dual language programs into his district. The dual language program will begin with kindergarteners and expand each year to eventually encompass grades K-6.
This Dual Language program will support students to become bilingual and biliterate in Spanish and English.

Benefits of Learning in Two Languages
According to the latest research,, dual language programs enhance cultural understandings, improve academic competence, and reduce the achievement gap. Over time, dual language learners will use what they have learned in one language to connect it with what they have learned in the other. This so-called "bridging" has tremendous cognitive benefits for the growing minds of children. According to the most current brain research, dual language education increases cognitive flexibility, problem-solving skills, and critical thinking. Not to mention the reinforcement of learning that can happen when you learn about a subject in two different languages.

The Structure of the Day

Children will spend half of each day learning in English with one teacher and the other half in Spanish with another instructor. They will receive the same core curriculum as every elementary school in the state (math, science, social studies, and the arts), but will be exposed to the content in both Spanish and English.

The Selection Process


Forty seats are available for incoming kindergarteners who turn five by the end of August and who live in Amherst. When families of kindergarten-age children fill out registration forms along with a Home Language Survey, they will be asked if they are interested in having their child in the dual language program. Then, those who are interested will be asked to fill out the Bilingual Continuum Survey to determine their lottery group.
The first group in the lottery to be picked will be children who are zoned to attend Fort River and are native Spanish speakers. A minimum of 20, and up to 24, students in group one will be automatically enrolled unless the list of interested students exceeds 24. The second group in the lottery to be chosen will be Spanish speakers zoned to attend Crocker Farm or Wildwood. Students in group two will be entered into a lottery to fill the remaining seats up to 24, or automatically enrolled if there are fewer than 24. At the end of April, families of students in group one and two were notified of their enrollment status and asked to confirm participation by May 17.

If fewer than 20 students enroll in the Spanish speaking/ bilingual group by mid-May, the remainder of 20 unfilled seats will be kept available for late enrollment of Spanish/ bilingual students through August 1. If students from groups one and two are not chosen in the lottery on April 29, they will be entered into the pool for the next lottery group based on their enrollment zone. (i.e. Lottery group 1 registrants will be entered in lottery group 3 pool, lottery group 2 registrants will be entered into lottery group 4 pool.) The third group to be selected will come from Fort River zoned English speakers (and speakers of languages other than English or Spanish.) And lastly, the lottery group number four will be taken from a pool of English speakers (or those who speak other languages) who are zoned to attend Crocker Farm or Wildwood.
Family Outreach and Information Sessions


More than fifteen community events have occurred since the beginning of March to help inform the community about registering their children for this exciting new program. A Family Outreach Team of Amherst joined with a group from the Holyoke Public Schools to attend a training by the Multistate Association for Bilingual Education (MABE) in February of this year. Starting in March, members of this team have been distributing flyers and answering questions at town fairs, special school nights, gatherings at apartment complexes, pre-school, parent meetings and at drop in hours on Fridays at Fort River from 9 a.m. until 10 a.m. If you are interested in learning more, please attend one of the following events:

Thursday, May 9, 5:30 — 7:30 p.m.,, LSSE event at Butternut Farm
Friday, May 17, Latino Achievement Night, 6:30 PM, Amherst Regional Middle School.

Or contact Katie Richardson, ELL Coordinator, Amherst Pelham Regional Schools
richardsonkn@arps.org , 413-362-1815