EAST AMHERST SITE FOR NEW DPW FACILITY TO BE EXPLORED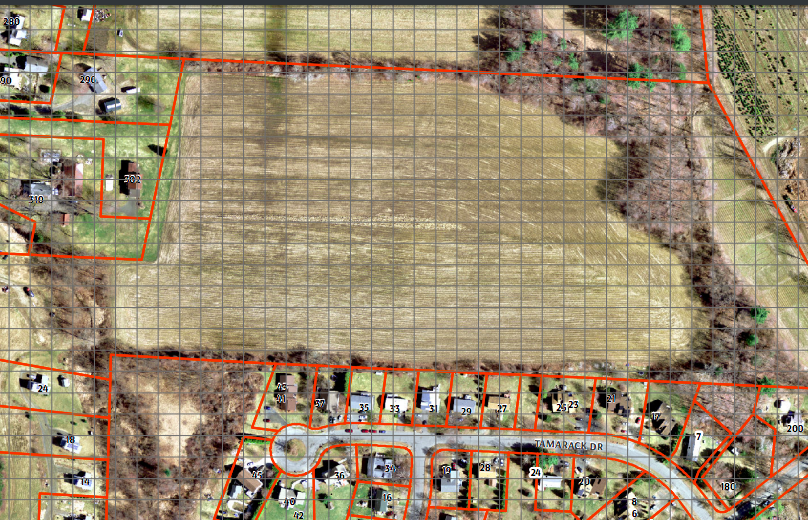 On July 8, town officials held a public meeting to discuss two possible sites, one for a proposed Department of Public Works (DPW) facility and one for a new fire station.

In June, Assistant Manager Dave Ziomek and other town employees had canvassed residents of a neighborhood near Stanley Street and informed them that the town was exploring Parcel 18A-1, a 26.7-acre lot from South East Street to Stanley Street, as the future site of the new DPW facility. On June 29 they had attended a community gathering at Kiwanis Park.

The July 8 public meeting was the first of two District 2 meetings to focus on the proposed siting for the facility. In attendance were Town Manager Paul Bockelman, five Amherst town councilors, Superintendent of Public Works Guilford Mooring, Assistant Fire Chief Jeff Olmstead, and about a dozen members of the public, mostly abutters to the property.

The property is currently owned by Amherst College, which has indicated a willingness to consider a 99-year lease to the town for $1. Town Manager Bockelman reported that he had asked the college for permission to explore several college-owned parcels, and had been given permission to explore this one but not others because they are located in the college's "core" holdings between Route 116 and South East Street. He also said that the town council has given its permission to further explore this site. No contracts regarding the property have been signed by Amherst College or the town to date. An aerial view of the property can be found here.

The parcel, which is currently used as farmland by Amherst College, is zoned Residential Low Density (RLD) and would a special permit would be required for use as a DPW facility. No portion of the property is in a flood plain, although there is a stream and wetlands on the eastern side near Stanley Street. The town's Agricultural Commission has not yet been consulted about a change in land use.

The DPW Fire Station Advisory Committee, which dissolved in 2017, had explored nine other sites for a new DPW. Some of these sites are no longer available and some were not judged workable for a variety of reasons, including size. The DPW Facility Report, produced in 2016 by consultant Weston and Samson, at a cost of $75,000, proposed that a building of about 79,000 square feet be built on a minimum of 8.5 acres, for an estimated cost of $38 million. This building would include operations housed at the current DPW facility as well as the town's trees-and-grounds operations, which are currently housed adjacent to War Memorial Pool and the high school. The advisory committee also explored renovating and expanding the current DPW facility (78,000 square feet on 4.25 acres, at a project cost of about $36.7 million); an "unconsolidated option" (60,000 square feet on seven acres, $30.7 million) that would move Trees and Grounds (13,000 square feet on three acres, $6.6 million) and the Water Department to new hypothetical locations (9,000 square feet on two acres for $4.7 million). The Weston and Sampson study predated passage of the Net Zero Energy Bylaw (2017, revised in 2018) and would require revision both in terms of construction approach and cost. New cost estimates would also need to account for rising costs of about four to six percent per year.

Several residents who live near the proposed site expressed concerns, including increased traffic, particularly on Stanley Street, loss of farmland, chemical storage on site, and increased noise, fumes, and a change "look" of the neighborhood. Mooring said that the site would house mixtures of salts used for de-icing roads, as well as diesel fuel, gasoline, and other fluids for vehicle maintenance, and that new construction would require proper containment, which he said would be above ground. Bockelman acknowledged that there would be noise from the 80-vehicle fleet employed by the DPW.

Adrian Fabos of 302 South East Street presented photographs of the existing site, as well as overlaid diagrams of the proposed footprint, cautioning that a paved area "the size of Whole Foods parking lot" would replace the site's current open fields. He also noted that the flat open expanse would make noise reduction difficult, and wondered whether a DPW facility is appropriate for the neighborhood. He further noted that the property's current use as farmlands and its residential zoning designation has led neighboring property owners to expect similar future use. He also expressed concern that the deliberative process of gaining a special permit might be undermined because of the stated urgency to identify a new site for the DPW.

Pat Ononibaku of 28 Tamarack Drive echoed the concerns raised by other abutters and pointed out that this racially diverse neighborhood of working-class homeowners and renters has not been involved in the process so far. When she expressed opposition to the proposed site and concern that the decisions are being made too quickly, Bockelman responded that this is the "very beginning of the conversation."

A homeowner in the neighborhood who was not at the meeting but had been canvassed by town officials and had attended the June 29 "Community Conversation" at Kiwanis Park, said that "this DPW would be a huge change in our very rural/agricultural residential area, so we'd want to be sure it was done—if it was done here—[so as] to have as little negative impact as possible." This resident also wanted to know about "any drainage issues that could affect the immediate abutters as the field it would be located on is very wet" and reported that he was told that "if the building is solar, there was talk of our neighborhood thus having 'free' electricity as a trade-off of it being located in our immediate area—that would be a huge benefit." Town officials did not mention the possibility of electrical microgrids or shared electricity costs at the July 8 meeting.

Council President Lynn Griesemer (District 2) indicated that the next step is for the town to make a decision about the site and hire a consultant to create a schematic design for a new facility there. Such a study would include site and traffic impact analysis as well as building and construction details and costs. She said that the town will create a building committee to guide the process and that people interested in serving on the committee would submit a Community Activity Form (CAF), available on line or at Town Hall. Bockelman stated that he was considering the formation of a permanent building committee of three to five members to build experience for the multiple capital projects anticipated by the town; the committee would be supplemented with individuals interested in, and relevant to, each specific project. He indicated that this has not yet been discussed with the town council.

A webpage has been added to the town website to provide further information on the Public Safety Building Projects (DPW and fire station). There is also a form to provide feedback online.

Another public District 2 meeting focusing on this subject will be held on Tuesday, July 23, at 6 p.m. in the Fort River Elementary School cafeteria.