EMOTIONS RUN HIGH AT REGIONAL SCHOOL COMMITTEE MEETING: UNION CRITICIZES OFFICIAL RESPONSE TO "HARASSMENT." PREVENTION POLICY IS ADOPTED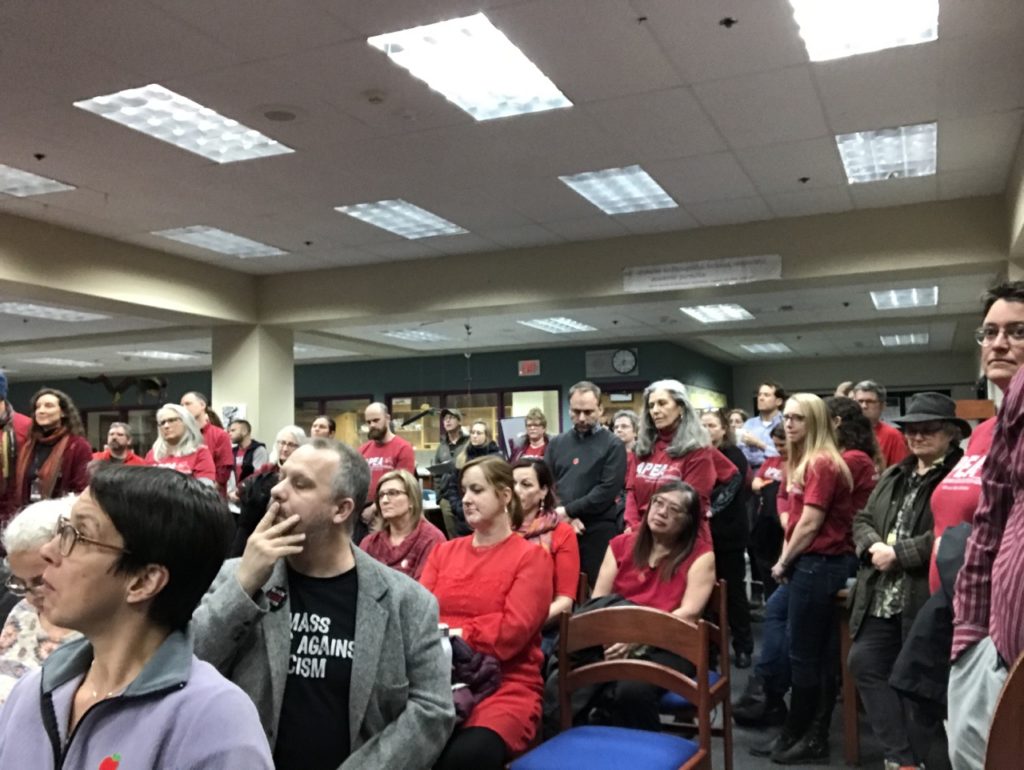 By Marla Goldberg-Jamate and Maria Kopicki

Dozens of teachers and paraprofessionals from the Amherst-Pelham Regional School District packed a Regional School Committee meeting this past Tuesday (Dec.10), where their union president, Mick O'Connor, sharply criticized elected officials and Superintendent Michael Morris for failing to stop harassment of district employees.
"I am here to demand that the district administration and the School Committee take whatever steps are necessary to stop the harassment and abusing of educators," O'Connor said, adding that staff have been subject to "abusive attacks and baseless complaints," for three years.

"To a large degree, the harassment has been enabled by appeasant or inaction on the part of the administration," he said. O'Connor's remarks were met with applause by the Amherst-Pelham Education Association members, many of whom were wearing red union T-shirts.

Later, the Regional School Committee voted unanimously for a broad harassment prevention policy, emphasizing that the district is committed to "dignity and respect" in treatment of the school community. (The wording shown in the link above was amended on Tuesday to state that Morris "will," rather than "may," develop implementation guidelines.)
O'Connor said teachers have been subject to "hateful language" in messages that were sent or "delivered in person." He did not provide examples of the messages, or specify their number, source, or recipients. Morris said later during the "superintendent's update" that in the last few months, staff have reported being targeted for their ethnicity, race or religion, age, sex, gender identity, and marital status.
Prior school committee discussion has referenced communications that blogger Christine Ryan has acknowledged sending. In her provocative online blog, Ryan, of Amherst has also accused officials and their family members of criminal conduct, naming several people specifically. However, at Tuesday's meeting, Morris also tied the new harassment prevention policy to "behavior on school property" in Pelham, which he said did not specifically target teachers, but nonetheless had "a significant impact," on them. Morris did not provide any details as to what occurred in Pelham, the date, or number of incidents.
In spring of 2018, Ryan (then known as Christine Harmon) served on a principal search panel for Amherst Regional Middle School. When Morris sought to reject the committee's recommendation in favor of Joseph Smith (now one of two co-principals at ARMS,) Ryan confronted the district over administrators serving without proper licensure, including then-principal of ARMS Patricia Bode. Bode was working under a state waiver.
The Department of Elementary and Secondary Education audited the district in 2018, and required it to undertake a district-wide review of licensing status, demonstrate that open jobs were posted in at least two places, and provide supporting documents when "hardship waivers" are sought due to a lack of fully licensed candidates. (A Daily Hampshire Gazette article about the audit can be found here.) The audit caused several staff members to be switched from their prior positions.
On Tuesday, Former School Committee Chair Katherine Appy and others made public comments decrying the harassment of teachers, but unlike O'Connor, did not criticize the administration's response to it.
"Nothing I experienced as a committee member rivals, in its venom or vitriol, the unfounded allegations and smears launched over the last several months," Appy said, adding that targets have included "students and teachers." She did not cite any specific examples.
Caridad Martinez, who serves on the School Equity Task Force, said it is the school committee's responsibility to investigate allegations of wrongdoing by the administration. "If the things that are being written are not true, you can say they're not true," Martinez said, adding that "people get angry when their issues are not being addressed." She said the district may want to take another look "at the way you're allocating your money."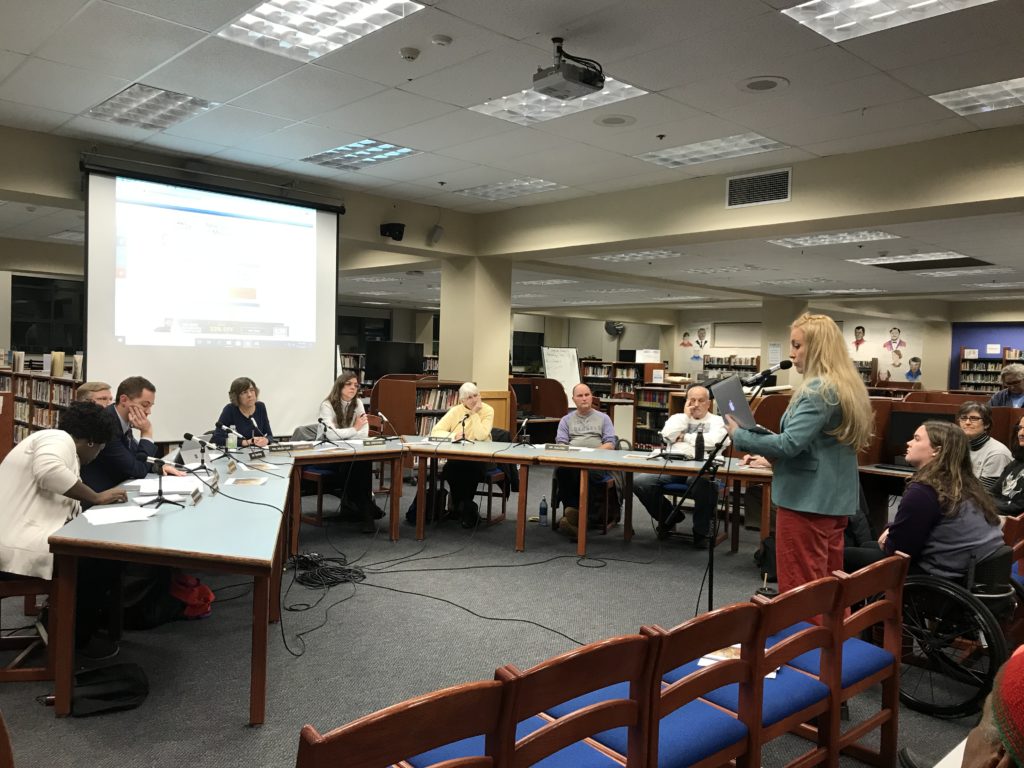 Closing out the public comment period, Ryan also spoke, but did not address the harassment issue directly. Instead, she asked the committee if it supports the military, and gave them photos of her childrens' father, who she said is a disabled Marine veteran. Ryan said that her family "is a military family," and although the school committee "spends a lot of time discussing me," they "will not silence me .. in order to service your own agenda."
Committee member Allison McDonald, who was the meeting's acting chair, tried to interrupt Ryan when her three minutes were up. Ryan refused to stop, and claimed that an email she sent to school officials was "misread" as anti-Semitic by Committee Chair Eric Nakajima at a prior meeting.
The committee responded by voting for a 10-minute recess during which Ryan kept speaking, at one point yelling across the room to Morris, and asking why he never replied to an email.
The district's new harassment prevention policy prohibits harassment of and discrimination against protected classes, such as race, religion, age, disability, criminal record, gender, and sexual orientation. It extends to verbal abuse, comments, jokes, and teasing, and the online posting or sending of offensive or discriminatory messages. It allows reporting of harassment to the building principal, or in cases involving a principal, to the superintendent.
Committee member Kip Fonsh of Leverett noted that the policy covers actions by individuals not employed by the district, and raised questions about how it will be enforced.
Other,unrelated issues were also raised by members of the public. Resident Jim Brissette of Amherst spoke about the importance of safe, modern facilities and fields for the region's athletes, adding that the broader community would also benefit from these improvements. Felicia Mednick, of Mothers Out Front, spoke about a petition calling for electrification of the district's bus fleet, which she said will be delivered shortly. Mednick said the petition has 200 signatures and more are being collected.
The meeting adjourned to an executive session for "a complaint brought against a public employee," identified as Morris, although the source and content of the complaint were not disclosed.