OPINION: BIRTWISTLE REQUESTS BYLAW CHANGES TO ADDRESS UBIQUITOUS PARKING WAIVER REQUESTS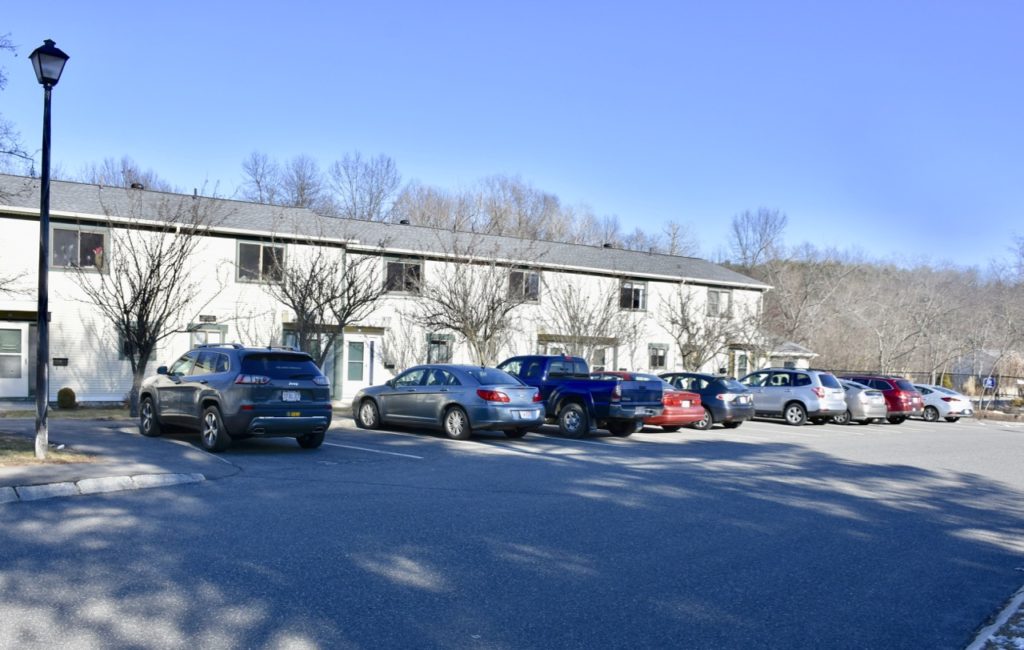 Editor's Note: The following Planning Board memo about the inadequacy of the Zoning Bylaw for parking at residential buildings was submitted to the Planning Board by member Michael Birtwistle on February 6, 2020. It complements fellow Planning Board member Janet McGowan's commentary this week in The Indy, and we are reprinting it here with permission.
Since I have been on the [Planning] Board, every site plan review involving residential units has come with a request for some kind of waiver of parking requirements. We are spinning our wheels with these endless discussions of parking. Enough is enough!
We have a Zoning Bylaw with stated minimums ( Zoning Bylaw Section 7.000). And we have an open ended escape clause for that minimum (7.91). So developers can request a waiver from the 2 spaces per unit requirement to 1 space per unit, or .5 spaces per unit, or even 0 spaces per unit—whatever they want.
And we have an open-ended escape clause for that minimum (Section 7.91) Unfortunately, 7.91 does not provide the Board with objective statutory guidance with which to evaluate these requests. This has recently led to contentious hearings and arbitrary decisions, often based on Board members' individual subjective assumptions about the overall desirability of the project.
This is not a good process for either side. Developers have the right to zoning regulations that are reasonable, clear, and uniformly applied. The Planning Board should have to deal with a parking waiver only infrequently, not routinely reinventing the wheel with every application.
At this point, there may be consensus on the Board that 2 spaces per unit is more than apartment complexes in Amherst need. If so, to address this problem, I respectfully suggest that the Planning Board charge its Zoning Subcommittee to produce:
1) A recommendation for a Zoning Bylaw revision of the numbers in 7.000 and perhaps 7.001 [7.001 For all other places with sleeping accommodations, including rooming houses, lodging or boarding houses, fraternity and sorority buildings, hotels, motels, inns, bed and breakfasts, hospitals, and nursing homes – one (1) parking space for each bedroom for single or double occupancy; or, where not divided into such rooms (as in a dormitory or ward) – one (1) space for every two beds. For hostels, one (1) parking space shall be provided for every five (5) beds.]
2) New language for 7.91which makes the grounds on which the Board may grant a waiver more objective and based on independent data.
We can be sure that more residential proposals are coming at us in the near future. And with them will surely come parking issues. So I think the Zoning Subcommittee and the Planning Board should act quickly on this and forward a Zoning Bylaw amendment on this issue for Town Council action. If the Council chooses not to take it up, that is its right, of course, but I do hope the Planning Board will at least try to solve this problem. If we wait for a complete Zoning Bylaw revision to be predicated on an updated Master Plan, then we are many months—even years—down the road without significant change.
Notes:
7.00 In all districts except Educational Districts, off-street parking spaces shall be provided and maintained in connection with the construction, conversion or increase in dwelling units or dimensions of buildings, structures or use. The provisions of this section shall apply to parking spaces for cars, vans, light trucks, and similar vehicles used predominantly for personal transportation. Parking for commercial vehicles or vehicles used for private or public transit shall be governed under the provisions of Sections 7.1, 7.3 and 7.5. Except as may be required otherwise by the Permit Granting Board or Special Permit Granting Authority, as applicable, parking spaces shall be provided in at least the following minimum amounts. 7.000 For dwellings, including apartments: 7.0000 Two (2) parking spaces for each dwelling unit.
Section 7.91: Parking space requirements under Section 7.0 may be modified when one or more of the following conditions are met to the satisfaction of the Permit Granting Board or Special Permit Granting Authority:
Section 7.910 Peak parking needs generated by on-site uses occur at different times.
Section 7.911 A significant number of employees, tenants, patrons or other parking users of the site are common to and shared by more than one use on the site.
Section 7.912 A parking management plan approved by the Permit Granting Board or Special Permit Granting Authority is implemented with occupancy of the building or buildings. Said plan shall include the implementation of such measures as car and van pooling, bicycling and public transit use sufficient to reduce the need for parking. Periodic documentation of reductions in vehicle trips and parking utilization as a result of the parking management plan may be required as a condition of any permit granted under this section.