OPINION: FIVE EASY FIXES FOR DOWNTOWN AMHERST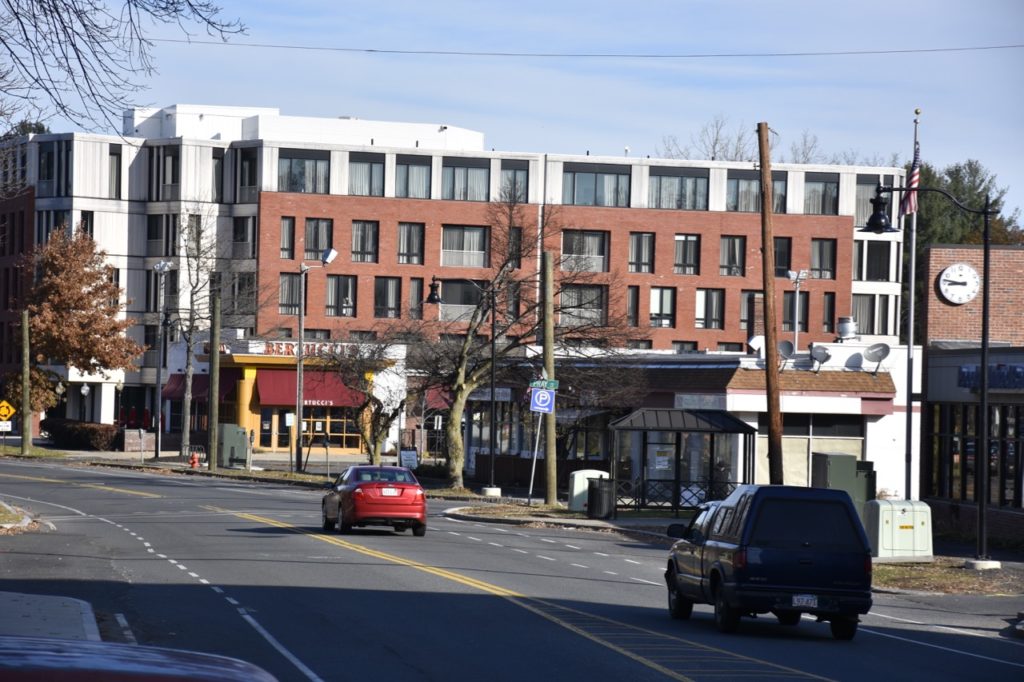 1. Make Design Review Board approval mandatory for all new buildings in downtown.

Let's just say it, Kendrick Place and One East Pleasant Street are too big and too tall. The architectural style is office-park, not Amherst, not New England. People may like Archipelago's next building at 26 Spring Street even less. It will loom over the beautiful Grace Church and the lovely Boltwood Inn. This building got a no vote from the Design Review Board because of its design. But this no vote did not matter. The Planning Board approved the building and rejected the Design Review Board's vote and recommendation, because it was just that – a recommendation.
The Fix? Town Council should amend the Zoning Bylaw to give the Design Review Board the power to say no.

The Design Review Board looks at a building's height, scale, proportion, shape, and architectural style to make sure new buildings "preserve and enhance," "blend in," and "are compatible with" its surrounding area and buildings. There's no time to waste. More buildings are planned in-between chunky twins Kendrick Place and One East Pleasant Street. We can have it all—new buildings that create needed housing, shops and new taxes and that look good and add to Amherst's New England downtown.
2. Let's Go Back to Four Stories–Five Story Buildings are Just Too High.

I admit I voted in Town Meeting to increase building heights in the General Business Zone of downtown Amherst. I was wrong. I never envisioned the mass, scale and bulk of Kendrick Place and One East Pleasant Street, two buildings that dwarf every building, park, tree, and person around it. People like shopping and visiting places with a mix of smaller buildings, small shops, restaurants and lively streets—think Burlington, Vermont or Keene, New Hampshire. And people living on Smith Street and Kellogg Street in their Capes and Victorians really don't want five stories of eyeballs staring down at them. (The Planning Board and ZBA would also need to enforce the three-story limit in the Limited Business Zone. Limited Business is meant as a buffer zone for residents living around the downtown. A four-story building looming over your dwelling is not a buffer—it's a problem.)
The Fix? Amend the zoning bylaw to reduce building heights in the General Business Zone to four stories that fit the scale of downtown Amherst, and keep the existing three story limit in Limited Business districts.
3. It's Well Past Time to Require Affordable Housing Everywhere in Amherst.

The refined brawl between many Town Meeting members and the Planning Board over whether or not the zoning bylaw's Article 15 required 10% affordable housing for all Special Permit projects, not just projects with a change in dimension resulted in inaction. The result: hundreds of new apartments built without any affordable units. Let's stop splitting hairs over types of permits and "dimensional changes" and just fix the problem. There is no reason why some developers have to build affordable units while others don't.
The Fix? Amend the Zoning Bylaw to require that all developers build at least 10% affordable housing for all projects with 9 or more dwelling units.

Amherst paid two housing consultants good tax money and they told us affordable housing requirements are "one of the most important steps Amherst can take to increase its supply of non-student housing." They recommended that Amherst require all developers to provide 15% affordable housing. Instead of dropping dense development bombs on different neighborhoods to get affordable units under state law Chapter 40B and 40R projects, lets finally follow the consultants' advice.
4. Tenants need parking downtown.

Ask the residents of Kendrick Place and One East Pleasant Street. By last Fall, the tenants of the 36-unit Kendrick Place had applied for 43 street parking permits. Residents of the 78 apartment One East Pleasant Street were using 87 parking permits or spaces. Everyone is all for increasing density in downtown and village centers, but this urbanist car-free living theory simply does not work in Amherst. Why? Because Amherst is not an urban area. Not Boston, not Manhattan.
The Fix? Amend the Downtown Parking Overlay District and require at least 1 parking space per apartment–even in a commercial lot empty at night.

Give downtown tenants the parking spots.
5. Delete Footnote a.

I won't paralyze you with detail, but the Zoning Bylaw's Dimensional Table has a very tiny footnote "a" that gives the Planning Board and Zoning Board of Appeals very large power to waive the rules on building heights. The footnote language is so broad that a Board could approve a 10-story building downtown. Or higher. No board should have such unfettered discretion.
The Fix? Amend the Zoning Bylaw and eliminate Footnote a—and look at getting rid of the other 2 footnotes.
Zoning rules are supposed to set up clear rules everyone has to follow and exceptions must have limits. The footnotes also create confusion and make the zoning bylaw needlessly complicated. Put the rules in the text and get rid of the footnotes—especially footnote a.

Okay, okay, I hear you saying 'we need more density downtown, more housing —and especially more tax revenues that new buildings bring.' We can have new buildings go up and new tax money—and new buildings can look good. And they can have affordable units. We just need to make sure it all happens. Let's bring a halt to development at any cost.
And all problems do not have to be solved in downtown Amherst. We have village centers that can take on more density and housing. And in fact, so can the University of Massachusetts. Let's just say it, UMass needs to house more of its students on campus. Let's not turn downtown Amherst into a high-end student housing project for UMass. UMass has added 3,000+ more students in the past decade—but remarkably, has not built enough rooms for them to sleep in.
Both housing consultants called on Amherst to work with UMass to get UMass to house more of its students. And the consultants called for many more non-student housing to be built, not student apartments. Perhaps Town Council can set up a permanent committee to work with UMass on housing its students.
We can make downtown Amherst work for everyone. So let's do it without delay.
Janet McGowan is an Amherst attorney who has worked as a mediator and in litigation on commercial, environmental and indigenous issues. She is a parent, compulsive volunteer and a member of the Amherst Planning Board.