CULTURE CLUB: THE DETECTORISTS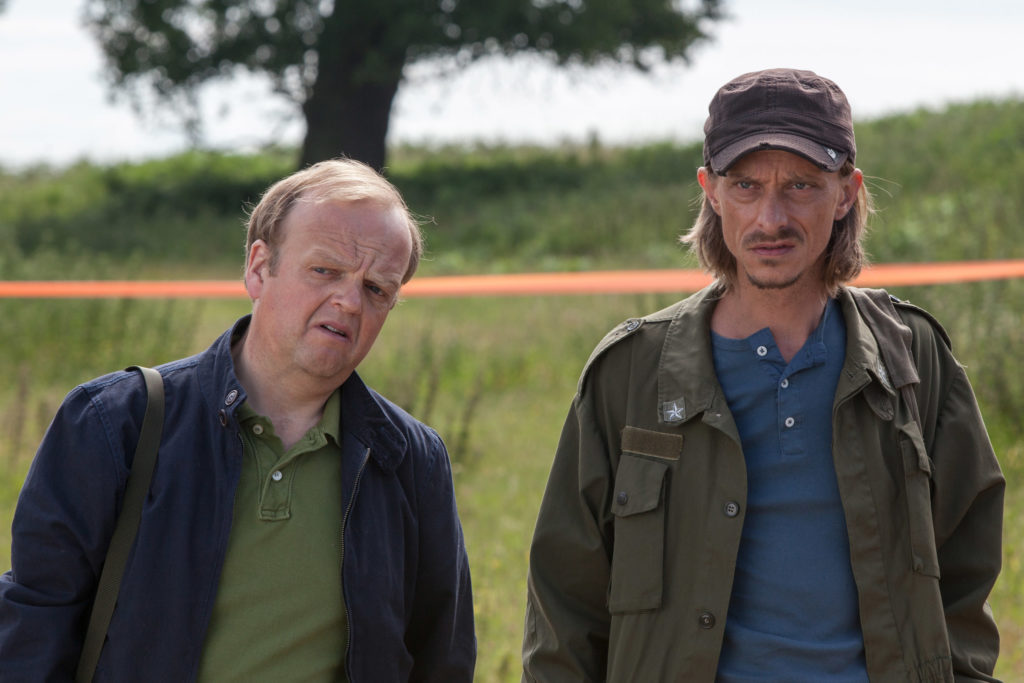 Culture Club is a new column that will fill out the Indy's news and opinion coverage with discussions of all things related to cultural affairs in Amherst. It takes the word "culture" most broadly, to mean all the arts of all stripes, from literature and poetry to visual arts, dance, and theater. Potential columns will range from updates on cultural events in town to reviews of TV shows, exhibitions, records, and anything else related to the arts and humanities that seems especially noteworthy. Please send me suggestions for future columns at wkaizen@gmail.com.
The TV show that's been getting me through COVID is The Detectorists, a quietly funny buddy comedy about two men who go metal detecting in the north of England. It stars Mackenzie Crook and Toby Jones, and ran for three seasons on the BBC, starting in 2014. The first two seasons are now available for free with an Amazon Prime membership.
Crook, who is best known for playing Gareth in the original Office, wrote and directed The Detectorists. He looks more harrowed and hatchet-faced than usual, especially when paired with Jones, whose hangdog eyes radiate middle-aged soulfulness. Crook's character, Andy, is a nervous, thirty-something archeology graduate student at the tail end of a seemingly never-ending degree. Jones plays the older Lance, who works at a produce shipping plant and lives alone in a spotless apartment adorned with photos of his prize possession, a lemon yellow 1977 Triumph TR7.
From the outside, both seem to epitomize the British anti-ideal of men living lives of quiet desperation. Kept largely afloat by their shared hobby, Andy and Lance spend every free moment roaming the countryside of Danebury (pun intended), the fictional town where they live. They are not metal detectors, which is a piece of equipment, but "detectorists," as they keep insisting to the non-initiated. Detectors in hand, they keep eyes cast downwards, scanning the ground for an endless supply of "ring pulls" (soda can tabs) and unidentifiable scraps of metal in the hope of finding a Roman coin or a Saxon brooch, which never seem to turn up.
Andy and Lance are the latest incarnation of the comedy duos whose lineage can be traced back through Laurel and Hardy. While they embody the "fat man/thin man" archetypes, both play it straight. In England, the comedy duo was originally known as the double act. By the 1960s, pairs like Peter Cook and Dudley Moore and the two Ronnies had begun dispensing with these roles and both comedians played for laughs. In The Detectorists Crook and Jones both play straight men. The duo that they most resemble are Vladimir and Estragon from Waiting for Godot, sad sacks forever awaiting events that never come. The show's humor comes from the quiet absurdity of the situations that they find themselves in.
The Danebury Detecting Club, of which Andy and Lance are members, is filled with lovable oddballs, from the walrus-y bluster of Terry, the retired police officer who leads the club, to the couple Louise and Varde, the former of whom is always grumping about while the latter never speaks despite being described as talkative (and whose non-silence finally erupts in a particularly funny scene). Much of the show's humor revolves around their club's petty rivalry with the Antiquisearchers, whose campily evil leaders are referred to as Simon and Garfunkel for their resemblance to the folk duo.
Humor, as well as pathos, is wrung from Andy's relationship with his long-suffering girlfriend, a beleaguered grade school teacher, and Lance's relationship with his ex, who runs a crystals and dream-catchers shop on the brink of bankruptcy. Lance's performance of an original song where he pines for her at the local pub's open mic night becomes a major ordeal for everyone. Indicative of the show's humor, this incident is used not for cringe-worthy snickers as another show might, but for far sweeter and more poignantly sympathetic laughs.
The northern British countryside is as much a character in the show as any of the humans. Long shots of the detectorists scouring overgrown fields are paired with extreme close-ups of insects and flowers. The show's overall vibe is reminiscent of "The Great British Baking" show, where competition and rivalry are tempered by friendship, support, and forgiveness. Everyone in The Detectorists is pulling together toward the same treasure-hunting goals while being pulled apart by circumstances.
I tried watching Ozark, the latest iteration of the white male power fantasy, where Jason Bateman plays a heartless money launderer, washing cash for a drug cartel. Like Breaking Bad, it cranks toxic masculinity up to its limit by taking a nebbish and making him the epitome of sympathetic evil. The Detectorists is a considerably more honest show about men and male bonding. Andy and Lance's shared hobby provides a way for them to connect with one another while keeping each other at a distance that actually affords an opportunity for intimacy. The show's best moments are when Andy and Lance reveal through their conversation that what they're really searching for — and what they've truly uncovered through their quirky obsession — is companionship and even love, which is far more valuable than gold.
What have you been watching? Post below or send me an email and I'll post in another column.
William Kaizen is an independent scholar who is currently researching issues related to performance, visual art, and the Cold War. He was an Amherst Town Meeting Representative and is currently the Treasurer of the Amherst Public Art Commission and a member of the Amherst Indy Editorial Collective.