Town Council Discusses Proposed Community Safety Working Group. Passes "Percent For Art" Bylaw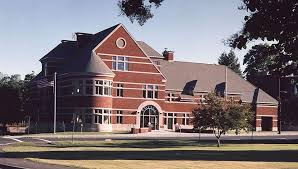 Report on the Meeting of the Amherst Town Council (9/21/20)
The meeting was held via Zoom webcast and was simulcast on Amherst Media Channel 17. A recording of the meeting can be found here.
Participating
Town Council: All Councilors except Darcy DuMont (District 5)
Town staff: Town Manager Paul Bockelman and Council Clerk Athena O'Keeffe
Announcements
The Finance Committee meeting scheduled for September 29 will be held October 6 to allow the FY 2020 financials to be completed. Applications for projects requesting Community Preservation Act funding are due October 12.
Public Comment
Zoe Crabtree of District 5 commented that her group, Defund 413, was asked by the Town Manager to appoint a member to serve on the interview committee for the Town Manager's proposed Community Safety Working Group, but they will only participate if the Police Chief is not a member of the committee because the aim of Defund 413 is to "defund and abolish" the police force. She said she was upset that Defund 413 had not been consulted when the Working Group was being planned. Also, she has two demands for the Town: that members of the interview team and Working Group be paid, and that the Working Group be diverse in composition and that the interview team not privilege academic expertise over the subjective experience of community members.
Bailey Battie of District 4, a member of the Racial Equity Task Force, said she appreciates that, according to the Town Manager's revised memorandum , the police will not be part of the Working Group. She also said she is not certain about the purpose of the Group, and that it seems inefficient to appoint an interview committee to appoint a working group to discuss an oversight committee. Also, she said that the application process is entirely on line and seems inaccessible to many, and that there should be more outreach to encourage people to apply who do not usually participate in Town government.
Community Safety Working Group
Bockelman presented the latest version of his plan (September 19) to create a Community Safety Working Group whose initial goals will be to explore alternative ways of providing public safety, other than having it in the purview of the police, and to suggest reforms to oversight of the Police Department.
In response to previous concerns voiced by Councilors and community members,
Bockelman said that in his opinion, the Community Safety group should meet in public, take public comment, publish minutes, and be subject to the open meeting law. Although some vulnerable members of the public may be inhibited about speaking in public, their stories could be gathered by other means, such as surveys or interviews. The advantages of an open discussion outweigh the risk of inhibiting some input. And residents have a right to know what is happening in the Working Group.
After feedback from the community and Councilors at the previous (September 14) Council meeting, he said he agrees that the Police Chief or designee should not be a member of the Group, even ex officio, and that the Group should be able to ask any relevant official, such as the Health Director, Fire Chief, or Police Chief, for information as needed.
After considering a suggestion from Amilcar Shabazz at the September 14 Council meeting that there be two committees (one about public safety services and another about oversight of the police), Bockelman decided to retain the one-committee structure. This committee can deal with goals, or inform a second group if needed. He hopes that an analysis of public safety services will be complete by January 31, 2021, but feels that any reorganization or oversight process for the police is likely to carry well into 2021.
Bockelman also felt that "racial equity and social justice" should not be part of the Community Safety Working Group's name. Even though it was the public murder of George Floyd, and other police killings of Black people that provided the impetus for Amherst to examine policing here, he said the overarching aim of the Public Safety Working Group is to make Amherst safer for all people.
A 90-minute discussion followed in which almost all Councilors weighed in. Pat DeAngelis (District 2) stated she was uncomfortable not putting "racial equity and justice" in the group's title, that it was too much like saying "all lives matter". She felt the advisory group needs to engage members of the public and gather all the information needed.
Also, she voiced concern that, like all Town Manager appointments, the appointment process for this group is not transparent because neither the Councilors nor the public is permitted to see the Statements of Interest (SOI) of applicants..
Andy Steinberg (At large), who pointed out that he worked for Western Mass. Legal Services for about 30 years, said that he has noted that poor people are often victims of crime, as well as being accused of crime, that poor people are often people of color, and that some poor people who were victims looked to the police as protectors. He also expressed his concern that the committee will probably meet via the internet and Zoom, and that some poor people will have problems with computer access and a quiet place to participate. He agreed with Bockelman that the Community Safety Group should follow open meeting law.
DorothyPam (District 3) agreed with DeAngelis that it is important to put "racial equity and justice" in the title of the group and that meetings must be open to the public in order to engender trust.
Alisa Brewer (At large) lamented that she has been in elected office for 20 years and knows that many people do not feel safe here, but she has not known what to do about it except to listen. She supports the creation of the Group but prefers the title "Community Safety [Working Group]" because she doesn't want to exclude poverty and gender issues. She also stated that in Massachusetts, most applications for municipal committee appointments are not made public. She noted that the Group is under the purview of the Town Manager so Councilors cannot force a change in the appointment process, which is highly confidential. She also noted that the interview process for the Group is far more expansive than the usual appointment process for Town Manager-appointed committees. 
Evan Ross (District 4) asked if those on the interview committee can serve on the Working Group. Bockelman stated he did not want to preclude anyone from serving on the Working Group and that the decision would be up to the interview committee. Ross added that in Northampton, only the applications of people who are actually recommended for appointment are made public.
Shalini Bahl-Milne (District 5) wondered if there is time for the Working Group to do the proposed work. She said she supports transparency but feels that outreach efforts could be private. She also advocated paying committee members and giving them technological support to eliminate barriers to participation. She supported gaining diverse perspectives, including those of the police. She suggested that an officer who works amongst  the public participate in the discussion, as they might be aware of nuances in policing that the public is not. Bockelman stated that, though the timeline is tight, it is important for the Group to formulate a report by January to be in line with next year's budget process.
George Ryan (District 3) also expressed support for including the police in the Group. He said it is strange that the body is focused on delivery of police services, but the police are not included on the committee. Police are often first responders for domestic violence, sexual assault, homelessness, mental illness problems, he said, and may have valuable input on how to deal with these.
Steve Schreiber (District 4) suggested that maybe not an active police officer but a retired officer could contribute to the Group's work.
Council Chair Lynn Griesemer (District 2) said that in her experience as Chair of two Town committees, relevant Town officials should be available but not necessarily part of the Group. She also felt that financial support and aid in obtaining equipment should be available for members of all committees, not just to those in elected positions. She noted that this matter needs to be discussed in the budget process.
Sarah Swartz (District 1) felt that some of the conversation is tone deaf. "We have to be practical, but need to remember why this topic arose," she said. "People are telling us that they don't feel safe with police, yet we keep saying we need input from the police. Incorporating the police in this work will discourage a whole lot of people from participating in this discussion."
Bockelman expressed his appreciation of the rich discussion and said he is happy to be part of a Town so passionate about this issue.
Primary Election
Acting Town Clerk Sue Audette and Facilities Manager Jeremiah Laplante reported that, aside from some minor glitches, voting in the September 1 primary election went well. There were no problems with the new voting site for three precincts at the high school. No voter called on election day to ask where their polling place is.
With a much larger turnout expected for the November 3 election, the Clerk's office will provide better signage and move the handicapped parking at Crocker Farm School closer to the library entrance. Because of limited space in the Crocker Farm library, there may be room for only two observers in order to comply with State social distancing guidelines. Other polling sites will have space for four to six observers.
In the primary election, the low turnout allowed mail-in ballots to be sorted by precinct and fed into the machines by the poll workers at the appropriate voting sites. For the November 3 election, the plan is to have a central site, probably at the Bang's Center, to process mail-in votes and have the total count of mail-in votes ready by 8 p.m., when the polls close. So far, 7,800 residents have applied for mail-in ballots.
Audette and Laplante recommended that there be no change in polling places for the November 3 election and said they are preparing for longer lines at in-person voting then.
Griesemer expressed her gratitude to the Clerk's office and all of the poll workers who made the election a success.
Percent for Art Bylaw
The Percent for Art Bylaw, which was first passed by Town Meeting in 2017 but was later challenged by the State Senate and returned for revisions, was brought for a second reading and a Council vote. (The first reading was at the Council meeting of September 14.) The proposed bylaw was developed by the Percent for Art Ad Hoc Committee in conjunction with the Public Art Commission and the Finance Committee. It specifies that 0.5 percent of the cost of any new construction with a cost of at least $1million (from the general fund) be spent on public art at the site. The original bylaw had specified any project over $100,000. With little more discussion, the bylaw passed 12-0-0 (DuMont, who was absent, had previously offered her support). It will be part of the Town's General Bylaws.
It is not clear whether the Percent for Art Bylaw will apply to any renovations or new construction at the Jones Library, since the Jones is owned by the Library Trust and not the Town.
Cambridge is the only other city in Massachusetts with a similar bylaw.
New Health Director and Director of Human Resources Appointed
Bockelman recommended Emma Dragon, a Registered Nurse who has served on the Hadley Board of Health and has a Masters Degree in Emergency and Disaster Management, for the open Health Director position. Her resume can be read here. She was appointed with a unanimous vote.
Donna-Rae Kenneally, JD was selected as the new Human Resources Director by another unanimous vote. She has been working as Associate Director of Human Resources and Title IX Investigator at Western New England University. Her resume can be read here.
Participatory Budgeting
Due to delays caused by the COVID-19 pandemic, the report of the Participatory Budgeting Commission was delayed to June 30, 2021 and the Rank Choice Voting Committee to December 1, 2020.
Town Manager's Report
Bockelman stated that not much is new from his report the previous week. The COVID Ambassador program is going well and the COVID Concern Line has remained popular. The Ambassadors will start handling the line on Friday and Saturday evenings.
Ross said a constituent told him that he was fined $300 for a noise bylaw violation with no previous warning. He said he was told that there is a "zero tolerance policy" regarding noise. Bockelman said that those who register with Party Smart, first get a phone warning for a noise complaint. He has not heard of any reference to a "zero tolerance policy," but he will check into the matter, and it is not only students who have been subject to noise complaints.
Bockelman remains concerned that only 66 percent of the residents of the Town have completed the 2020 census. He urged everyone to check with friends and neighbors to make sure they have filled out the form. The Community Participation Officers continue to make contact with harder to reach residents. The complete Manager's report can be read here.
Council Subcommittees
Community Resources Committee Chair Mandi Jo Hanneke (At large) stated that the Committee will continue its discussion of zoning and a comprehensive housing policy on September 29 at 2 p.m. They will also review the process for the recent appointment of members to the Planning Board.
The Governance, Organization and Legislation Committee will discuss the proposed Wage Theft Bylaw on September 30. The Committee has received feedback from the Town Attorney.
The Town Services and Outreach Committee will present a parking plan for the Lincoln–Sunset area at its next meeting.
Other Committees
DeAngelis, speaking as liaison for the Disability Access Advisory Committee said that the group has been hindered by the loss of two members, Gerry Weiss and Joseph Tringali, who were not reappointed. The Committee is working on a grant and is looking at ways to make voting easier for those with visual and dexterity impairments
The Joint Capital Planning Committee is not meeting again until February.
Other Items
At the end of the meeting, Brewer raised a couple of issues. One is the role of Town Councilors who attend meetings of committees that they are not members of. She wanted to discuss how someone who does not go to committee meetings can communicate with committees. She also noted that some Councilors get texts and emails during a meeting and then ask questions raised by the public in those communications. She felt this was unfair to members of the public who don't have access to Councilors' cell phone numbers or emails.
These matters will be discussed at a later date.
The meeting adjourned to Executive Session at 9:25 p.m.