Council Ponders How to Address New COVID Cluster Related to UMass Students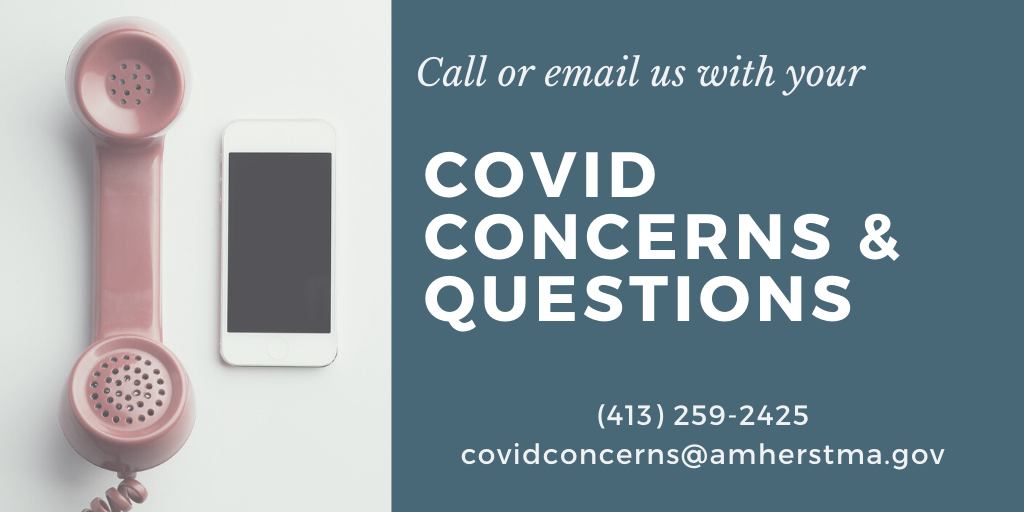 Report on the Meeting of the Town Council (10/5/2
The meeting was held as a Zoom webinar and was broadcast simultaneously on Amherst Media Channel 17. A recording of the meeting can be viewed here.

Participating
Town Councilors: All
Staff: Town Manager Paul Bockelman, Acting Health Director Jennifer Brown
Announcements
The COVID concern line is 413-259-2425 or covidconcerns@amherstma.gov
Proposals for Community Preservation Act Funding are due October 12.
Applications are now being accepted for the second round of Emergency Rental Assistance Funding.
The Town received a $129,000 grant from the Department of Transportation to enhance downtown streetscapes to encourage people to patronize downtown businesses.

The October 8 noon call-in show with the Town Manager was set to concentrate on issues faced by seniors. The next Cuppa Joe will be Friday, October 16 at 8 a.m.
Public Comment
School Committee Chair Allison McDonald encouraged the Town to enforce COVID-19 prevention policies, such as mask wearing and limiting social gatherings. She said it was "a shame" that our youngest students were unable to start school as planned on October 1 due to an outbreak of COVID-19 among college students living off campus.
Residents Brian Yellen and Meg Robertson spoke in favor of the Wage Theft Bylaw which, according to Council President Lynn Griesemer (District 2), will probably be discussed at the October 19 Council meeting.
Work of Two Commissions Extended
The Council voted unanimously to extend the terms of Rank Choice Voting Commission and Participatory Budgeting Commission, whose meeting schedules were interrupted by the coronavirus shutdown. They were to have completed their work by this fall, but now will strive to finish by December 1, 2020 for the Ranked Choice Voting Commission and June 30, 2021 for the Participatory Budgeting Commission.
Appointments Approved Unanimously
The Council approved unanimously the Town Manager's appointments to the Amherst Municipal Affordable Housing Trust, Community Preservation Act (CPA) Committee, Disability Access Advisory Committee, and Leisure Services and Supplemental Education (LSSE) Committee. These appointments had previously been discussed and recommended by the Town Services and Outreach (TSO), a subcommittee of the Town Council.
COVID-19 Update
The bulk of the meeting was devoted to a presentation and discussion of the status of the COVID-19 pandemic in Amherst following reports of a cluster of new cases at UMass. Town Manager Paul Bockelman and Acting Public Health Director Jennifer Brown explained the magnitude of the outbreak and efforts being made by the Town and UMass to control it.
As of October 5, there were 75 active cases in Amherst, down from 80 the previous weekend because some people came off the required isolation of 10 days after symptoms start, but up from just 8 cases on September 21. This number put Amherst in the yellow zone of 4 to 8 per 100,000 population and necessitated delaying opening public schools by two weeks according to an agreement between the schools and the Amherst Professional Education Association. (Editor's note: as of this writing, Amherst is in the Red Zone due to additional active cases of COVID).
The cluster of cases was identified on October 1 and resulted from a gathering of 8 students inside an off-campus apartment. It was picked up through the asymptomatic testing center at the Mullins Center, where all students are encouraged to test twice weekly. The UMass Public Health nurse immediately notified theTown's Public Health Department and the University started extensive testing and contact tracing. Those testing positive were required to self-isolate, meaning no contact with uninfected people, for 10 days after a positive test result or the beginning of symptoms. Other exposed individuals were required to quarantine (not go out in public) for 14 days, which is the incubation period, to be sure they are not infected. All positive cases are entered in the Massachusetts Virtual Epidemiologic Network (MAVEN). State officials have been very helpful in helping the Town develop a response to the growing number of cases.
When asked why the Town or University didn't come down harder on those who acted unsafely, Brown said that if punishment is too severe, people might not cooperate with testing and contact tracing. Even expelling the students would not mean they would leave town — and the University would lose contact with them if they were expelled.
Bockelman said that the University has carried out 195 "disciplinary hearings" for students since September, but he is unaware of the outcomes of these hearings.
Many Councilors offered their thoughts. Darcy DuMont (District 5) noted that the 6-foot distance for 15 minutes that is used to determine exposure to the virus (for contact tracing) has ramifications for indoor dining, school classrooms, and buses. Brown said that schools and restaurants are using multiple mitigation steps to lower the risk of indoor viral transmission.
Cathy Schoen (District 1) noted that she has seen several large gatherings in North Amherst, and that some houses have incurred repeated noise violations and many have exceeded gathering size limits.
Alisa Brewer (At large) praised UMass for recommending and implementing testing of off-campus students as well as for providing quarantine and isolation facilities. However, she is unhappy with the university's "educational" approach. She said, "The decisions these students make impact many others in the community. Eight students led to hundreds of school children not being able to start school. No gathering of people who do not live together is safe. If you must socialize with those you don't live with, do it outside with masks and social distancing."
In other COVID-19 matters, the COVID Concerns hotline has been active, with 238 calls and emails since its inception on August 30. COVID Ambassadors covered Friday and Saturday evening calls for the first time this past weekend, staffed an information table at the Farmer's Market, and are going door to door in neighborhoods where many students live.
UMass has now agreed to provide testing at the Mullins Center site for first responders and inspectors who must enter local homes. These tests will most likely be paid for through federal CARES Act funds. In response to a query, Bockelman replied that teachers are not considered first responders.
Mandi Jo Hanneke (At large) asked about the Town's plans for Halloween. Bockelman said the LSSE is organizing a car parade and that the Town will issue guidelines for trick-or-treating this week. Dorothy Pam (District 3) said there should be a way for children to trick-or-treat in a socially distanced way, but Brewer and Steve Schreiber (District 4) said it would be impossible to keep kids safely apart and to prevent them from eating candy on the street without washing their hands, and the Town should not permit trick or treating this year. Bockelman said that he appreciated this discussion and that the Town plans to consider what would be the best public health policy.
November 3 Election
The Council unanimously authorized the Election Warrant for the November 3 general election. Polls will be open from 7 a.m. to 8 p.m., and polling places will be the same as they were for the September 1 primary election. The Warrant is listed here. Crocker Farm is the smallest of the polling places, and has four regular polling "stations" and one "station" for voters who must sit to vote. Every polling place has space for poll watchers, though the number allowed might need to be limited.
Zoning Article 14
The temporary Zoning measure passed in June, which expanded outdoor dining and personal services, is due to expire on December 16. Because proposed Zoning changes require a public hearing and input from the Planning Board, there is a time constraint to extending this provision. Hanneke scheduled a joint Public Hearing with the Planning Board on November 4 to discuss an extension, and moved that any proposed changes to the measure be automatically referred to the Planning Board, as well as the Community Resources Committee (CRC) and Governance, Organization and Legislation Committee (GOL), both of which are subcommittees of the Town Council, before coming to the full Town Council. This passed unanimously.
School Funding
The Student Opportunity Act passed by the State last year aims to make school funding more equitable, but some advocacy groups, mostly from the eastern part of the state, have proposed to free up funds for this program by eliminating the Hold Harmless Clause for determining funding. This clause maintains funding for districts even if their enrollment decreases, as it has for several years in Amherst. If the Hold Harmless clause is removed by the Department of Elementary and Secondary Education, the Amherst Pelham Regional School District would lose 14 percent of its state funding, or about $8 million. There would be no way to make up for the money lost. Town Council voted unanimously in support of a resolution against the elimination of the Hold Harmless Clause.
The Amherst School Committee and Pelham School Committee must approve of the proposed resolution before the state's October 16 deadline for feedback.
Plastic Bag Bylaw
Amherst has had a ban on single-use plastic bags since 2016, but there have been problems with definitions of what is allowable and what is prohibited. Revision of the Bylaw was interrupted by the pandemic and Governor Charlie Baker's temporary ban on reusable bags due to COVID-19. The ban was lifted in June, and Darcy DuMont (District 5) sponsored the revision of the Town's General Bylaw 3.28, which reinstates with revisions the ban on single-use plastic bags. George Ryan (District 3), Chair of the GOL, asked the Board of Health, Business Improvement District (BID), and Chamber of Commerce for feedback, and told the Council that the BID and Chamber have no objections to the Bylaw because businesses here are already accustomed to it. (The only exemption that was granted to a business is no longer active.) The revised Bylaw passed unanimously.
Committees' Reports
Ryan announced that the GOL report regarding the Wage Theft Bylaw, including a summary by Town attorneys KP Law, is available on the Town website . Pat DeAngelis (District 2) stated that the KP Law opinion — that the proposed Wage Theft Bylaw might be in conflict with the State's statute — is inaccurate. She explained that the Bylaw does not contain "additional requirements," which are not permitted; rather, it gives the Town enforcement capability (in addition to the Attorney General's capability). This matter will be discussed at the October 19 Town Council meeting.
On a different matter, Andrew Steinberg (At large) said that the Town's financial reports are available on the Town's website.
Steinberg then asked whether a sponsor of a proposal should be permitted to contribute to discussions by Council Committees of the proposal. He said that discussion of the Plastic Bag Bylaw had been unnecessarily complicated by "back and forth" between sponsor DuMont and the GOL Councilors, and proposed that such discussion be restricted to exclude the sponsor who he said might bring bias to the deliberation. Councilors Griesemer (District 2) and Pam objected to this restriction, saying they do not see a conflict of interest. This matter will be discussed at a future Council meeting.
DuMont said that, due to the partial shutdown of UMass, the pressure for parking in the Lincoln Sunset area has lessened and that the Town Services and Outreach (TSO) Committee has more time to study the issue of Parking on Lincoln Avenue and to see if daytime parking restrictions should be applied to other streets in the area.
Town Manager's Report
The full report is presented can be viewed here. Town Manager Paul Bockelman highlighted several points:
Acting Town Clerk Sue Audette received a $34,000 grant to promote safety for poll workers. She is conducting poll worker training this week.
Bockelman hopes to present scaled down plans for a redesign of the North Common at a Council meeting in the near future. Money for the North Common renovation had been allocated by Town Meeting in 2018.
He is using CARES money to improve the public way and hopes to install solar charging stations for personal devices near park benches and provide portable restrooms in some parks.
Craig's Doors is working on providing safe night-time shelter for the homeless and, with most public buildings closed, safe day-time shelter as well.
Shalini Bahl-Milne (District 5) asked how Council meetings can be made more accessible to those with visual and auditory disabilities. A discussion of transcription services and American Sign Language interpreters ensued. Bockelman will look into the matter.
DuMont asked how Public Comments offered at meetings (or delivered digitally) can be preserved and made part of the record. Steinberg said that "responding to comments would raise them to the level of an agenda item and violate Open Meeting Law." Griesemer thought that it was important to maintain the ability for the public to comment remotely, even when the Council goes back to meeting in person.
DuMont also raised the question of whether to pay stipends to members of the Community Safety Committee, using money allotted to that committee, and of raising the salaries of Councilors to make it easier for more residents to serve on the Council and committees. Bockelman said that committee members have not been paid in the past and a new policy would require discussion.
The meeting was adjourned at 9:43. The next Town Council meeting will be October 19 at 7 p.m., after a half-hour public forum on the Master Plan at 6:30.