Amherst Regional Schools' Partial Reopening Called A Success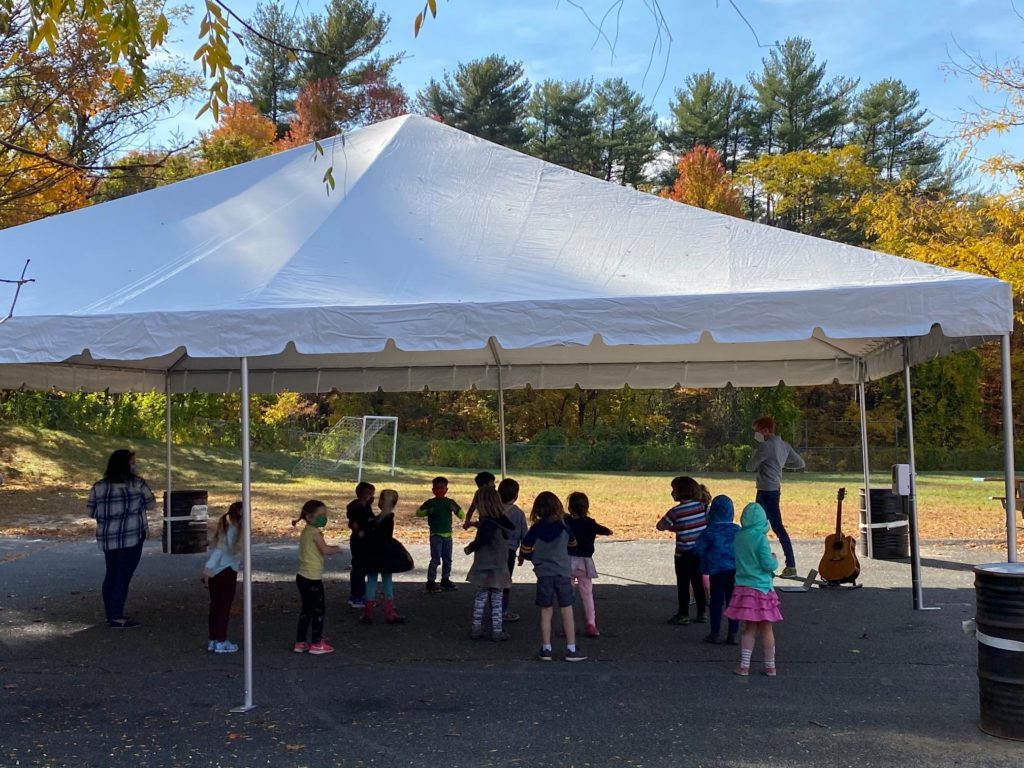 Town Remains In "High Risk" Covid 19 Category
About 300 students returned to school buildings across the Amherst Regional School District for two days this week, as in-person classes began for the district's youngest children and those in priority groups.
Families and staff reported that the return which began October 15 went well, and said students are cooperating with requirements for mask-wearing and social distancing.
"We are all so happy to be together," said Ashleigh Sayer, who teaches English language learners at Amherst Regional High School (ARHS.)
Sayer is simultaneously teaching 12 students in-person and two who choose to remain remote. The remote students are watching Sayer on a Google Meet video, projected from her computer desktop.
Sayer, who has taught for 15 years, said the challenges now are unique, while the students include recent immigrants from China, Vietnam, Rwanda and other countries.
"It's like my first year of teaching all over again," she said.
The Phase 1 reopening district-wide included children in preschool through first grade, along with English language learners, students in special education programs, and those who are homeless or in foster care.
"More than a few tears were shed by the adults as we welcomed children back–we've missed them more than we can express," Schools Superintendent Michael Morris wrote in an email to the school community on Friday, October 16. "As for the children, there was a general air of excitement to see friends and teachers again, and amazing cooperation as they followed directions for greeting each other with … physical distancing. Thank you to all of our parents and caregivers who prepared their children so well for their return!"
Phase 2 Return Date Set for November 4
The date for Phase 2 of the return to in-person school, to include second and third grade pupils, is now set for November 4, Morris stated. A prior date of Nov. 2 was set aside since it was scheduled as a half-day, while November 3 is Election Day. The children in Phase 2 will attend five days per week.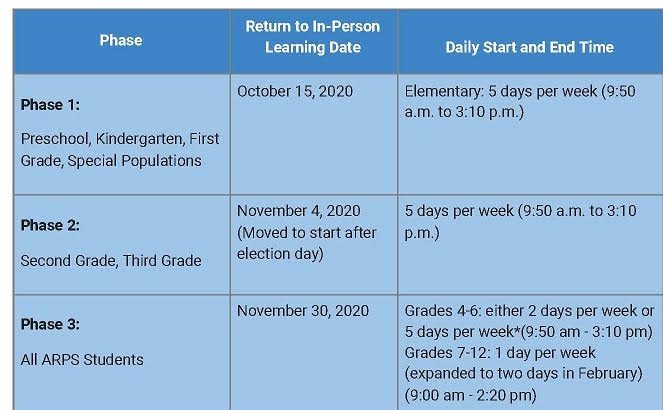 Phase 3, to include students in grades four through 12, is scheduled to begin November 30, with grades four through six to attend "two or five days per week," and grades seven through 12 just one day, expanding to two days in February. Those return dates will all hinge on whether the region's COVID-19 case counts remain within acceptable levels.
Amherst Had Eighty-Nine COVID-19 Cases In Prior Two Weeks
In the meantime, officials kept watch on the numbers of COVID-19 cases among off-campus students at UMass, where a recent surge led to Amherst being designated a "red" or high-risk community by the State Department of Public Health (DPH.)
Communities that had more than eight cases per 100,000 residents in the last 14 days are considered high risk, while Amherst's average daily incidence rate for September 27 to Oct.ober 10 was nearly double that, with 15.7 cases per 100,000 people.
The statewide map of DPH data shows that Amherst had a two-week case count of 89, and a total case count since the pandemic began of 264.
Meanwhile, UMass-Amherst added five new positive COVID-19 cases to its testing Dashboard on October 14, and seven on October 15, but none on October 16, for a total of 151 cases in the UMass community since early August. Those numbers include 142 off-campus students, six off-campus staff, two off-campus faculty, and one on-campus student. The cases have been a mix of symptomatic and asymptomatic, according to summaries on the UMass-Amherst Case Descriptions page.
Agreed Formula Combines Hampshire, Franklin and Hampden County Data
The Town of Amherst's COVID-19 web page showed 55 "active" COVID-19 cases on October 16, with 268 in total town-wide since the pandemic began.
The public school district has been operating remotely since the start of school on September 16, and an initial Phase 1 reopening on October 1 was delayed when COVID-19 case counts exceeded the limits agreed on by the Regional School Committee and the Amherst-Pelham Education Association (APEA.) The agreed formula combines data from Hampshire, Franklin and Hampden counties, but weighs Hampshire more heavily and sets a limit of 28 cases per 100,000 people. The COVID-19 case metrics on October 16 showed 22 positive cases per 100,000 people

At the high school, the daily start time was moved this fall to 9 AM., more than an hour later than in the past. Many are welcoming the change, and say that it makes mornings easier. "Teachers and students really appreciate the 9 AM start time," Sayer said.
Sayer said that students are working hard to uphold the new regulations, but seem so glad to be back together that masks are just a "minor inconvenience." Students are very conscious that they are the first ones back, and "trying very hard to keep the school open."
Two Very Positive Days
Amherst parent Rebecca Dingo, whose son Theo Dingo-Early, age 6, is a first grader at Fort River Elementary School, said his return went well. "He had two very positive days," she said. Theo attends the Spanish/English program called Caminantes, and was finding Spanish challenging online. "He is way more happy with it being in-person," Dingo said. Theo arrives home in a good mood, and "worn out in a good way."
Dingo's older child, Lucia Dingo-Early, 12, a 7th grader, has adjusted well to remote work. "She's not minding it. I think she misses being with her peers," DIngo said.
William Kaizen of Amherst said his daughter Layla, 5, is happy to be going in-person at last to kindergarten at Wildwood Elementary School. "She has been extremely excited for a long time," he said, adding that the physical school start is "long overdue."
Kaizen said that Layla reported spending a lot of time outside on Thursday, including during a mask break, and said he feels good about the District's safety protocols. Layla is expected to wash hands when she returns home, but the family doesn't have major concerns about COVID-19 exposure at school. "I give her a big hug, and I'm glad to see her," Kaizen said.
Kaizen's older child, Tal, age 9, has a long day online as a remote fourth grader, with little peer interaction and few opportunities for physical movement. Kaizen said he looks forward to Tal returning to in-person school as well.
The next meeting of the Regional School Committee is set for Tuesday, October 20. An agenda is here.