Remote Absenteeism Found To Be Worse Among Amherst's Low-Income & Minority Students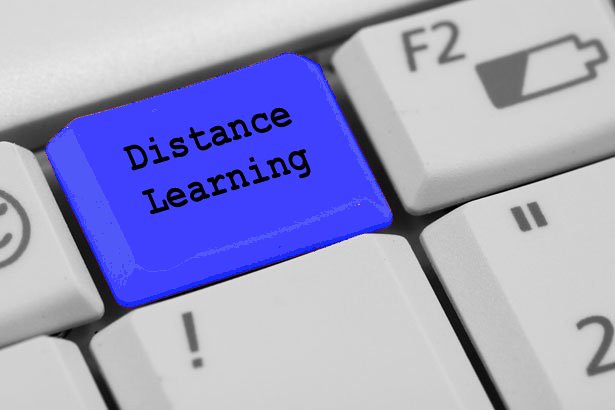 Amherst Regional Schools Seek Solutions, Add Distance Learning Support Centers

Attendance data from last fall and the current one show disturbing trends, including more frequent absences by children who qualify for free lunches, and among those who are Hispanic or Black, according to officials for the Amherst Regional Public Schools (ARPS.)
The Amherst and Amherst-Pelham Regional School Districts are operating remotely, and Superintendent Michael Morris said Tuesday that the administration undertook an absenteeism study after noting a demographic shift in student survey responses. Morris said the study results were troubling, and the District is taking several steps to boost remote attendance.
"None of this should be read as a critique of students and families," Morris said at a Nov. 17 Regional School Committee meeting, adding that districts around the nation are noting similar trends. He said the District has a moral and ethical obligation to address the issue, which involves its most vulnerable students.
The Distance Learning Student Attendance Data, which begins here on page 6, compared absences for roughly six weeks from September 16 to November 6 for both this year and last. It shows an overall absentee rate of just under 5% for that timeframe in 2019, and 4.7% this year, with the caveat that attendance is now taken differently. Students qualifying for free lunch made up about 34% of the population both years, and accounted for almost 44% of absences during the six weeks in 2019, but nearly 62% of absences in 2020.
Hispanic children made up over 17% of the District's student population, and during the study period in 2019, had almost 18% of absences, a number which jumped to nearly 29% in 2020.
Black students, who comprised over 9% of the District's population, accounted for just 8.5% of absences in 2019, but 14% in 2020.
Morris said the trends are worrying because educational research shows strong correlations between absenteeism, achievement levels, and future drop out rates. Staff have begun taking actions to improve the situation, and Morris said very recent data indicates some improvement.
Focus groups were conducted by the ARPS Family Center, and contributing factors identified. Parents and guardians who need to work can't provide supervision for distance learning, Morris said, and childcare responsibilities are sometimes falling to older children in households. In homes with more than one child, kids may be distracted by one another while doing school work, while young children may also distract their older siblings.
The focus groups also found that motivation is a challenge, and that students do not find online learning as engaging as in-person school.
Tactics that are working, Morris said, include outreach to families through means other than email, including phone calls and meetings. Staff are also attempting regular personalized "check-ins and check-outs," and are providing individualized schedules for some students, with direct links to their classes.
In the last month, the District has also created two Distance Learning Centers in collaboration with the Mark's Meadow Afterschool Program and Amherst Leisure Services. Morris said the centers are both operating in the Amherst Regional Middle School building and provide a place where students in grades K-8 can have Internet access and be supervised while using their Chromebook laptops. "They're essentially daycare centers," Morris said. The Amherst Indy requested information on the numbers of children attending those centers, and the eligibility criteria involved, but did not receive answers by publication time on November 20.
Regional School Committee (RSC) member Peter Demling asked if distance learning center opportunities could be expanded, and Morris said such an effort would involve redeploying certain staff members. "We do need a broader group working on this," he said, adding that the state must approve the spaces used.
Meanwhile, the data showing waning attendance among minority groups also shows that absenteeism improved among White and Asian students in 2020. White students made up about 54% of the population both years, and accounted for almost 55% of absences in 2019, falling to 42% this year. Asian children comprised about 11% of the population, and accounted for just over 10% of absences in 2019, declining to a little more than 5% in 2020.
In general, the District's boys have poorer attendance than girls, Morris said.
Hopes For In-Person School Dampened By Surging Regional Caseload
Regional COVID-19 caseloads are surging, and the metric used to determine whether Amherst schools can open stood at more than five times the agreed limit on Friday.
The limit set in a "Memorandum of Understanding" is 28 cases per 100,000 people over seven days. As of late Friday, that figure stood at 162.4 cases per 100,000.
"As a result, we will continue with fully remote learning and will monitor the metrics and report on progress after the break," Morris wrote.
Amherst is one of 134 school districts in Massachusetts that will have free rapid testing available for symptomatic students or staff when the buildings can re-open, Morris said. A related article is here.
The formula for determining if the ARPS school buildings close combines data from Hampshire, Hampden and Franklin counties, and weighs Hampshire County more heavily. The resulting number is typically higher than the Town of Amherst's individual rate, which was calculated this week about 22 per day per 100,000 people by the state Department of Public Health. That average daily rate would yield 154 cases over seven days.
Large groups of parents have written letters to district officials this fall, citing child isolation and other negative impacts of remote learning, and have urged changes to the metrics so that ARPS buildings can open. The RSC has formally asked the Amherst Pelham Education Association (APEA) twice in the last several weeks to engage in renegotiation of the metrics. At Tuesday's meeting, RSC Chair Allison McDonald said that the APEA had not yet responded to its second request.
A Joint Labor Management Safety Committee (JLMSC) meeting took place on November 20 with both parties present, after APEA representatives did not come to a meeting set for November 12, citing concerns about the meetings being televised and other issues. Topics at the November 20 JLMSC meeting included the locations of thousands of face masks ordered by the District, including some that were "uncertified" and will be returned to the vendor. Reports on ventilation testing performed at the schools should be complete by November 30, said Ben Herrington, a school committee member who serves on the JLMSC.
The next school committee meeting will be held on December 1.