Opinion: Expanding The Jones Library Comes At Too High A Cost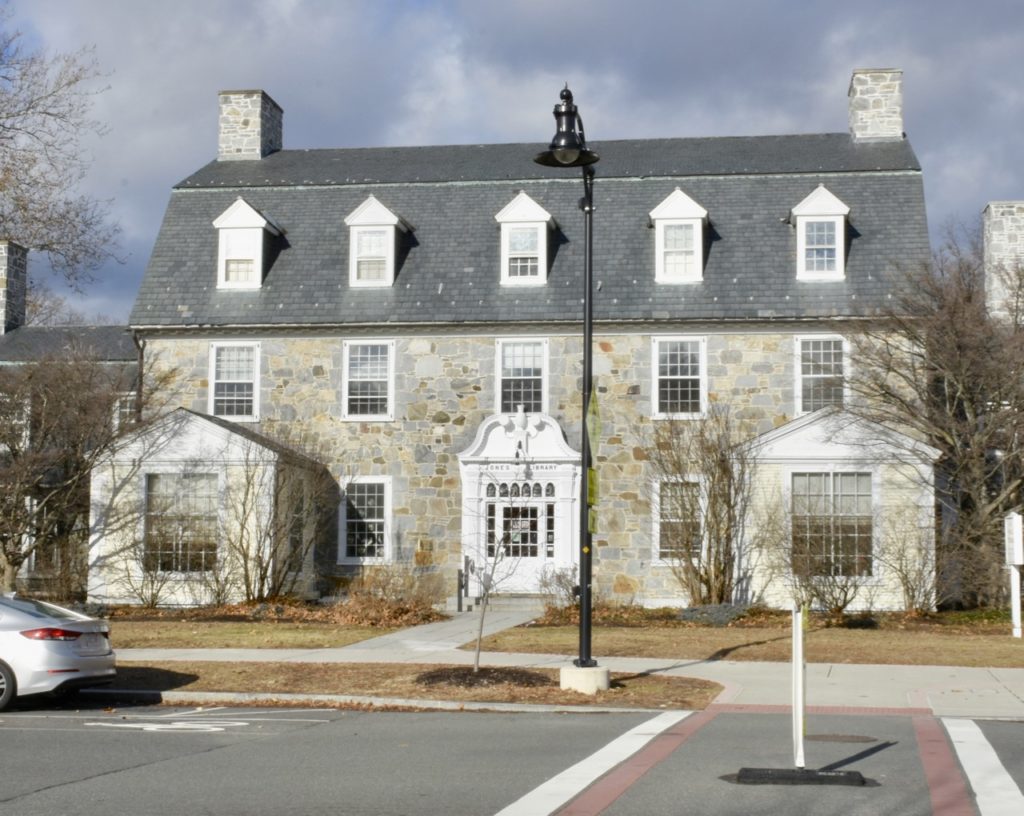 Editor's Note: This column was submitted by Toni Cunningham to the Daily Hampshire Gazette on Dec. 2, in response to an opinion piece by Alex Kent.
In his November 28 column in the Daily Hampshire Gazette ("Amherst Should be Bold and Build Library for All"), Alex Kent describes some of the merits of the Jones Library renovation and expansion project, and says that Amherst should "find the money" to make it happen.
The Jones is certainly a much-loved building and I don't doubt that it could benefit from investment for maintenance and repairs, as well as accessibility improvements. However, what we as a town would have to sacrifice if this project were to happen should give us pause. There simply is not enough money to pay for this project AND afford other priorities.
For more than half a century, we have heard that the downtown fire station is inadequate to meet the needs of a modern-day fire department, and that it is too far from residences in South Amherst to safely respond to calls.
We have been told that the walls and roof of the Department of Public Works facility are literally crumbling.
We have heard from parents and students about the treacherous conditions of the high school track and community fields.
We have been told about the leaks in school building roofs and the broken chillers.
Residents in North Amherst have been calling for a sidewalk along East Pleasant Street for 40 years, while all over town, people wonder when, or if, pothole-ridden roads will be resurfaced.  
Year after year, we see the maintenance of municipal buildings and facilities be deferred, and projects postponed due to insufficient funds.
And yet, the Trustees of the Jones Library are asking the Town to put the Jones expansion at the top of that long list, and take on significant debt ($22 million) for a building the Town does not even own. The debt service on that one project alone — estimated to begin at $1.6 million per year — would have depleted all the available capital this year. (For context, $1.6 million is about 16 times what the Town has spent on sidewalks.) Previous projections about what the town could afford were based on allocating 10% of the property tax levy every year for capital. In 2021, it was cut to 5%, and in 2022 it will likely be 8%. Comptroller Sonia Aldrich has said it will be almost impossible to get to 10% in the foreseeable future.
If the library project moves forward, it signals to our vital first responders — firefighters and DPW workers — that they will have to wait at least another decade or more for safer, more comfortable, and modern facilities. Making the Jones Library the top priority also jeopardizes the effort to build a new elementary school, particularly if the library project is funded using a debt exclusion override. Residents may (or may not) vote to increase their taxes to fund the library, but it is highly unlikely they would then vote again, within a year or two, to increase taxes to fund the larger school project.
Kent wrote that the Trustees and the Friends of the Jones should "persuade wealthy people to open their checkbooks" to rebuild the library. If a wealthy donor stepped forward with a $22 million gift to renovate and expand the library, I would be all for it. But the Trustees have had three years to find a donor for a fraction of that amount, with no success. Without such a generous gift, Amherst cannot "find the money to build a library," unless we are willing to give up on everything else.