Covid-19 Surge At UMass Slows, But Amherst Public Schools Still Closed Amid Region's Growing Caseload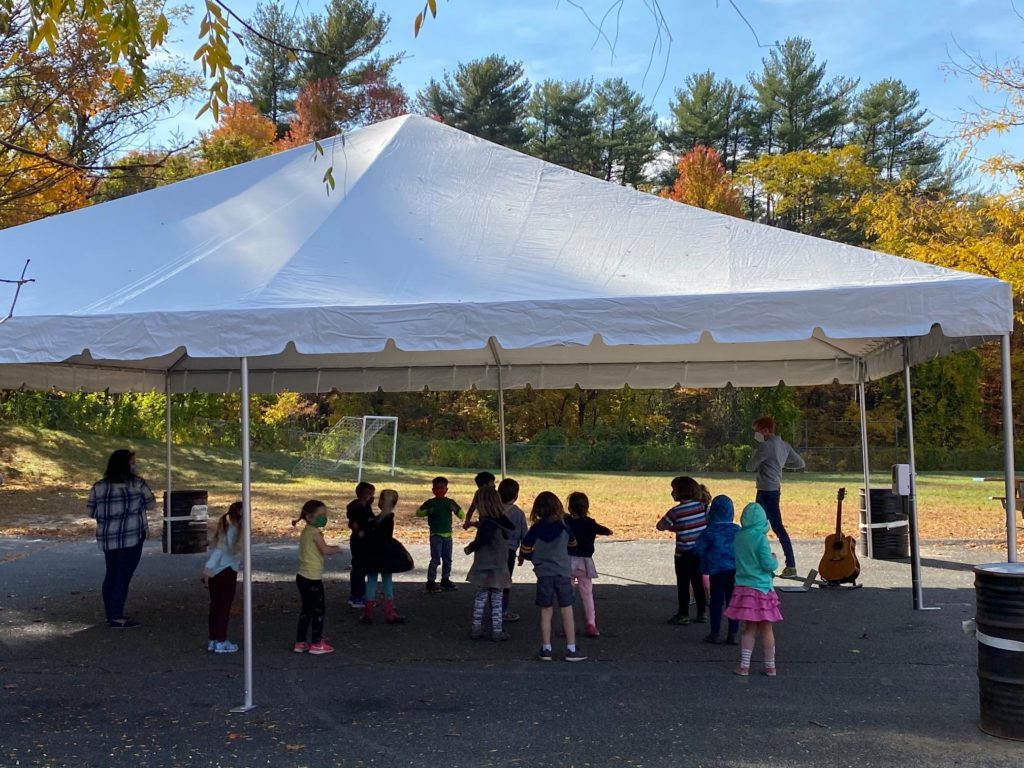 Prolonged K-12 Closure Prompts Parent Actions
COVID-19 cases among students at UMass-Amherst, which spiked in late September and then again in mid-November, appear to be declining now that the winter break is underway. The UMass COVID-19 Dashboard shows that average daily confirmed cases fell from 20 per day in mid-November, to 8 per day for the seven days ending Dec. 8.
Town-wide, there were 123 "active" COVID-19 cases in Amherst as of Friday, still up by more than 10 since Thursday. The Town's COVID-19 website shows a total of 666 cases town-wide since the pandemic began. In the 14 days ending Dec. 10, there were 103 new cases in Amherst, according to the state Department of Public Health's weekly municipal COVID-19 risk assessment,
Weighted Regional Caseload Now Eight Times Higher Than Set Limit for Opening the Amherst Regional Public Schools
The measure used by Amherst Regional Public Schools (ARPS) to determine whether schools can open shows numbers far higher than the agreed limit. On Friday, the weighted formula, which combines data from Hampshire, Hampden and Franklin Counties, showed 236 cases per 100,000 people over seven days, more than eight times higher than the 28 cases per 100,000 agreed to by the Regional School Committee (RSC) and the Amherst Pelham Education Association (APEA.) The APEA, which represents teachers, clerks and paraprofessionals, said in a statement this week that it is working with the district to "move toward the time to move when students can engage in in-person learning."
The APEA cited specific concerns about in-person learning here, including insufficient plans for fitting students in schools with effective air circulation and while socially distanced.
Until recently, Amherst schools also had no COVID testing, the APEA stated. The union "applauded the news" that ARPS was designated a priority district for rapid symptomatic testing on Dec. 4. "We are (also) excited that UMass will also be opening its asymptomatic testing to the community. These are very recent, positive developments," the APEA wrote.
Meanwhile, there is growing frustration among some parents about continued remote learning, especially those with young children unable to navigate computer use without substantial guidance.
"Sole remote learning should never be the only option for elementary students especially … for students who need extra support and are not getting it in Amherst, school principals and other decision-makers should come up with alternative plans to meet these needs," stated parent Lauren Mills, in a public comment to the Special Education Parent Advisory Council (SEPAC) on Dec. 3. Mills, who has run for an Amherst School Committee seat in the past, wrote that in order to assure grades are passed and that children's social and emotional needs are met, funds would have to be provided to parents for tutoring and mentors.
About 155 parents and guardians sent a letter to ARPS faculty and staff this week, urging them to help get union leaders back to the bargaining table.
"The remote learning environment is resulting in more inequity in our community. Families, especially those with means, are leaving the district at alarming rates; widening the equity gap that we have strived to lessen over the years," stated Stephanie Hockman, Bruce Baird, Erinn Knyt, Ina Ganguli, Carlo Dallapiccola and others.
ARPS has compared its attendance figures from this fall and last, and found that low income families and those of color are struggling the most to keep children online. In focus group interviews, the district found working parents who are unable to supervise kids during the day.
However, Schools Superintendent Michael Morris has said he will not break or override the "Memorandum of Agreement" with the APEA. At a Dec. 1 Regional School Committee meeting, Morris said such a move "would be met with active resistance and legal action."
"I do not perceive it is my discretion to disregard a signed document," Morris said.
Morris also said he doesn't anticipate that students at the middle and high schools will return to in-person learning this winter.
The RSC has asked the APEA twice to return to the bargaining table to renegotiate the opening standard, but no new negotiations have taken place. On Tuesday, the RSC went into an executive session to discuss "bargaining or litigation" with district unions.
Petition Now Underway for Open Meeting On the School Closure Issue
A petition drive is underway to require the RSC and Town Council to hold an "Open Meeting of the Residents" to discuss the continued closure of schools. Amherst's Home Rule Charter permits such a meeting "upon the request in writing of 200 residents 18 years or older." Amherst resident Bill Kaizen, who is a Wildwood parent and an Amherst Indy editor, drafted the petition and has been in communication with town officials about whether signatures need to be hand-written.
Meanwhile, SEPAC has discussed avenues "outside the district" which parents can pursue to make sure their children's Individualized Education Plan terms are upheld. Heather Sheldon, SEPAC's co-president, was contacted by the Amherst Indy and said SEPAC is working on a handout that will tell families how to access the state Department of Education's Problem Resolution System (PRS), at https://www.doe.mass.edu/prs/.
SEPAC is also exploring whether it can file a PRS complaint as a group. "None of our students that we represent are getting in-person services," Sheldon stated..
When APEA leadership reached out to SEPAC last summer, Sheldon said, "we had a conference call where we expressed our skepticism that online education could meet the needs of many of our students." 
Distance Learning Center Slots Were Filled Based Upon Needs
Most ARPS children have not been in a school building since last March, although over 50 are now served by distance learning centers set up at the high school and middle school, where children of varying ages are supervised while learning remotely.
RSC Chair Allison McDonald was contacted by the Indy, and said via email late last month that the site for intensive special needs students at the high school was organized and funded by the District, with staff hired based on their experience with Applied Behavorial Analysis (ABA) methods.
The two centers at the middle school, with capacity for 20 students each, are staffed by Amherst Leisure Services and the Marks Meadow Childcare Program. McDonald they are run with budgets from those agencies, with the district providing "in-kind facilities" only. Students were given seats based on need, McDonald said, including issues of attendance, while Leisure Services and Mark's Meadow Childcare also set their own requirements for eligibility. Those agencies may reach out to state licensing officials about the possibility of expanding enrollment. Families who want to be on the list for any openings should contact Out of School Time Coordinator Dwayne Chamble, at chambled@arps.org, McDonald said.
Amherst Designated A "Moderate" Risk Community
The majority of Amherst's COVID-19 cases have been among off-campus UMass students. Although the UMass winter intersession began on Nov. 21 and will last until January 31, numbers of off-campus students remain in the area. The UMass COVID-19 Dashboard, last updated on Dec.10th and revised twice a week during the intersession, showed a cumulative total of 514 cases since early August. That total includes 446 cases among off-campus students, 27 on-campus, and 41 among staff and faculty. 
The state public health report shows an adjusted average daily caseload in Amherst of 18.7 per 100,000 people. Amherst (along with Belchertown, South Hadley and Northampton) is designated as "yellow," or moderate-risk. Another 15 western Massachusetts cities and towns were deemed high-risk, including Granby, Holyoke, Chicopee, Ludlow, Springfield, and Palmer, among others.