COVID-19 In Amherst: A Chat With Health Director Emma Dragon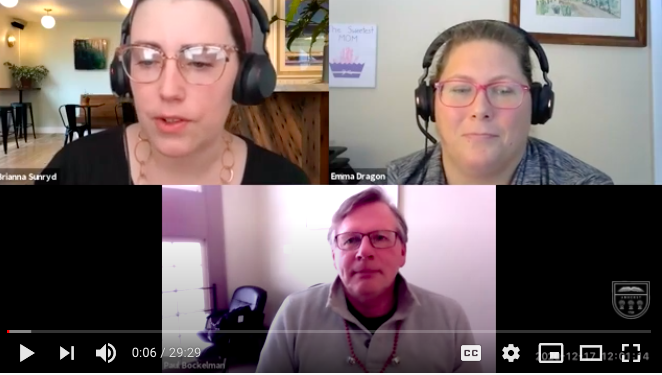 Amherst's new Health Director, Emma Dragon, was the featured guest on Town Manager Paul Bockelman's Community Chat on Thursday December 17. The tape of that conversation can be viewed here.
Dragon became Director at the beginning of November. She is a registered nurse with an advanced degree in Emergency Management. In her first six weeks on the job, she has been working with Public Health Nurse Jennifer Brown on managing the COVID 19 situation in town. They have been conducting testing and contact tracing, as well as connecting those who test positive to social services to get them services and to review needs for quarantine and isolation.
Dragon expects the coronavirus vaccine to be available to most of the Amherst community in April. Those who wish to volunteer in the vaccination effort are encouraged to register with the Massachusetts Medical Reserve Corps (MRC). Besides medical professionals, there is a need for record keepers and volunteers to register vaccine recipients and direct flow.
Ken Rosenthal described his experience getting tested at the asymptomatic testing site in the Mullins Center at UMass. He preregistered, and the total time he spent from parking his car to returning to it was 10 minutes. He received his results within 48 hours. The test is a self-administered swab done under observation. Dragon said that she is encouraging frequent testing in asymptomatic people, since we know that much of the spread of the virus is from people with no symptoms. Testing is available at Mullins Monday through Thursday and pre-registration is required. (Note: The testing center will be closed Dec. 23, 24, 30, and 31.) Register for testing at https://www.umass.edu/coronavirus/communitycovidtest.
In addition, the Town is using federal funding to open a drive-through testing site at Mill River Recreation area on Friday, December 18. This site is for those with symptoms (fever, cough, sore throat, loss of taste or smell, etc) or with exposure to someone with COVID-19. Testing at both sites is free.
In response to an audience question, Dragon said that case counts in Amherst are rising. There were 110 active cases on December 17, the majority of whom were not of college age. New infections span all ages and are more common in multigenerational households and congregate living situations, such as nursing homes, group homes, and apartments. Even with the vaccine on the horizon, it is important to continue safety precautions of wearing a mask, washing hands, avoiding groups, and keeping physical distancing.
Dragon communicates regularly with the state Board of Health and epidemiologists. With the great increase in cases after Thanksgiving, officials are worried about another spike after the Christmas and New Year's holidays. They are encouraging residents to stay home. She stressed that "we are all in this together." She said to be aware of signs of depression or suicide.
"Reach out to people," she said. "Be thoughtful. Together we can build each other up. This is a time none of us will ever forget. Think of what we did to make our community better. Do something that makes you feel comfortable—take a walk, bake some cookies, cook a meal."
Bockelman and Communications Director Brianna Sunryd said that they are working to make remote town services more accessible. Bockelman is working to protect the workforce by having more employees work remotely, while preserving police, fire, and Department of Public Works services. He will reevaluate the situation at the end of January and noted that some colleges, such as Amherst College, are already delaying the start of the spring semester.
There will be no community chats for the next 2 weeks because of the holidays. The next Chat will be January 7 from 12 to 12:30 p.m.