Holiday Celebrations Find New Home At North Amherst's Mill District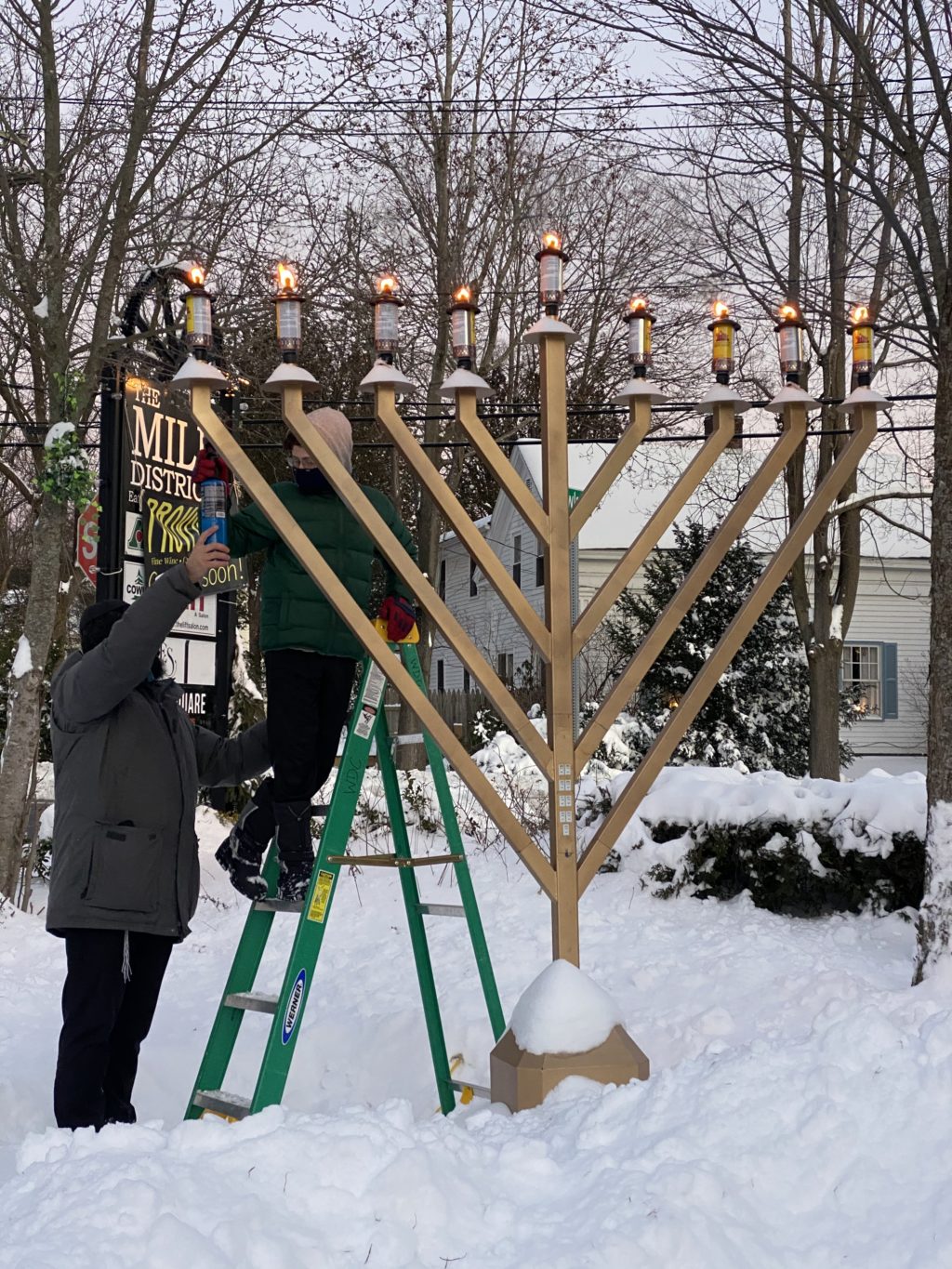 This year, the Mill District in North Amherst has become a new home for community celebrations of Hannukah, Winter Solstice,  Christmas, Kwanzaa, and Three Kings Day, offering safe and socially distanced celebrations of the season. All of the holiday events were organized by Hannah Rechtschaffen, Director of Placemaking for The Mill District
The community menorah, which has previously been maintained at Amherst College by one of the town's two Chabad Houses, moved to The Mill District at the invitation of Mill District developer and W.D. Cowls President Cinda Jones. The familiar community menorah on the Town Common was the site of evening candle lightings again this year.
On each of the eight nights of Hannukah Rabbi Shmuel Kravitsky conducted a candle lighting ceremony in the Mill District and invited two community families to join him to share their thoughts, songs, dance, scripture, or whatever they chose. Videos of the candle lighting can be found here (add link) and on the Mill District's Facebook page here (see here and here).
Former Senate President and Amherst resident Stan Rosenburg lit the tiki torch candles on the third night of Hannukah. Social distance was maintained for each of the evening ceremonies and everyone wore masks. .
The Mill District also hosted a Winter Solstice event on December 20 to celebrate the Solstice with a socially distanced day of happenings around The Mill District including a showing of public art.
Kwanzaa, will be celebrated in the Mill District on Saturday December 26.from 4:00-5:30 PM. The event will be hosted by UMass Professor Amilcar Shabazz and will feature a home made Kinara. Shabazz notes that Kwanzaa is a beautiful part of the reparative process around African descendency in the United States – raising visibility, enjoyment, and ownership of cultures that enslavement aimed to destroy. We come together to light the kinara, tell stories, and share in the restoration of identity and culture of Black communities across the country he said.
Eve Solomon-Fernandez, President of GCC, will host Three Kings Day on Saturday January 2. Further details will be posted on the Mill District Facebook page.