Letter: Amherst Should Support Research On Local Racial Disparities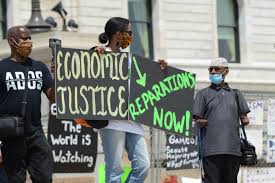 Editor's note: The following letter and supplementary materials were sent to Town Manager Paul Bockelman on 1/26/21

Thank you for taking the time to speak with us last week. It was our understanding that you were looking for guidance from the Town Council with regard to priorities, specifically the Council's position on racial justice/equity initiatives. We hope the actions taken at Monday night's meeting (1/25) — adding the structural racism resolution to the Town Manager goals and Councilor consensus regarding anti-racism training — offered more clarity and will lead you to support our shared goal to "engage in a path of remedy" for structural racism in Amherst. We make the following requests and respectfully request a decision by Friday, February 5.
We kindly request: $5,000 from the Town of Amherst to support racial disparity research, specifically to compensate people of African descent for their participation. We maintain that the data we collect will serve the public good of our community and will be made available for the use of the public.
We kindly request that KP law extend their legal opinion dated November 19, 2020 regarding "the legality of assigning municipal financial resources to a reparations fund, " by reviewing the facts and statements and answering the questions below. We maintain that the legal opinion, which has already been started, will serve the public good of our community.

Thank you for your commitment to racial justice and equity in Amherst.
Michele Miller & Matthew Andrews
Michele Miller and Matthew Andrews are Co-Chairs of Reparations For Amherst and co-owners of Yoga Center Amherst.
---
Supplemental Statements From Reparations For Amherst Co-chairs
Our aim is to address the crisis of anti-Black racism specifically, which impacts the entire Amherst community and must be addressed comprehensively and in a timely manner through economic reparations.
We do not imply "economic reparations" to mean "direct financial payments to individuals."

We are aware of the Massachusetts laws that govern municipal spending, including public purpose limitations and prohibitions against certain expenditures, due to the Anti-Aid Amendment. We are not clear if this pertains to economic reparations, in general, or only to direct financial payments.

In either case, the legal opinion dated November 19th stated that "we could make an argument that reparations [for Black residents] do benefit the overall public by addressing past inequities, acknowledging the public's past role in discriminatory practices for African Americans, and primarily, by promoting future minority economic development in town to make amends for such injustice, which economic development for the Town benefits the public as a whole," and we agree.

The document produced by R4A —A PARTIAL HISTORICAL TIMELINE OF SLAVERY AND STRUCTURAL RACISM IN AMHERST — was the first step in making the case for the Town's role in discriminatory practices harming African Americans. It was also the impetus for the Town Council's unanimous vote to adopt a resolution acknowledging and apologising for its role in structural racism — A RESOLUTION AFFIRMING THE TOWN OF AMHERST'S COMMITMENT TO END STRUCTURAL RACISM AND ACHIEVE RACIAL EQUITY FOR BLACK RESIDENTS.
We are continuing to build the case for reparations by collecting local disparity data (qualitative and quantitative) past and present, as well as evidence that Amherst was intentionally engineered as a white enclave. We are confident our findings will unequivocally demonstrate the need for a plan to address the inequities and other harms caused by anti-Black structural racism in Amherst.

We are working with Alderman Robin Rue Simmons of Evanston, Illinois and using their roadmap, including feedback about changes they would make, to advance reparations in Amherst. We are also watching other towns and cities throughout the Country and contributing our own lessons to the movement.

Based on the feedback we received from Evanston, our goal is to set up a 501c3 which will operate and manage a fund paid into by the Town of Amherst, public and private anchor institutions, private developers and business owners, and individuals.

Money raised will be used to uplift current and past Black residents in Amherst who have been harmed by structural racism, by offsetting economic disparities in areas not limited to housing, income, education, health, enterprise, transportation, and personal development.

As in Evanston, allocation guidelines and decisions will be established and made by a Stakeholders Committee composed of Black people.

We plan to ask the Town of Amherst to contribute to the fund in a meaningful way, using Cannabis revenue, or other available revenue, as it sees fit.
---
Questions
Based on the legal opinion offered by KP law on November 19, 2020, it appears the most likely path for the Town to contribute is to "reinvest in areas in which black residents face disparities, G.L. c. 40H, § 2". One potential stream is using "tax revenue from cannabis sales to reinvest in the Black community or in Black-owned businesses."
For the Town to do this, and keeping in mind the fund will not be housed with the municipality, would Reparations For Amherst (R4A) have to be established as a Community Development Corporation pursuant to 40H, § 2?
Please expand on all possible structures to support the above scenario.

In this scenario, are there any limitations you can imagine with regard to disparities that cannot be remedied through a municipal contribution?

Do the Massachusetts laws that govern municipal spending, including public purpose limitations and prohibitions against certain expenditures due to the Anti-Aid Amendment, pertain to the above scenario? Or are those laws only applicable when considering direct financial payments?
If they do apply,what process would ensure the Town that reparations benefits the public as a whole?

Please outline the minimum required path for the Town of Amherst to legally contribute funds to a CDC or other non-profit organization.
Given we are not discussing direct financial payments, is a town sponsored ad-hoc committee to study what other municipalities are doing needed?

The City of Evanston, through a resolution, committed the first 10 million dollars of cannabis revenue to a reparations fund. Is there anything prohibiting Amherst from doing the same?

What percent of the Council would be required to vote in favor of a resolution for it to pass?