Local Historic District Commission Debates Minimum Maintenance Bylaw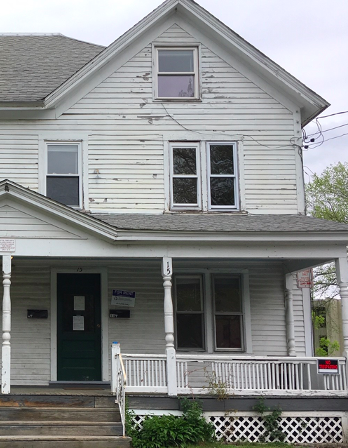 Report On The Meeting Of The Local Historic District Commission (1/25/21)
The meeting was held as a Zoom webinar and was recorded. That recording can be found here.
Participants: Commissioners Jennifer Taub (Chair), Peggy Schwartz, Greta Wilcox, Karin Winter, Bruce Coldham. Staff: Assistant Planner Ben Breger
No members of the public were in attendance and there were no recent applications for projects in the District. Traub noted that there is one vacancy on the Commission. Breger was not sure of the timeline for filling the vacancy.
Minimum Maintenance Bylaw
The Commission has been researching and discussing the Minimum Maintenance Bylaws of Lowell and Edgartown. According to the Massachusetts Historical Commission:
:A Minimum Maintenance Bylaw or Ordinance, also known as a Demolition by Neglect Bylaw or Ordinance, provides a method of addressing buildings that are suffering from deferred maintenance. A lack of basic maintenance can lead to the gradual deterioration of a building. Eventually, this can result in public safety concerns, major structural issues and ultimately the demise of the building. The benefit of a minimum maintenance bylaw or ordinance is that it can proactively require an owner to address maintenance needs, through stabilizing and securing the building, before the building is lost. The required standards of basic maintenance are typically included within the bylaw or ordinance. These would include steps to prevent water infiltration through roofs, adequate protective coatings on exterior walls, replacement of broken window glass, maintaining gutters and downspouts, securing the property from unauthorized entrance, removing brush from around the building, cleaning debris from the property as well as others.
​Overview and Explanation of Need
Although inadequate maintenance continues to be a troubling issue throughout much of Amherst, it is especially concerning in the North Prospect-Lincoln-Sunset Local Historic District (LHD). This area is near UMass and is home to a number of historic residential structures that suffer from chronic deferred maintenance. In this area, along Lincoln and Sunset Avenues, Fearing and McClellan Streets, and the north side of Amity Street, the houses that most clearly suffer from neglect and disrepair are consistently non-owner-occupied student rentals. A few visual signs of deferred maintenance are peeling paint, missing balusters (struts), and porches in advanced stages of disrepair.
This kind of deferred maintenance is consistently not due to financial hardship on the part of the property owner, but to the owner's refusal to make repairs unless they are required by code and the code is enforced by the Town.
The photographs below (taken in spring 2019) show the kind of deferred maintenance/disrepair that needs to be addressed and that the Town does not have an adequate vehicle for addressing, according to some. This particular property (15-17 Fearing Street) suffered a fire in the rear of the building in the fall of 2018, and the owner repaired the damage there, but because the decrepit-looking state of the front of the residence is not considered a structural code violation, there is not much the Town can do to require repairs, from this point of view, in the absence of a Minimum Maintenance bylaw.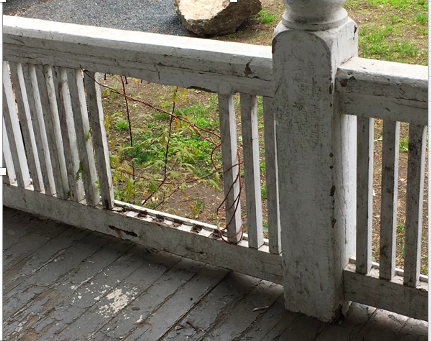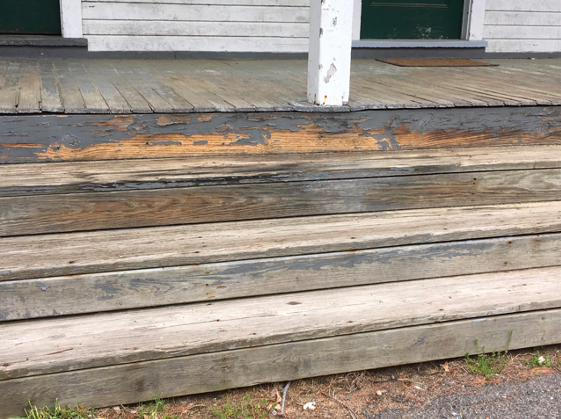 It should be noted that the landlord owns and manages many properties in Amherst and would not be eligible for a hardship exemption, and that it is not a lack of means that resulted in the property's shoddy appearance, but lack of pride of ownership and respect for tenants and the surrounding neighborhood.
Prior Proposal for a Minimum Maintenance Bylaw
The LHD Commission previously requested that the Town of Amherst consider adopting a Minimum Maintenance Bylaw. Although the Commissioners seemed to agree that the Town as a whole would benefit from a mechanism to enforce minimal standards of maintenance while retaining the ability to provide hardship waivers as needed, they recognized that the Town might not want to make townwide requirements at first, and might prefer to start in one or a few historic districts, or even in just a small section of one, such as part of the North Prospect-Lincoln-Sunset Local Historic District.
The Minimum Maintenance Bylaw that was proposed is based on the Edgartown Historic District Commission rules and regulations https://www.edgartown-ma.us/Home/ShowDocument?id=7666 (section 9A), which mandates upkeep of foundations, roofs, chimneys, porches, and porch railings, and levies a fine of $300 a day for violations.
Commission Proposes Tying Rental Permits to Maintenance
Taub noted that most of the problem properties in Town are rentals that are often owned by large companies. She said that these are businesses that make money for their owners, and that part of their profit should be used to maintain their holdings. Landlords are required to get a rental permit every year. 
According to the General Bylaw, Section 3.50 (A2), one of the purposes of the Town's already-existing Rental Permit Bylaw is "to ensure safe and sanitary conditions in the Town's rental housing stock, preventing degradation, and helping to promote preservation of important historic residential buildings and neighborhoods."
Commission members felt that enforcing this Bylaw would accomplish the aim of making sure rental properties are maintained, not only in the historic districts but throughout Town. They pointed out that lack of maintenance of rental properties is not only an affront to the neighborhood, but also a risk to tenants, including fires, and that although landlords often comply with regulations about structural deficiencies, they ignore deficiencies that are considered cosmetic.
Assistant Planner Ben Breger said he will consult with Building Commissioner Rob Morra and Building Inspector John Thompson about improving enforcement of the Rental Permit Bylaw.
Thousands of rental permits are issued here every year, and it would be difficult to inspect every property. Currently, most of these properties are self-certified. One approach would be to conduct an inspection if the Town receives a complaint about a property. A photographic inventory of the neglected properties would aid in enforcement of the already-existing regulations.
Breger agreed to draft a memo to Morra and Thompson so as to increase enforcement of the regulations, which would be more effective than a new bylaw, and the Local Historic District Commission will still be able lodge complaints.
The LHDC will next meet on February 22 at 4 p.m.