UMass-Amherst Logs Over 400 Active COVID-19 Cases Within Days Of Reopening, Imposes New Restrictions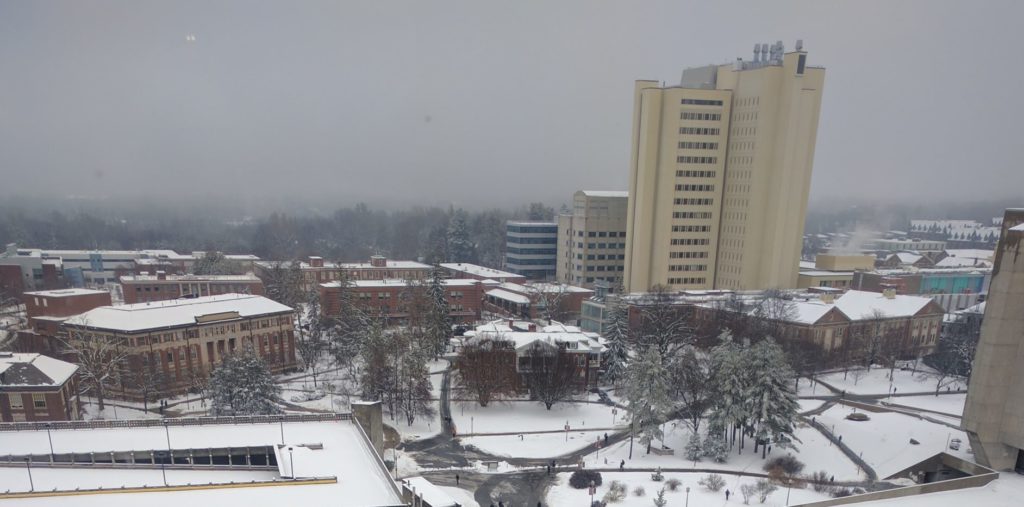 All Students On And Off-Campus Directed To "Self-Sequester"
Just six days into the official start of the spring semester, UMass-Amherst has shifted entirely to remote instruction, and directed all students to "self-sequester."
COVID-19 cases at UMass have risen rapidly over the last few days. The UMass COVID-19 Dashboard showed 445 "active" cases as of 4:30 PM on Sunday (2/7) although later in the evening, the active case number was revised downward to 424. Available isolation space, for those who have tested positive, was listed at 63.8% capacity.
The surge comes amid reports of indoor parties where students gathered unmasked.
"Contact tracing data indicates that transmission of the virus is especially prevalent among some undergraduate students not following social distancing and mask protocols," wrote UMass Chancellor Kumble R. Subbaswamy in a statement released on Sunday. He expressed appreciation for "the vast majority of students who are complying with public health protocols."
It is unknown how many of the current cases are symptomatic. UMass has a large asymptomatic testing program, and is requiring all students to be tested twice a week. UMass administered an all-time high of 4,302 COVID-19 tests on February 4.
The campus' COVID-19 risk level was raised to "high" on Sunday afternoon, just two days after UMass shifted its operational stance from "guarded" to "elevated." Beginning at 2 PM on Sunday, all students both on and off campus were directed to stay in their residences except to get meals, undergo twice-weekly COVID-19 testing, or for medical appointments, Subbaswamy stated. The new restrictions will be in place for at least 14 days, and "will only be lifted when public health conditions improve substantially."
Failure to comply with the directives is a violation of the Code of Student Conduct, Subbaswamy wrote, and "will result in disciplinary action, which may include removal from residence halls and/or suspension."
"To many of you, these may seem like drastic measures, but faced with the surge in cases we are experiencing … we have no choice but to take these steps. By acting aggressively now, we are confident we can contain this surge, and more quickly return to normal operations," he wrote.
Sports practices have been cancelled, and students were told they should "refrain from travel from campus or outside the surrounding area."
About 5,400 UMass students were slated to be on-campus for the semester beginning February 1, and 7,000 to 8,000 off-campus. Those invited to live on campus included undergraduates enrolled in mandatory face-to-face classes or athletics, first-year students and new transfers. A phased return and move-in took place from January 25 to 31. Dorms were expected to be at 39% capacity, UMass officials said.
Students were directed to get tested when they arrived, and to observe a "modified quarantine" and avoid interactions until they had gotten two negative COVID-19 tests. It was unknown on Sunday whether some students managed to evade those testing requirements.
The UMass COVID-19 Dashboard shows that there have been a total of 1,262 COVID-19 cases in the UMass community since August, with 862 among off-campus students, 275 on-campus, and 125 among faculty and staff. UMass has conducted 241,856 tests, with a seven-day cumulative positivity rate of 2.13%.
As of Friday. Feb. 5, the Town of Amherst logged 324 "active" cases, for a cumulative total of 1,363 since the pandemic began.
UMass students are required to follow the university's Interim Pandemic Policy, and gatherings of more than five people require pre-approval by the UMass Environmental Health & Safety Office.
"Let this moment be a stark reminder to any of you who may have been cavalier about COVID-19 that your individual behavior has a profound impact on everyone in your community," Subbaswamy wrote.