UMass Profs Design App For Tracking Area COVID-19 Cases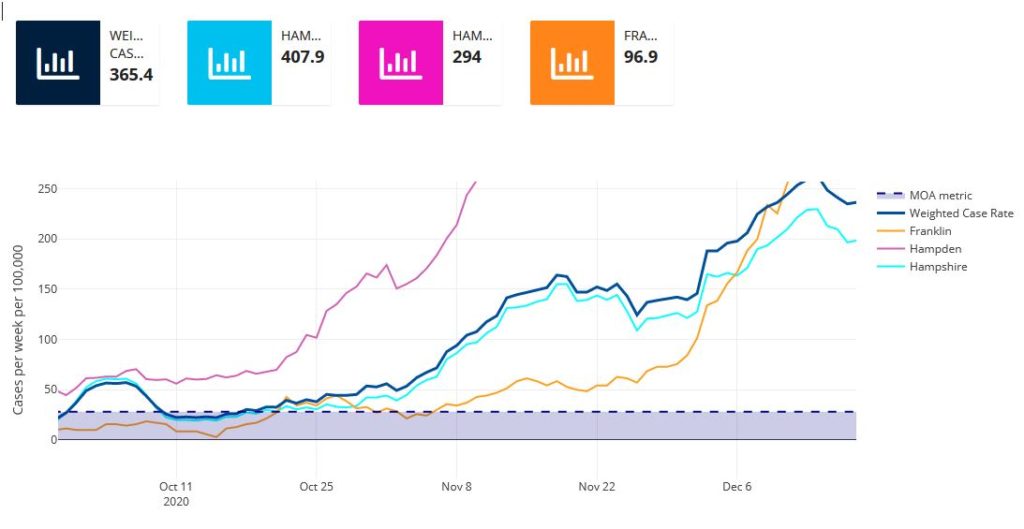 Two UMass professors have created an online app for tracking the number of COVID-19 cases in the area as it relates to in-person teaching.  Ina Ganguli, Associate Professor in the Department of Economics, and Bogdan Prokopovych, Lecturer in the Isenberg School of Management, developed the app to track COVID-19 cases in relation to the metric established by the Memorandum of Agreement signed by the Amherst Pelham Regional School Committee and the Amherst Pelham Education Association (the teachers' union). This agreement establishes protocols for re-opening schools to in-person learning during the 2020-2021 school year.
The Memorandum of Agreement states that the following criteria must be met before the public schools can re-open to in-person learning:
"…fewer than 28 new cases per week per 100,000 (using a 7-day rolling average) in Hampshire, Franklin and Hampden counties, with a weighting of .8 for Hampshire County, .1 for Franklin County and .1 for Hampden County…"
The MOA stipulates that the data used to determine the number of new cases be drawn from The New York Times. The app uses these data to chart the weighted case rate as well as the separate case rates for each county.
Ganguli and Prokopovych, who have a child at Wildwood Elementary and another in pre-school, said that they created the app to make it easier for people to understand the numbers spelled out in the Memorandum of Agreement. They said it was particularly useful when discussing the situation with their kids. Prokopovych says that even adults can get confused about these numbers, especially because The New York Times website no longer posts their data as a seven-day rolling average.
Ganguli and Prokopovych's app shows a steep increase in COVID-19 cases starting in November. Hampden county, which contains Springfield, Holyoke, and Chicopee, saw an especially large surge, peaking at almost 700 new cases in early January. Cases in Hampshire County have recently climbed to over 300, surpassing those currently in Hampden County, whose numbers have been declining. None of the three counties has been below 28 new cases per day, let alone per week's average, since early November. 
Despite similarly high rates, many schools in Massachusetts are currently open to in-person learning.
The app has a second page that maps information about which schools in Hampshire County had returned to in-person learning as of December 2020. This page is not up to date because there is no source of data tracking in-person learning. The app draws on information gathered by Allecia Reid for a letter previously published in the Indy.