Planning Board Continues Discussion of Proposed Zoning Changes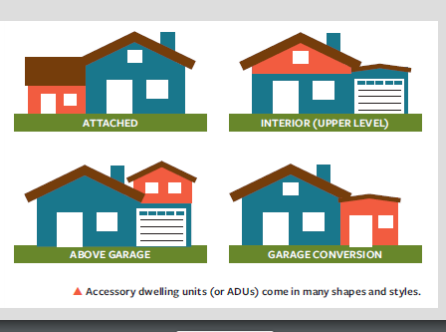 Board Discusses Footnote m and Accessory Dwelling Units
Report on the 2/17/21 Meeting
The Planning Board has decided to meet weekly during February and March to discuss the implications of changes in the Zoning Bylaw proposed by Town Council on January 4.
The February 17 meeting continued the discussion begun on February 10 regarding eliminating Footnote m from zoning in the general residential (R-G) area surrounding downtown. The elimination of footnote m would decrease the lot area required for each additional dwelling unit in apartment buildings and townhouses from 4,000 square feet to 2,500 square feet, as it is in other districts. The minimum lot size in the R-G zone is 12,000 square feet, or about one-quarter acre.
At the February 10 meeting, questions were raised as to why footnote m exists. Planning Director Chris Brestrup delved into the history of the bylaw. Footnote m dates back to the spring of 1993 when developer John Wrobeleski filed an application for Spruce Ridge on High Street. He wanted to construct 13 townhouses behind the main house, which contained three apartments. In the fall of 1993, the Zoning Board of Appeals approved ten townhouses and two apartments in the main house. The neighbors objected and proposed a minimum lot size of 15,000 square feet with 6,000 square feet for each additional unit throughout the R-G. They also wanted to ban townhouses and apartments in the R-G zone. There was a public hearing and a subsequent vote at Town Meeting. The Planning Board did not recommend eliminating townhouses and apartment buildings from the R-G, and the current dimensional specifications were created.
Planner Maureen Pollock had modeled the impact of the change on various size properties after elimination of footnote m at the February 10 meeting. In response to questions raised by the Planning Board at that meeting, she prepared a presentation elucidating the possible increase of dwelling units that would be allowed with the zoning change . Her graphs show that in lots under one acre, the increase in allowable dwelling units is not markedly different. But on a one-acre lot, nine units are allowed with footnote m; without footnote m, 13 units would be allowed on the same lot.
Planning Board member Janet McGowan felt the maximum number of people who could occupy the increased number of units may alter the character of neighborhoods. Member Maria Chao said it cannot be assumed that four people would occupy each additional unit, but it seems reasonable to retain footnote m for lots over one acre in order to discourage combining lots to allow larger buildings. According to Pollack, 46 lots in the R-G are more than an acre in size. Many of these now have multifamily dwellings.
Board member Doug Marshall pointed out that eliminating footnote m might make it more profitable to add units in the R-G, but he noted that there is potential for more infill in the zone even with the current zoning. Planner Nate Malloy stated that many of these lots are in one of the local historic districts, so any change visible from the street would need approval from the Local Historical Commission and creation of two or more units would require a special permit.
There was also a discussion about whether owner occupancy should be required if units are added to an existing property. Pollock said that owner occupancy is not stressed by the ZBA in approving permits, though they may require a resident manager. She said granting a special permit involves the developer getting approval for a management plan and allows the building inspector and other inspection services to enforce codes, as opposed to single family homes turned into rentals. Larger properties usually have professional management companies.
Councilor Dorothy Pam, who lives in the R-G district, pointed to a study by fellow resident Rolf Karlstrom, who noted that problem houses with noise violations and poor upkeep are not usually owner occupied. Rental registration has helped improve the situation because landlords who fail to maintain a property can be denied a rental permit.
Although no conclusions were reached on the benefits or risks of removing footnote m, there seemed to be a general sentiment to keep the larger area requirements for parcels greater than one acre. This discussion will be conveyed to the Community Resources Committee of the Town Council. A public hearing with the Planning Board and CRC is required before the Council votes on any changes.
Accessory Dwelling Units
In the second half of the meeting, Planner Ben Breger gave a presentation on revising the supplemental dwelling bylaw, eliminating minimum sizes of accessory dwellings and increasing their maximum size from 800 square feet to 1,000 square feet. He proposed the term be changed from "supplemental dwelling unit" to "accessory dwelling unit" (ADU) to conform to standard terminology. ADUs can be contained within the principal residence, be attached to it, or be free standing. They are already allowed in all zoning districts. They must contain independent living space, a kitchen, and a bathroom.
The Planning Board members and public in attendance were more favorably disposed to the proposed easing of regulations regarding ADUs as a way to create modestly sized housing, possibly for small families or workforce people. One of the units, either the principal dwelling or the ADU, must be owner-occupied.
In public comment, Ira Bryk wondered if, with the new housing created in recent years, mostly for students, more apartments are needed in the town. He also said he favors increasing housing in the village centers as opposed to the downtown area.
Susannah Muspratt wondered if there is a place on the town website where the public can keep track of proposed zoning changes and give feedback. Brestrup said that the CRC is working with IT to create such a space. For now, all of these presentations are posted on the Planning Board site, in the packets for the meetings.
The next Planning Board meeting on February 24 at 6:30 will resume discussion of zoning in the limited business (B-L) district.