Opinion: A Zero Waste Planet For All Seasons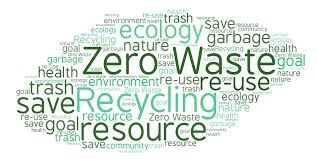 In the late 1960s, ecologists from scientifically and technologically advanced nations were the first to raise the warning about the need to care for our one and only living planet. The United Nations Stockholm Conference in June 1972 was the starting point of organized efforts to deal with environmental problems and the necessity of preventive global actions. The conference stated that the dangerous signals of the physical and social environment included super consuming levels, irregular wealth distribution, and varied pollution levels. The actions to solve these should tend to raise the "healthy ecological levels of the planet," improving the physical and spiritual conditions of our relationship with Earth. The UN Belgrade Charter in 1975 went further by setting a global educational program in new socioeconomic goals:
"The declaration of UN for a new economic order calls for a new type of development, one that takes into account the needs of every citizen of the world, the pluralism of societies and the harmonic equilibrium between mankind and nature. It is necessary to eradicate the causes that generate poverty, famine, pollution, lack of basic education, exploitation and domination. The natural resources must be developed in such a way for all people to benefit from them for a better quality of life. This new type of development requires permanent peace through the cooperation and coexistence among nations with different social systems. In order to face all these basic needs the restriction of military budgets and the reduction of the armament manufacturing should be achieved. Disarmament should be the final goal. Millions of individuals must adjust their personal priorities and assume a global ethic reflecting the compromise for a better environment and life as a whole. The reform of educational systems and processes is crucial to build up this new environmental ethic for a better development for all."
Really, this sounds so relevant for today. The UN is now urgently trying to put into action their Sustainable Goals for 2030.
We are quite lucky here in the happy valley. Indeed the wonderful passage of the seasons, each displaying a delight of color, textures and ways in the multitude of life around "makes all the world kin." And the awesome variety of "green" people and groups in full action for their communities delivers hope and peace for nature now and here and beyond. We still can see "the world in a grain of sand. A heaven in a wild flower. To hold infinity in the palm of your hand and eternity in an hour." We see and deeply appreciate the beauty of Mother Earth around, locally and globally. And we want to keep it alive!
I and many still have a dream…the dream of a global environmental ethic among decision makers. It is not only us, quality commoners, who can do a lot to preserve the natural world, but at this gordian knot time those making big decisions for us must seize the day and be tuned up to the natural world. Fast and effectively! They honestly could do more and better to heal our beautiful blue spaceship here and now. Some truly have to learn to see beyond their precious power and act. Or what's their measure? Some do a lot but much more is vitally needed in every field of human activity, especially in decision making with a broad outlook for nature. As the poet WB Yeats says: "Tread softly because you are treading on my dreams."
Today, most corporate and political polluters tread on the common dream of Zero Waste. We, the concerned people, know this issue is of the utmost importance, it's the planet's last cry for help, demanding fast and effective government action at all levels of decision making. I'm glad there is light at the end of the tunnel with the new administration strongly trying to pass environmental policies and implementation. We ask for more urgent ones! No time wasting!
This is my imperative Zero Waste Call for the best decision makers as Green Leaders – Master Monitors – Super Sorters and Amazing Auditors to effect change at their institutions, offices, hospitals, neighborhoods, boards, councils, schools, and other areas. We know every good small step is beautiful and doable. But we are running out of time. In fact, the Zero Waste strategy/ philosophy is more than a dream; already there are towns with compost, plastic, energy, and transport regulations for the common good. It's happening and it will keep up a strong pace! The main goal is to fully get into composting and a plastics ban; refuse everything you don't need, reduce what you've got, reuse and repair, let it rot, and recycle at the very end. There are thousands of actions and activities in place but only a streamlined urgent top decision roadmap in the different areas, with best proven practices in total connection with key local players, will render the change to save us!
Time is of the essence and we all are making history with our experiences and memories for the livable future, for a zero waste planet and communities. Amherst is doing a lot and we can do more and better!
As educators, we cultivate the seeds of love and care through every season of life; that is, for learners, families, community, country, nation, world, and natural world. In fact, I was at the start of the most important and worldwide educational strategy that includes these aspects, the Ecoschools, in the Summit of Rio, 1992. And it is in full force today! We teach with a hopeful smile and wisdom, we believe in effective ideas, good decisions, service and engagement, also noble traditions and healthy competences, with soft science and technology, with role models at every step. And with healthy soil, air, water, and living species to teach about, with a city in solidarity, with the cultural legacy, with more pure thoughts and dreams.
This is my urgent call to decision makers at all levels: be the example, be the change, do your best for the planet, your communities. Or what's your measure?
In this countdown for the planet we are still the gardeners of the seasons, the harbingers of the butterfly effect. This is so real and we all can affect change and eternity. We all share in the great fabric of life, we are so together in saving the planet, and us.
May the green force be with you! May all the seasons of the planet still shine upon you! Go Zero Waste! Together we make zero.
Laura Rojo MacLeod is an international environmental educator, translator, and author. Contact her at her Amherst Bilingual Studio, amherstbilingual@gmail.