Town Wins Grant For Bangs Center Ramp, Crosswalk, And Plaza Improvements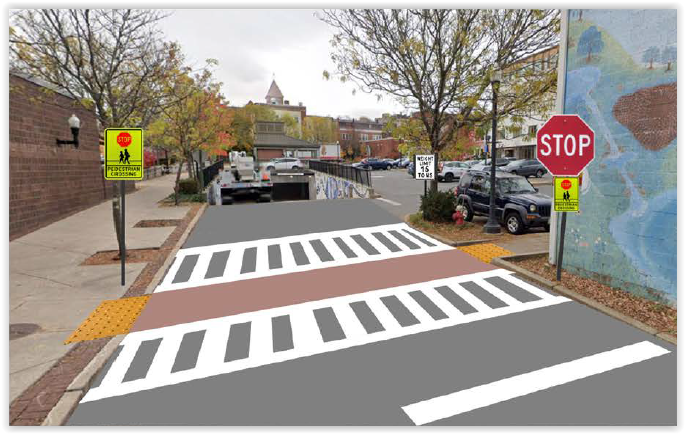 Pedestrian improvements around the Bangs Center and enhancements to Boltwood Plaza will be completed this spring thanks to a grant of $192,600 from the Massachusetts Department of Transportation as part of the "Winter Shared Streets and Spaces Program." The Bangs Center, located in the center of Downtown, houses the Amherst Senior Center and the Musante Community Health Center, two facilities offering services and social programming for seniors, low-income individuals, and the physically disabled.
The four improvements funded by the grant:
Constructing a new access ramp from the parking lot near Johnny's Tavern to the Musante Community Health Center on the lower level of the Bangs Center.
Improving the crosswalk in front of the Bangs Center.
Adding wayfinding signage at Boltwood plaza.
Adding tables, chairs, benches, windbreaks/distance barriers, and umbrellas to the Boltwood Garage Plaza.
The first three components are intended to improve accessibility to the Bangs Center, including for the approximately 180 seniors living at nearby Ann Whalen and Clark House senior residences. The new ramp will provide an accessible route to the Health Center and will allow people with disabilities to enter the facility without needing to enter the upper floor of the Bang's Center to use the elevator, something that isn't possible during hours when the Bangs Center is closed but the health center is open.
The walkway will also offer opportunities for resting on benches and, according to the grant application, will encourage healthy and safe movement for older adults in the area. In addition to improving wayfinding, signage may be developed to promote a network of walking routes suitable for seniors looking to exercise.
The fourth component addresses the small plaza atop the Boltwood parking garage and aims to create a "more inviting and comfortable urban plaza for people of all ages and abilities to gather, eat food, and enjoy performances." Grant funds will be used to purchase wind screens that will double as distance barriers in the COVID era, fixed cafe tables and high-top bistro tables, chairs, benches, plants, and shade umbrellas. The pathway connecting to the plaza area will also be repaired.
Public support for the project was received from the Disability Access Advisory Committee, the Chair of the Council on Aging, Patricia A. Rector, Director of Senior Services Mary Beth Ogulewicz, the Amherst Downtown BID, and the Amherst Area Chamber of Commerce.
According to the press release from the Town announcing the award, the Winter Shared Streets provides technical and funding assistance to help Massachusetts cities and towns conceive, design, and implement tactical changes to curbs, streets, and parking areas in support of public health, safe mobility, and renewed commerce, with a special focus on the particular challenges of winter. Since the inception of the program in June of 2020, the Commonwealth has invested $21.1 million in municipal Shared Streets projects.