Juvenescence: ARHS Students Reflect On A Year Of Remote Learning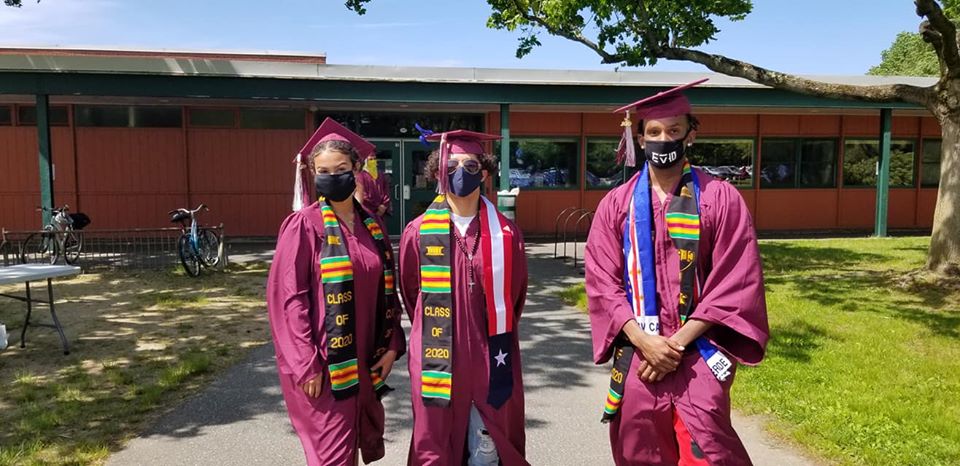 Today, Saturday, March 13, marks exactly one year since Amherst Regional High School (ARHS) entered COVID-19 lockdown.
As a reminiscent senior, I reached out to classmates to reflect on what this year of remote learning has meant for local high school students. They were eager to voice their opinions, ranging from the technicalities of virtual class to the more serious effects of prolonged isolation.
Personally, I have a memory from the first week of quarantine, on FaceTime with a friend. We had baked banana bread, gone on long walks, and experienced the first days of isolation like a relaxing break. I recall my friend wondering how the experience of quarantine would change as time passed. At the time, the prospect of an entirely-online curriculum for the remainder of my high school experience was unfathomable.
Other students had similar recollections. "We were supposed to have a math test that Friday," said ARHS senior Shreya Venkataraman. "I raised my hand and was like, 'What are we gonna do with the test on Friday?', and [the teacher] was like 'Seriously, the world is ending and this is what you ask?'"
"We had found out one or two days prior, that the musical wasn't going to be put on in the way we thought it would," said senior Ian Juras. "Actors, tech people, they were all in this weird mindset of 'we've been working on this thing for three months, and now it's not happening anymore.' I think that was really, really heartbreaking for people."
At the time, our limited understanding of the virus skewed our perception of how the following months would unfold.
"It was half this mysterious black plague, like, oh, if I get this I'm gonna spit up my lungs and choke on my own throat or something like that," said Juras. "And half of it was like this fantastical Disney-movie made-up virus, like maybe it is just the flu."
During the spring semester of 2020, the school adapted a pass/fail grading system that required minimal synchronous classes and little to no work, drastically contrasting this academic year's graded online curriculum. Preferences towards these systems varied among those I interviewed.
"There are students who are thriving in this virtual environment, away from the actual worry about the social aspect of school," said senior Monica Cage, who preferred the pass/fail system. "But then there are other people who are like myself, and who actually thrive in the building around other students, who are motivated by their teachers physically being in the classroom."
Some students leaned towards grading, if not for college applications than for the structure. "[During] the pass/fail I did not do any work," said Venkataraman. "I was not keeping up with anything. Normally I would consider myself a good student, but that spring semester I didn't do any work until I was like, 'You know what, maybe they are putting [grades in]'."
Juras said, "I think the best thing was that there was structure. If we didn't really have grades or something like that, I don't think there would be any motivation for people to be working."
Hardships and Financial Complexities
The world of remote learning also brings forth hardships relating to personal circumstances and socioeconomic complexities within the greater Amherst community.
"I think [the school] made some good efforts to try to get WiFi hotspots to people who need them, and offered a computer to everyone that needs it," said senior Grant Powicki. "But that doesn't necessarily take into account that some families might be out of jobs and students might need to be working."
"Target and the Hampshire Mall both have free WiFi," said Juras, who works at Target. "So in early September, maybe even in October, there would just be kids on Chromebooks hanging out in the Mall; seven-, eight-, nine-year-old kids who definitely shouldn't have been just left alone in a Mall. That's the only place they had access to fast-enough WiFi to do their schoolwork."
Cameras and Microphones
Junior Rebekah Hong founded an international students club in January, partially to help international students practice conversational English. She noted that these students often use the chat function instead of unmuting their microphones when they need help in class.
"Originally it was supposed to help connect international students with the rest of the student body, but it's become extra practice for their English when they can't express their needs in class," said Hong. "A lot of them feel self conscious when they have to speak up in class online, because it's in front of everybody."
The students I talked to also addressed the camera-use policy that accompanies online class. Teachers have varying rules as to whether students must leave their cameras on during synchronous class meetings.
Senior Taylor Master-Alexis said, "I think that the camera use policy is a big issue. I know that it is very hard for the teachers, and I genuinely feel bad that they may have to talk to just a black screen. But that doesn't take into account how the students are feeling right now."
She noted that not all students have quiet, private spaces in their homes. "I feel like they're just expecting that everyone has a good learning environment. I'm grateful that I have my own bedroom, and that I can shut my door and my parents can do their work in their rooms too. But not everybody has that."
On the flip side of the situation, teachers struggle to engage with their students without being able to see them. "[During] one of my classes last semester, it was usually just the teacher with her camera on, or just me and the teacher. It was kind of heartbreaking," said Juras.
The students I interviewed frequently expressed appreciation for their teachers, and recognized that they, too, have had to adjust to new circumstances.
"Teachers and students have been forced to search out new resources that work in an online environment, and challenge your understanding of what learning can be," said Powicki. "It's less about lectures in front of a whiteboard, and more about experimental learning."
Student Teacher Relationships
Building relationships with teachers online has proven challenging.
"In the past years I've loved school and I've loved the subjects I was learning, because of the relationships that I built with my teachers," said Master-Alexis. "I'm joining a Zoom meeting with my former chem teacher next week just to talk to him with a few of my friends. I doubt that I will catch up with any of the teachers I've had this year that I haven't had before now."
"As we are entering the third quarter of online learning, some teachers are still struggling with very rudimentary technology," said Powicki. "I wish they had offered more training for the teachers, and for some students, also."
Applying to College
Yet another challenge of this virtual year: college applications. Those choosing to apply found the process daunting, or simply awkward, without in-person resources.
"Just talking to my friends, a lot of us felt like we were missing something," said senior Isabelle Bouvier. "We were going to submit our application [and] something was going to be lost or whatever."
"I remember I was emailing Miss Cuffee-Grey and Miss Garrity every single day, freaking out that something had happened, that I was gonna screw it up, I'm not gonna get into college, and they were both really patient with me," said Venkataraman. "But it was so difficult, and I just felt like I was going in blind."
"Typically you would go and do everything there, and interview at the university," said Juras, who applied as a music major. "You would get a tour and see who your faculty would be. Now I'm cleaning up my basement, and setting up the computer just right, and playing drums on a Zoom meeting."
Master-Alexis added that some students did not apply to college this year because they felt intimidated and lacked resources. "You know, my parents work in colleges, but if you don't know where your opportunities are, even if you're not planning to go to college and you want to learn about other opportunities, I feel like you could have felt very forgotten. I just think that's gonna create a lot of gaps in our community." she said.
Screen Fatigue
The current ARHS online schedule entails at least three eighty-minute classes a day, most of which are synchronous. Those four hours, in combination with homework time, mean most of our days are spent staring at screens. Fatigue is a light way to describe the impact on students.
"I haven't been to one [Community Youth Action Club or] one Student Advisory Council meeting this year, because by the time 2:20 hits I cannot join another Zoom meeting," said Master-Alexis. "I would totally join if we were in person, but I physically cannot join another meeting."
Cage, who is president of People of Color United (POCU) at the high school, also noticed a decrease in club participation. "On average, we have about seventy students in the club every year but I think we're at thirty students, maybe, this year, and even then not everyone shows up to the meetings," she said.
Powicki said, "The fatigue that comes from being on a screen all the time, for six hours a day, is a lot for me. I just try to keep myself from going insane, like my eyes are melting."
"I think that's part of why I'm not FaceTiming with friends," said Bouvier. "Because once I'm done with my classes I don't want to look at a screen."
So many hours online creates a longing for the socialization of in-person school.
"I just really miss seeing people, even those I wouldn't really care to see or talk to," said Juras. "It's just the act of being around other people [that] makes you feel a lot more supported."
"I wish I could have been able to be the cocky senior walking the halls," said Bouvier. "You spend four years at that place, and then your final year you get to enjoy it and be like 'I'm on my way out, and I did this' and be the boss. I feel like it was kind of a bummer that we didn't have that."
Aside from "Zoom fatigue," remote learning may exacerbate the often mischaracterized issue of teenage mental health. Those I spoke to expressed concern about their own well-being, and their lack of tangible solutions under remote circumstances.
"I slept through three classes last week, and I didn't even email my teachers," said one student, who preferred to remain anonymous. "I woke up and I was like, 'I need a mental health day.' That's not me. I don't skip. I've never missed one assignment in my life. I know reaching out seems like a very simple thing to do, but [I'm] just feeling isolated all day. For the past year, five days a week, just opening your computer. I'm feeling so alone right now."
"When I tell people that I'm racking up my absences, [they respond] 'Why? You literally have to click a button and you're in class,' but it's way deeper than that," another student added.
Others experience a more "up and down" mental state.
"In the beginning, it was pretty bad. I think there was one month where I didn't go outside at all… like, I didn't even step foot outside," said Venkataraman. "At that point, my sleep schedule was staying up till 4 a.m and then sleeping until 11, because that's when my parents wanted me to wake up." She added that her mental state has gradually improved as she has adjusted.
"I feel like this cycle is just what you make it," said Hong. "If you have your own little ways of making your day interesting I think it's really beneficial, and I feel like it just takes time to figure out how to do that."
As of March 11, teachers began getting vaccine access. The Amherst schools also announced recently that a hybrid learning option will be available in April. My interviewees expressed mixed reactions to the possibility of returning to the building.
"I'm worried that the school often has trouble enforcing rules and guidelines, as we've seen in three years of high school," said Powicki. "They often like to sweep things under the rug and ignore them. I think that has the possibility to be really dangerous, and possibly deadly for some families and communities if they don't step up."
"Too many adjustments and too many changes at this point just feels hard. So if we were to go back — and then have to go back online — I know I would really struggle with that," said Bouvier.
"Assuming that it's safe, and a few of my friends are going, I would definitely go back," said Hong. "I know a few of my friends are really struggling with their mental health because they can't see people. I feel like that would definitely help."
Reflecting on an Anniversary
I asked what feelings students had about today's one-year benchmark.
"I was thinking about this while I was driving today," said Venkataraman. "I was thinking about how I've done a lot more in this quarantine than I probably would have in a regular school year because I was so busy with extracurriculars, but this year I've taken a lot of time to try new things."
"I thought about this at work the other day because it really did hit me," said Juras. "I was thinking about the musical and I was thinking about the different bands I was in, and was like, that was a year of my life. It's just been a really hard, long process of making sure I felt grateful for all the opportunities I had before the pandemic and telling myself how much more positive I should be post-pandemic, and how much more grateful."
"It doesn't feel like it's been a year, but also it feels like it's been such a long year," said Hong.
"Passover is coming up, and Passover is such a big holiday for my family," said Bouvier. "This will be the second year that I haven't gotten to see my grandmother or celebrate with my brother, and that's really weird to think about."
If there's one thing I can take away from the conversations I had with my classmates, or the past year of remote learning, it's the absence of a be-all end-all solution. The diversity in student lives and needs requires a system flexible enough to ensure the success of all students, all socioeconomic backgrounds, and all learning types. This includes continual acknowledgement of the complex circumstances in student lives outside of school, which will not disappear when herd immunity becomes a reality.
"Normal school" is not necessarily the prototype. As challenging as the past year has been, it provides a rare and precious opportunity to reexamine and adapt our school structure. School can be accommodating and structured, exploratory and focused, adaptable and rigorous. The first stepping stone must be that the school listens to and includes student voices.
Juvenescence is a new monthly column focusing on area youth. Readers with suggestions for future stories can reach the author at annaliseipeterson@gmail.com.

Annalise Peterson is a senior at Amherst Regional High School, where she can be found running cross country, stage managing, and playing ultimate. Her writing has appeared in ARHS's The Graphic, the New England High School Journalism Collaborative's The Vanguard, and the Amherst Indy.