Second Jones Library Forum Mirrors The First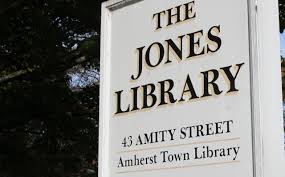 Seventy-three members of the public and approximately 25 Town Councilors, Jones Board of Trustees, and guest consultants participated in the second public forum on the proposed Jones Library demolition/expansion on Saturday, March 6 from 2 to 5 p.m. A recording of the forum can be viewed here. .The first forum was held Wednesday, March 3.

Town Council President Lynn Griesemer (District 2) reiterated from the previous forum that she would maintain two distinct parts of the meeting with a Q and A, with questions to be answered by officials and consultants, followed by public comments, and that she would maintain "some time limits." However, the meeting proceeded mostly as a Q and A, with answers getting more air time than questions and comments. No time limits were upheld. 
Twenty members of the public spoke as well as one staff member of the Library. At the previous forum, four Jones' staff members spoke and five or so others were asked to send Councilors their comments in writing so that "the public can be heard."
Questions and concerns followed similar themes as those aired earlier in the week. At least half of the questioners said that the project should be approved so that the state grant is not lost. There were numerous questions regarding sustainability of the proposed project and whether it is necessary to demolish 40 percent of the current Jones Library building by replacing the 1993 addition. Others wanted to know why the proposal is so large and asked what budget implications exist for the new facility, particularly with regard to preserving the library's endowment. Some were concerned that the Council has not set priorities for the Town's major expenditures and wondered why the public has not been surveyed on their priorities. Others were concerned that approving such a large capital project for the library will negatively affect the three other known capital projects down the road. These questions were answered by library trustees, fundraisers, and the architects of the proposed project.
The Town Council will begin to discuss the library project at its April 5 meeting. The discussion is expected to take two or three meetings.