Issues & Analyses: What Is The Planning Board? A Zoning Primer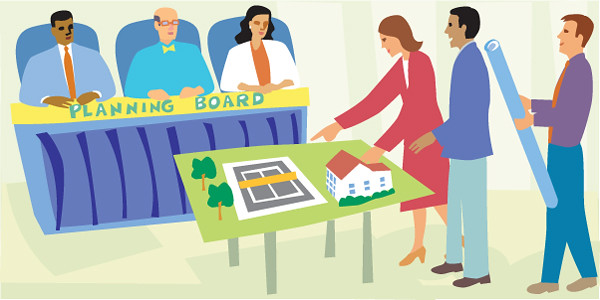 The Planning Board is responsible for a large number of local matters related to community planning, development, and land use. It is charged with conducting studies about land use in the Town of Amherst, including development, housing, transportation, economic development, and zoning.
It studies the resources and needs of the Amherst community and, with the support of the Planning Department, prepares plans that involve land use (zoning, housing, development, and transportation). It reviews applications for land use permits, such as Site Plan Review and Special Permit applications, and is responsible for approval of many types of buildings. Planning Board members spend a large amount of time reviewing proposed projects, leaving little time to conduct studies or do planning. (This is true of planning boards in most other towns in Massachusetts as well.) The Town Planning Department does conduct studies, and prepare and present plans to the Planning Board for its review and adoption. (see Massachusetts General Law [MGL] Chapter 41, beginning at Sec. 70)
Details
The Planning Board is responsible for:
reviewing the Town Zoning Bylaw (and it can propose amendments to improve it to the Town Council) (see MGL Ch. 40A Sec. 5);
ascertaining whether to accept an application for a Site Plan Review (it must be considered complete and in compliance with Zoning Bylaw requirements);
conducting Site Plan Review for proposed residential developments (such as mixed-use buildings and apartments, standard and cluster subdivision developments) and proposed commercial, office, or other non-residential use of land;
granting approval of Special Permits for dimensional modifications for projects for which it is the Special Permit Granting Authority (SPGA);
granting approval of Special Permits for open space community developments and other selected uses for which it is the SPGA;
giving recommendations to the Zoning Board of Appeals on Special Permits, variances, and appeals;
developing and approving the Town's Master Plan (Amherst's Master Plan was adopted by the Planning Board on February 3, 2010, (see MGL Ch. 41 Sec. 81D); and adopted by the Town Council on November 9, 2020) [Note: Under State law, the Planning Board has authority to adopt the Master Plan, but the Amherst charter also has the Town Council adopt a master plan, which doesn't have to be the same plan];
advising the Town Council on the release, for general use, of property taxed as forest, farm, or recreation land (see MGL Ch. 61);
advising the Town Council on granting special tax status for qualifying developments (see MGL Ch. 121A);
granting approval of subdivisions and creating rules and regulations for subdivision construction, including construction of roads and sidewalks, water and sewer lines in subdivisions (see MGL Ch. 41 Sec. 81K-81GG);
granting approval of proposed changes regarding stone walls and trees in all town ways designated locally as "scenic roads" (see MGL Ch. 40 Sec. 15C).
Special Permits
Special Permits require detailed review of certain proposed uses and structures that may have substantial impact upon traffic, utility systems, and the character of the Town, among other things. The review process is intended to ensure a harmonious relationship between proposed development and its surroundings, and to ensure that proposals are consistent with the purpose and intent of the Town's Zoning Bylaw. Review and approval is done by the Planning Board or the Zoning Board of Appeals (ZBA), whichever has been designated as the SPGA.
Although Special Permits are discretionary, a Special Permit is likely to be approved if the SPGA finds that the proposed structure and its use are:
* suitably located in the neighborhood in which it is proposed and/or the total Town;
* compatible with existing uses and other uses permitted by right in the same District;
* would not constitute a nuisance due to air and water pollution, flood, noise, odor, dust, vibration, lights, or visually offensive structures or site features;
* would not be a substantial inconvenience or hazard to abutters, vehicles or pedestrians;
* would provide adequate and appropriate facilities for the proper operation of the proposed use;
* would reasonably protect the adjoining premises against detrimental or offensive uses on the site, including air and water pollution, flood, noise, odor, dust, vibration, lights, or visually offensive structures or site features;
* would be in conformance with the Parking and Sign regulations (Articles 7 and 8, respectively) of the Zoning Bylaw;
* would provide convenient and safe vehicular and pedestrian movement within the site, and in relation to adjacent streets, property or improvements (if the Special Permit Granting Authority deems that it would be likely to have a significantly adverse impact on traffic patterns, it may require a traffic impact report, and the proposal has to comply with Section 11.2437 of the Bylaw);
* would ensure adequate space for the off-street loading and unloading of vehicles, goods, products, materials, and equipment incidental to the normal operation of the establishment or use;
* would provide adequate ways to dispose of and/or store sewage, refuse, recyclables, and other wastes resulting from the uses permitted or permissible on the site, and to ensure drainage of surface water;
* would ensure protection from flood hazards, considering such factors as elevation of buildings, drainage, adequacy of sewage disposal, erosion and sedimentation control, equipment location, refuse disposal, storage of buoyant materials, extent of paving, effect of fill, roadways or other encroachments on flood run-off and flow, storage of chemicals and other hazardous substances;
* would protect, to the extent feasible, unique or important natural, historic or scenic features;
* would provide adequate landscaping, including the screening of adjacent residential uses, provision of street trees, landscape islands in the parking lot and a landscape buffer along the street frontage, and when a non-residential use adjoins a residential district, an uninterrupted vegetated buffer shall, to the extent feasible, be established and maintained between buildings associated with uses under this section and the nearest residential property boundaries. Where natural, undisturbed vegetation already exists on-site prior to site preparation and clearing, the majority of that vegetation may be retained and included as part of the buffer, along with the addition of such new plantings, selective removals, and other management of site plantings as are determined to be necessary to maintaining an effective year-round visual screen. (see Section 11.3 of the Zoning Bylaw)
* would protect adjacent properties by minimizing the intrusion of lighting, including parking lot and exterior lighting, through use of cut-off luminaires, light shields, lowered height of light poles, screening, or similar solutions;
* would avoid, to the extent feasible, impact on steep slopes, floodplains, scenic views, grade changes, and wetlands;
would not create disharmony with respect to the terrain and to the use, scale, and architecture of existing buildings in the vicinity which have functional or visual relationship to it [NOTE: If the proposed project is in a National Historic Register District in a zoning district that includes or is near residences, the SPGA may use the Design Principles and Standards in the Zoning Bylaw (see sections 3.2040 and 3.2041, 1–9) to evaluate the proposed architectural and landscaping design. In a Business General district and abutting transitional Business Limited district, and for any Town project within any district, the Design review provisions remain in effect];
* would provide screening for storage areas, loading docks, dumpsters, rooftop equipment, utility buildings, and similar features;
* would provide adequate recreational facilities, open space, and amenities for the proposed use; and
*would be in harmony with the general purpose and intent of this Bylaw and the goals of the Master Plan.
Special Permits, Variances, Safeguards
Special Permits
In granting a Special Permit, the SPGA may impose conditions, safeguards, and limitations, such as:
* require Setback, Side and Rear Yards that are bigger than the minimum in the Zoning Bylaw;
* require screening of parking areas or other parts of the premises from adjoining premises or from the streets by specified walls, fences, plantings, or other such devices;
* require limitations in the size and extent of the facilities, the number of its occupants, its method of operation, or its times of operation;
* require modification of the exterior design or appearance of the project's buildings and structures, signs, and landscape materials; and
* other conditions that it deems appropriate.
Variances
Variances are governed by state law (Chapter 40A, Section 10, as follows) and are rarely granted in Amherst because it is very hard to meet the legal standard they require. "Use" variances are not permitted in Amherst. The following is from Chapter 40A, Section 10:
"The permit granting authority [in Amherst, the ZBA] shall have the power after public hearing… to grant upon appeal or upon petition with respect to particular land or structures a variance from the terms of the applicable zoning ordinance or by-law where such permit granting authority specifically finds that owing to circumstances relating to the soil conditions, shape, or topography of such land or structures and especially affecting such land or structures but not affecting generally the zoning district in which it is located, a literal enforcement of the provisions of the ordinance or by-law would involve substantial hardship, financial or otherwise, to the petitioner or appellant, and that desirable relief may be granted without substantial detriment to the public good and without nullifying or substantially derogating from the intent or purpose of such ordinance or by-law.
"Except where local ordinances or by-laws shall expressly permit variances for use, no variance may authorize a use or activity not otherwise permitted in the district in which the land or structure is located; provided however, that such variances properly granted prior to January first, nineteen hundred and seventy-six but limited in time, may be extended on the same terms and conditions that were in effect for such variance upon said effective date.
"The permit granting authority may impose conditions, safeguards and limitations both of time and of use, including the continued existence of any particular structures but excluding any condition, safeguards or limitation based upon the continued ownership of the land or structures to which the variance pertains by the applicant, petitioner or any owner."
Planning Board Members and Meetings
The Planning Board consists of seven full members, who are appointed by the Town Council for three-year terms (or to fill an unexpired term). Two associate members may be appointed by the Town Council for one-year terms (or to fill an unexpired term), and they may hear and vote on Special Permit applications when necessary due to a regular Board member's absence, inability to act, or conflict of interest, or in the case of a vacancy on the Board. The Planning Board Chair will determine which associate member will sit on the Board in those circumstances. (See https://www.amherstma.gov/DocumentCenter/View/54392/Zoning-Bylaw-Complete-Nov-2020 , Appointments, Section 10.02, page 97)
Most decisions of the Planning Board, including decisions regarding Site Plan Reviews, are by a simple majority of the members who are present at the meeting due to a recent zoning change by the Town Council. Special Permits require approval by at least five (2/3) of the members.
The members of the current Planning Board are:
Douglas Marshall (Vice-chair), appointed 2020, term expires 2021
Janet McGowan, appointed 2019, term expires 2021
Maria Chao (Clerk), appointed 2016, term expires 2022
Jack Jemsek (Chair), appointed 2016, term expires 2022
Thom Long, appointed 2020, term expires 2023
Andrew MacDougall, appointed 2020, term expires 2023
Johanna Neumann, appointed 2020, term expires 2023
The Planning Board meets on the first and third Wednesday evenings of the month, 6:30 to 10 p.m., in addition to special meetings that may be scheduled between regularly scheduled meetings. Members must comply with Open Meeting Law (OML) (all discussions between members (about Planning Board-related matters) must be at posted meetings that are open to the public).
To contact the Planning Board call (413) 259-3040 or send an email to planning@amherstma.gov .

References:
About the Amherst Planning Board
Town of Amherst Planning Board Webpage
Town of Amherst Planning Board Rules and Regulations
Kitty Axelson-Berry has retired from her self-publishing service specializing in memoirs and family histories. She was the editor-in-chief of the Valley and Springfield Advocate newspapers in the 1980s, and has lived in the Amherst area since 1971. She raised three daughters in the Amherst Public Schools and was a member of Town Meeting.