Culture Club: Mural Festival Honors Street Art Pioneers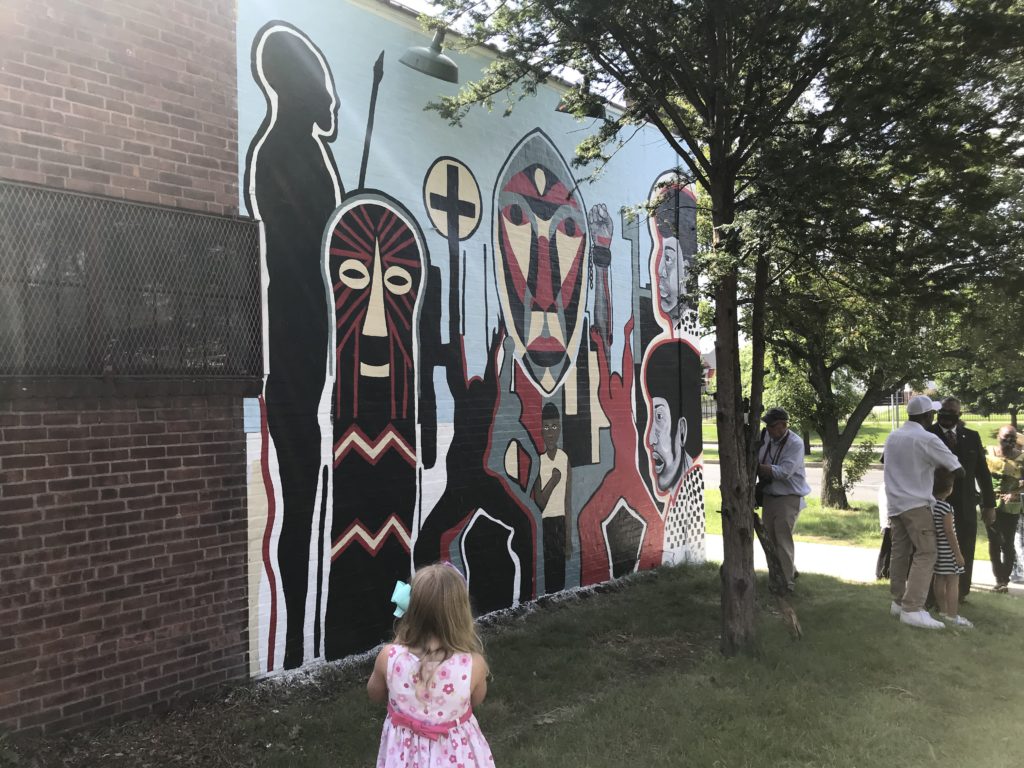 This article originally appeared in the Montague Reporter on 6/17/2021.
As a visitor to the Fresh Paint festival in Springfield this past weekend, I had the opportunity to help paint a public mural. It's been ages since I've picked up a paint brush with the intention of making art. The mural had been turned into a giant paint-by-numbers on large sheets of "parachute cloth," a kind of plastic-infused paper that gets glued to a wall, like wallpaper.
Fresh Paint supports the idea that anyone can participate in making public art. All around me, a host of volunteers were happily daubing shades of lavender and Columbia blue into the angular shapes that comprised the abstract mural.
Artist Nelson Stevens, one of the guests of honor, was painting away alongside us. Stevens founded Springfield's first mural program back in the 1970s. Don Blanton, who, along with his brother Paul, painted Springfield's oldest existing mural, was also being honored.
At the first Fresh Paint festival in 2019, a national roster of street artists painted ten new murals around downtown Springfield with input and help from the public. COVID caused the 2020 iteration to be canceled. For the 2021 version, the organizers decided that along with ten more new murals, they would pay tribute to Stevens' and Blanton's pioneering work.
In 1969, Blanton and his brother wanted to create a positive image that would help address the riots that had been taking place in Springfield. They painted the mural "Heritage on the Walls," featuring an image of a black couple in profile looking over an array of forms inspired by African masks. Silhouettes of dancing figures appear alongside the masks, as does an upraised arm with a clenched fist, whose wrist wears a broken metal shackle. In recent weeks, Blanton worked to restore the mural with the help of artist Kay Douglas.
While living outside of Chicago in the late 1960s, Stevens became a member of AfriCOBRA (African Commune of Bad Relevant Artists), a visual art collective closely associated with the Black Arts Movement. AfriCOBRA made art that featured positive images of black life whose "expressive awesomeness," as they described their work in a manifesto, was designed to resonate emotionally with people in the community.
AfriCOBRA used elements of both figuration and abstraction depicted in "cool-ade color," bright hues that referenced the African-inspired clothing worn by members of the Black community at the time. Stevens contributed the idea of "shine" to the group's collective imagery, which meant referencing both the spit-shined shoes and glossy hairstyles of the day, as well as always striving for artistic and personal excellence.
Stevens taught at UMass Amherst from 1972 until 2003. In 1974, he started an art program in Springfield that developed the ideas found in both AfriCOBRA art and the Blantons' mural. He and his students painted over 30 outdoor and indoor murals around the city designed to turn downtown Springfield into an art gallery that would bring visual art into communities whose members didn't typically visit museums. Unfortunately, none of these murals survive today.
Stevens and I, and the rest of the volunteers working on the new mural projects, were called away to an award ceremony a block over, in front of the Blanton brothers' newly restored mural. Blanton and Stevens were given city proclamations in honor of their work and the day was officially proclaimed "Nelson Stevens Day."
In his acceptance speech, Stevens described how he and his students designed their murals to be as precious as stained-glass windows in a cathedral, and to function to similarly uplift the people who saw them. He recalled how officials from the city censored some of the text they had included, forcing them to repaint some of the murals as they were working on them. He noted how much had changed now that he was getting commended for the same work.
Springfield City Councilor at-large Jesse Lederman promised that the city would own this history of censorship, and called for increased government support of arts education and community-based art projects.
Fresh Paint has brought the spirit of these original muralists back to Springfield. Volunteers, mostly drawn from the local community, help out, gaining hands-on experience making public art, by working at the very basic level that I participated in to more advanced forms of assistance, including full-fledged apprenticeships with the artists. Right now, new murals designed by artists, including NYC graffiti O.G.s Wane One and Stash, as well as Betsy Casanas and Kay Douglas, are being completed. Plans are also being discussed to restore some of Stevens' murals in coming years.
For more information on Fresh Paint, as well as the location of Springfield's murals visit freshpaintspringfield.com.

William Kaizen is an art historian and public art advocate. He chairs the Amherst Public Art Commission.