Letter: New Apartment Buildings Are Creating A Dead Zone Downtown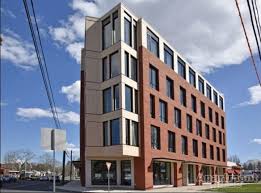 The following letter was sent to the Town Planning Department on July 16, 2021
I am one of the many citizens of Amherst who do not want more buildings like One East Pleasant and Kendrick Place. I'm also a retired architect, and worked for years for Huygens and Tappe Architects in Boston, which is now called DiMella Shaffer and is the Architect of Record for both these buildings. The architect for the buildings is Holst Architects in Portland Oregon.

It's not that I find these buildings ugly. That's not why I don't want more of them. It's because they bring no vitality and life to our town. Without that, the money they are bringing in will dry up over the long run, and buildings have a very long run.

The design and the siting of the buildings offer none of the street life that is thriving in the rest of our downtown. Street life is essential to the health of a town. It offers safety; it offers casual public contact encouraging diversity and community; and it nurtures shopping, creativity and the flourishing of small businesses.

Where an area of a town lacks a sidewalk life, all of the advantages mentioned above are lacking and the area becomes a dead zone.

One East Pleasant Street is sited very close to the street, the sidewalk is narrow. There is no curb-side parking to buffer pedestrians from the flow of traffic or to encourage parking and shopping. Large brick piers rise straight up from grade 5 stories high, the antithesis of what's needed to encourage retail business. No wonder the retail spaces remain vacant.

Kendrick Place is sited very close to Triangle Street, so close that there's no shoulder, no bicycle lane, only a narrow sidewalk. Again, a row of large brick piers rises straight up from grade 5 stories high. There's not a whisper of encouraging retail opportunities or sidewalk life.

All of these design decisions create an area of town lacking even the possibility of sidewalk life, creating a dead zone. This is bad design.

Good design costs no more than bad design. Do you agree that these two buildings could have been better designed? Do you NOT want more of the same? If you do, what can you do to achieve that end? One obvious thing is to chose a local architect. Portland Oregon is far away. You could also work with a different developer. Archipelago Investments does not have the best reputation. Amherst deserves better.
Nina Weyl
Nina Weyl is a retired architect and a resident of Amherst.