Educators "Stand Out" On The Town Common To Demand A Living Wage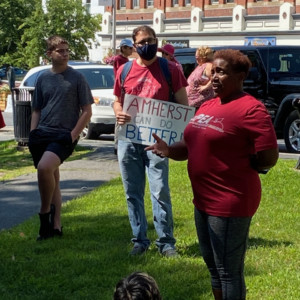 Over 70 people gathered at the Amherst town common on Saturday, July 24 to "Stand Out" in support of living wages for Amherst Regional Public School (ARPS) paraeducators. The rally was organized by the Amherst-Pelham Education Association (APEA) and was supported by members of the Massachusetts Teachers Association.
Dozens of supporters, many in their red APEA and MTA "Fund Our Future" t-shirts held a variety of signs: "Amherst Can Do Better," "One Job Should Be Enough," "$200 cost of living increase is insulting," among others. They distributed flyers that described a starting hourly wage of $16.13, which would increase to $16.29/hour under a 1% cost of living increase being considered by the school committee. A starting yearly income of $20,025 would increase to $20,225, requiring 10 years of service to reach the approximately $28,000 considered a "living wage" for an individual with no dependents in Hampshire County, according to a living wage calculator developed by Amy Glasmeier, a professor at the Massachusetts Institute of Technology.
Karin Baker of the APEA introduced a number of speakers. Gabriel Davila, an alumni of Amherst schools, recalled how he and others were helped by paraeducators as early as in kindergarten. While he said that their hourly wages are not adequate for the cost of living in town, "The good news is that the only thing standing between us and what we want are the politicians."
Erika Loper, a paraeducator at the high school for 8 years, said that it is "devastating to me that I cannot make a living wage" and cannot afford to live in Amherst. She said that most of her paraeducator colleagues work second jobs to make ends meet. Julie, a paraeducator at the middle school for 24 years, said "This is not a job, this is my career," and that the proposed 22 cents-per-hour raise is a "slap in my face."
Elizabeth Haywood, recently retired from teaching at ARPS, has two sons who are now working as paraeducators at ARPS but neither can find affordable housing in town. She credited the paraeducators she worked with throughout her career as making it possible for her to be a good teacher.
Current President of the APEA, Lamikca "Meka" Magee criticized Amherst School Committee Chair Alison MacDonald for attending none of the recent collective bargaining negotiations and for not opposing the more than $1 million in cuts to the operating budget. "How do you take these cuts lying down?" Magee said. She said she wondered why the budget was cut and staff laid off while paraeducator turnover continued to increase when the school superintendent got a 4.3% increase in his salary, amounting to approximately $7,000. She reminded the crowd that "This is an election year, and I want our voices to be heard out here and in the ballot box."
Ben Graham, President of the Amherst Firefighters Local union, spoke in solidarity with the paraeducators. "You have exactly the same issues that we do," he said, referring to what he said is a lack of support from the town manager regarding the budget. Jeff Jones, President of the UFCW representing the Food Service Workers, also expressed his support saying that their contract negotiations had just begun and "We don't expect it to go any differently."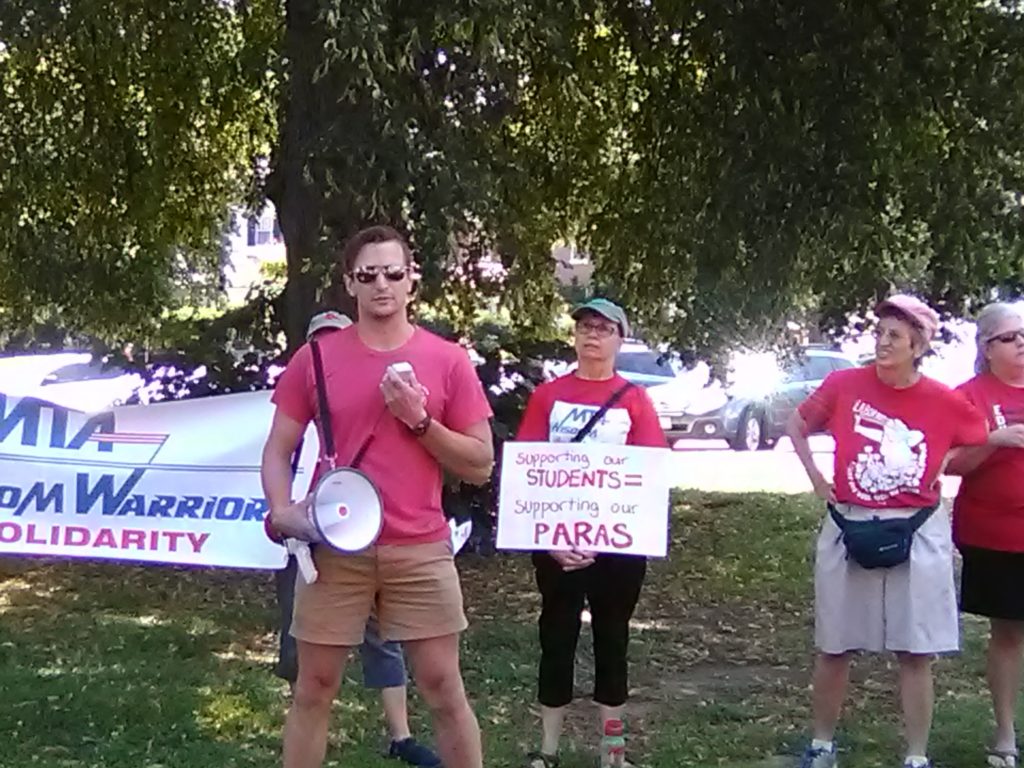 No elected officials were present at the rally. Vira Douangmany-Cage, candidate for town councilor at-large and former school committee member, was in attendance and spoke in support. "I know how this works, and we need to stick together and think about our priorities," she said. "We need people here to run for office and reflect our values and diversity."