Amherst Residents Declare Intentions To Run For Town Office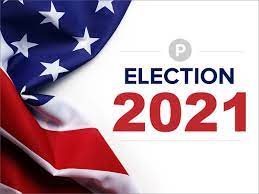 Source: Amherst Town Clerk's Office
Amherst residents who, as of August 27, have taken out nomination papers indicating their intention to run for office are listed below in alphabetical order.
Candidates must collect signatures and submit them to the town clerk by September 14. Fifty signatures (25 for district councilor seats) must be verified by the clerk to be eligible to be on the ballot. Those marked with an asterisk (*) have taken out papers for both district and at-large council seats, and must withdraw from one of those positions before the election.
In addition, there will be a referendum on whether to affirm the borrowing for the $35,000,000 Jones Library building project.
Councilor At-Large (Town wide) 3 Seats Available
Vira Douangmany-Cage
Robert Greeney*
Lynn Griesemer* Incumbent
Mandi Jo Hanneke Incumbent
Irv Rhodes*
Andy Steinberg Incumbent
Ellisha Walker*
District 1 Councilor (Precincts 1 & 3) 2 Seats Available
Michelle Miller
Cathy Schoen Incumbent
District 2 Councilor (Precincts 2 & 6) 2 Seats Available
Pat DeAngelis Incumbent
Lynn Griesemer* Incumbent
District 3 Councilor (Precincts 4 & 10) 2 Seats Available
Robert Greeney*
Dorothy Pam Incumbent
George Ryan Incumbent
Jennifer Taub
District 4 Councilor (Precincts 5 & 9) 2 Seats Available
Anika Lopes
Pam Rooney
Evan Ross Incumbent
District 5 Councilor (Precincts 7 & 8) 2 Seats Available
Shalini Bahl-Milne Incumbent
Ana Devlin Gauthier
Ellisha Walker*   
Housing Authority (Town wide) 3 Seats Available
Elector, Oliver Smith Will (Town wide) 1 Seat Available
Carol Gray Incumbent
Sarah Marshall
School Committee (Town wide) 5 Seats Available
Peter Demling Incumbent
Ben Herrington Incumbent
Heather Lord Incumbent
Allison McDonald Incumbent
Irvin Rhodes*
Library Trustees (Townwide) 6 Seats Available
Farah Ameen
Lee Edwards Incumbent
Tamson Ely Incumbent
Alex Lefebvre Incumbent
Robert Pam Incumbent
Austin Sarat Incumbent