The Future of Housing In Amherst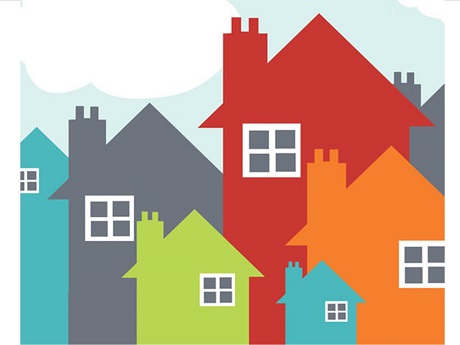 Editor's note: This article was written by Elisa Campbell for the Amherst League of Women Voters as a summary of a forum held September 2. I have modified it slightly here to introduce the forum and speakers. The original article appeared in the September e-bulletin of the League of Women Voters of Amherst, available at lwvamherst.org.
Amherst Neighbors, the League of Women Voters, and the town's Affordable Housing Trust sponsored the forum. The forum was taped and is available on the Amherst Media website. 
The questions the forum looked at: What might future housing look like in Amherst? Will there be "enough" for various demographic groups? Who will it be for?
John Hornik, chair of the Affordable Housing Trust, summarized the shortage of housing. According to Hornik, there is a severe housing shortage, not just in Amherst but many places. Two main factors have caused the general problem: population changes that create greater demand for housing and a lack of housing production. Locally, we have an additional factor: the growth of UMass enrollment over many years without corresponding growth in housing for the students brought to the area.
Although housing production surged in the 1960s and '70s, as the university grew substantially, housing production then came almost to a halt, with declines in numbers of units built in the 1980s and again in the 1990s. Between 2000 and 2009 only 227 new houses were built. In the most recent 10-year period, a bit over 1,000 housing units were built, and 240 units in 2020.
In Amherst, from 1990 through 2010 there has been a small shift in the proportion of people of various ages. The largest cohort continues to be people between the ages of 18 and 24, but that percentage is smaller than it used to be. The proportion of adults aged 25 to 45, and of children 17 years old and younger have both gone down. People 65 and older is currently the smallest group but is the one that is growing. There is a possibility that we are becoming more a community of college-age and retirement age people, with fewer families with children of school age.
Between 1990 and 2020, population diversity by ethnic group has increased; although Amherst is still about 75% white, non-white populations are increasing. In immediate neighboring towns the populations are generally 80% to 90% white.
The League has previously heard about the problems caused by the great number of students who must live off campus. Currently, UMass enrollment is 28,000; there are 14,000 housing units on the campus. The university has announced plans to build 1,000 new units, but it recently removed 600, so the net gain will be 400.
As enrollment exceeds the availability of housing on campus, the competition for a place to live forces people of all ages and categories to look far afield. Prior to the pandemic the rental vacancy rate was 3%; some new graduate students have had to go to Springfield to find housing. Large percentages of renters are "cost burdened" (paying more than 30% of their income for housing) or "severely cost burdened" (paying more than 50% of income for housing). Evictions are increasing. Some homeowners are also cost burdened. There is a sellers' market now, with both investors purchasing houses to rent and people moving to Amherst from wealthier urban areas due to Covid.
Recent new housing units have mostly been high-rent apartments; also, investors are buying houses in neighborhoods and renting them to groups of students. Some of the apartment buildings include "affordable" apartments for people who meet the official guidelines for subsidized units; more are planned but not yet built. Also the town is working on plans for some subsidized units. However, overall, there will be few opportunities for families or for older adults wanting to downsize from their current home.
Gerry Weiss, head of Craig's Doors, the local homeless shelter, reported that nationally, homelessness is increasing among people 62 years old or older; in fact that is the fastest growing segment of the homeless population. Craig's Doors served 49 people age 62 and older in the past four years; 11 of these people were 70 or older (the oldest was 78). The number of women over 62 this past year was nearly double the average of the three previous years. In addition, there are increasing numbers of homeless families.
Hornik said the Town Council is currently considering adopting a Housing Master Plan. The proposed plan includes a goal of building, in the next five years, 250 units for households earning less than 80% of the Area Median Income (AMI) for the Springfield metropolitan area (which includes Amherst). The proposed policy also includes within 5 years reducing the percentage of cost-burdened renters to 50%, of cost-burdened home owners to 20%, and reducing the number of homeless.
A different but related issue is making existing housing better, both for comfort and cost, and climate reasons. There is a program for retrofitting heating systems and weatherization for low-income apartments. Unfortunately there is not a similar program for the many condominium associations in town.
Mary Beth Ogulewicz, until recently the director of the Senior Center in Amherst, said Massachusetts is "graying" rapidly. In Amherst, by 2030, the cohort of the population increasing most rapidly is expected to be people over 80 years old. The Donahue Institute has reported that Massachusetts has the highest percentage in the country of single adults living alone, and that of those 62% have incomes that are lower than what is required to meet their needs. Given economic disparities, the issue is worse for people of color. The most frequent reason for calls to the Amherst Senior Center was when people (or their families) realized they could no longer live independently and were looking for programs or places to help them. Eight three percent of elderly who need help get it from their families.
Finally, Hornik raised the issue of whether the town can and should develop a new rental project for housing for elder adults, including some subsidized units. The most likely type of facility would be one with independent living for the residents and staff on-site to coordinate activities and health care services delivered by outside agencies. Land along West Pomeroy Lane at the former Hickory Ridge Golf Course might be a possible site.