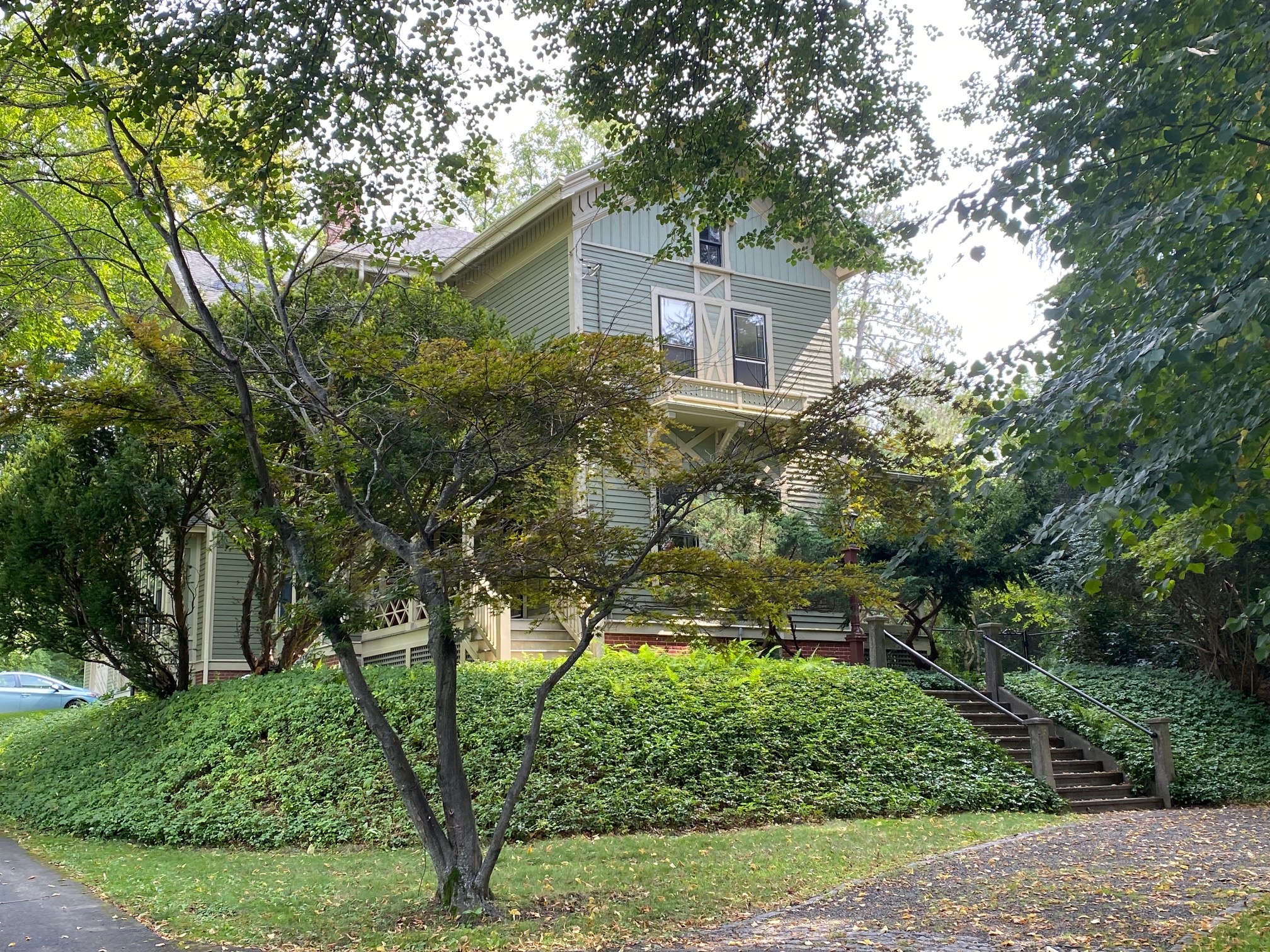 Biographies are often the ways we get introduced to writers in our midst. In Amherst, we have some heavy-hitters, such as poets Emily Dickinson and Robert Frost, but dozens of other people live or lived here who have made significant contributions to our world. We can now get to know about them and the things they have written by accessing a recently town-funded Writers' Walk and its associated website. The walk offers a different way to learn about history outside the classroom or printed media. Save the date: Friday, October 22 at 4:30 p.m. as the official launch of the Writers Walk. More details forthcoming.
Originating as part of a Public History course taught by Professor Jon Olsen at UMass, the self-directed walking tour was realized by the Amherst Historical Commission and financed with Community Preservation Act funds via Town Meeting in 2009. Crucial support along the way for the program was provided first by Professor of History Laura L. Lovett and since 2015 by Professor of Art History Janet Marquardt, one of our current commissioners.
The Writers Walk takes you from any point of entry into exploring historic streets and interesting buildings via handsome signs that mark the specific residences where more information is available. The signs themselves, with the help and participation of the current homeowners, were installed by our Department of Public Works in 2021. A map of the walk can be found here.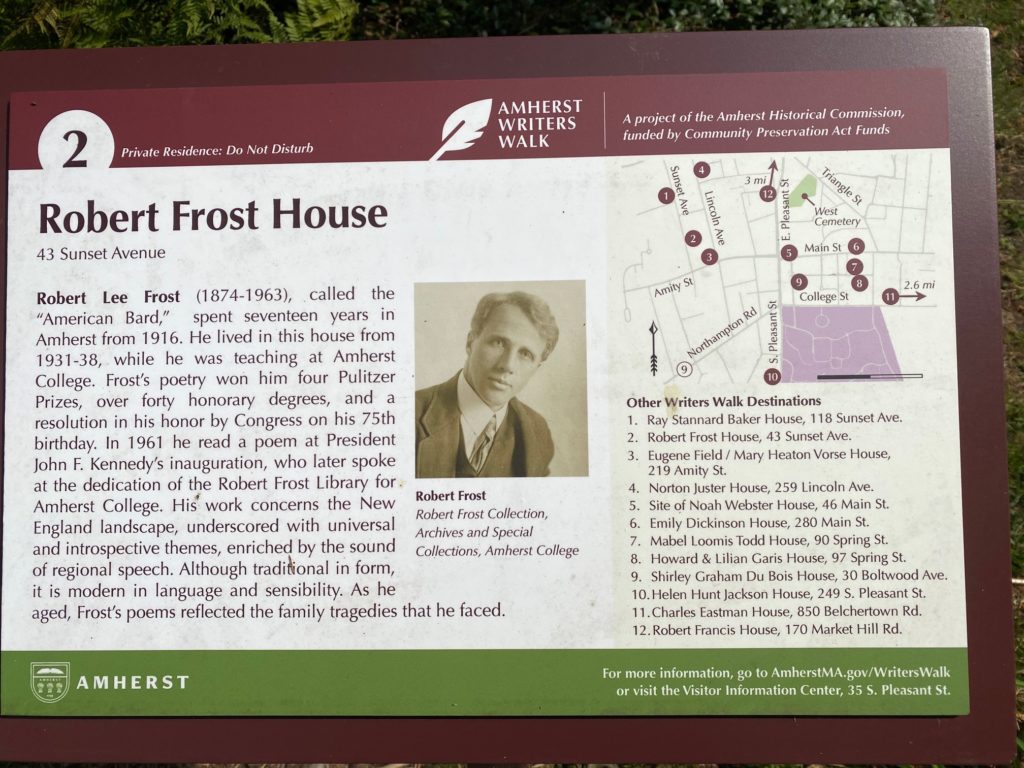 The people featured are: journalist Ray Stannard Baker (118 Sunset Avenue, who wrote under the pseudonym David Grayson); poet and Amherst College professor Robert Frost (43 Sunset Avenue; and two other writers living around the corner from Frost's home at 19 Amity Street, the author Eugene Field and feminist and journalist Mary Heaton Vorse. Also represented is Amherst's own children's' book author of Phantom Tollbooth fame, Norton Juster (259 Lincoln Avenue); American dictionary founder Noah Webster (46 Main Street); our poetry "belle" of Amherst Emily Dickinson (280 Main Street); editor Mabel Loomis Todd (90 Spring Street); and children's book authors Howard and Lilian Garis (97 Spring Street). Two other writers featured in the downtown area are playwright and UMass professor Shirley Graham Du Bois (30 Boltwood Avenue, now known as The Boltwood Inn); and novelist and poet Helen Hunt Jackson (249 South Pleasant Street).
Three of the writers being recognized lived at properties outside downtown. "Fort Juniper" at 170 Market Hill Road in North Amherst is where Robert Francis composed his poetry, and the little house continues to be used by writers, while at "The Lodestone," 850 Belchertown Road, Elaine Goodale and Charles Eastman wrote on social justice for Native Americans. The Writers Walk sign for this property is thoughtfully located on the Harkness Road section of the property, away from the traffic on Belchertown Road.
Save the date: Friday, October 22 at 4:30 p.m.
This is the official launch of the Writers Walk. Marquardt hopes that at least two more walks will be planned: one honoring more of the plethora of children's book writers/illustrators who have lived in Amherst, and another honoring additional contemporary writers.