Public Comment: Redistricting For Equality An Impossible Task Under The Current Charter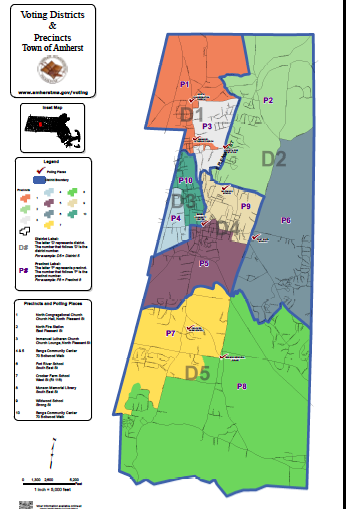 The following public comment was made at the Town Council meeting of October 18, 2021
As a decadal process, the need for redistricting was not exactly a surprise. Why the Town Council and Town Manager did not constitute a committee and provide it (and the public) with all the necessary historical data and guidelines well before this summer is incomprehensible and maddening. It also recalls their failure to anticipate and deliver on the campaign promise of ranked choice voting in time for the upcoming local election. There was a great deal of background knowledge that should have been digested and clarifications sought so that when the new census numbers were made available, the Districting Advisory Board could have been better positioned to complete this important work.
However, the DAB, as hard as they have worked these past few months, was never going to be able to solve the puzzle of redefining voting precincts in a way that provides equal representation. The reasons are many, but a fundamental problem is that the current system of government is not compatible with a Town so dominated by a university that doubles the number of residents who, very understandably, largely do not participate in local elections.
There are two basic approaches to the problem given the limitations of the current charter. 1) Have 2 of the 5 districts comprised largely of undergraduate students or 2) Create redistricts that divide that large student population as evenly as possible among the 5 districts. The first option is pretty much what we have now: 4 District Councilors get elected with a couple hundred votes and represent 20% of voters and another 4 Councilors represent 60% of actual voters. One could create Districts comprised entirely of students but this, of course, runs the likelihood of having no one willing or able to serve for those areas. This is already a problem as 6 out of 10 current District Councilor races are uncontested, giving those residents no choice in who represents them on that level. The second option requires very elongated districts that all converge with UMass at the center and extend to the perimeter of Town. It is my understanding that this option was studied but rejected as being unlikely to be approved by the Council and not clustering inhabitants enough.
The only ways to ensure equal representation in a town like ours, given such an uneven geopolitical distribution and a City Council form of government, is to have either all at-large seats or a larger number of smaller districts, each with a single representative to more closely "represent" residents with similar interests, both of which are also problematic.
The DAB was presented with a Gordian knot but they don't wield the sword needed to cleave it. As long as we have the current charter with its highly unusual two District Councilors for each of five disparate Districts, there is no solution. The best that can be done at the moment is to nibble at the edges of unequal representation and hope for a future that looks a lot different than our present.