Public Hearing On Proposed Parking Overlay District Behind CVS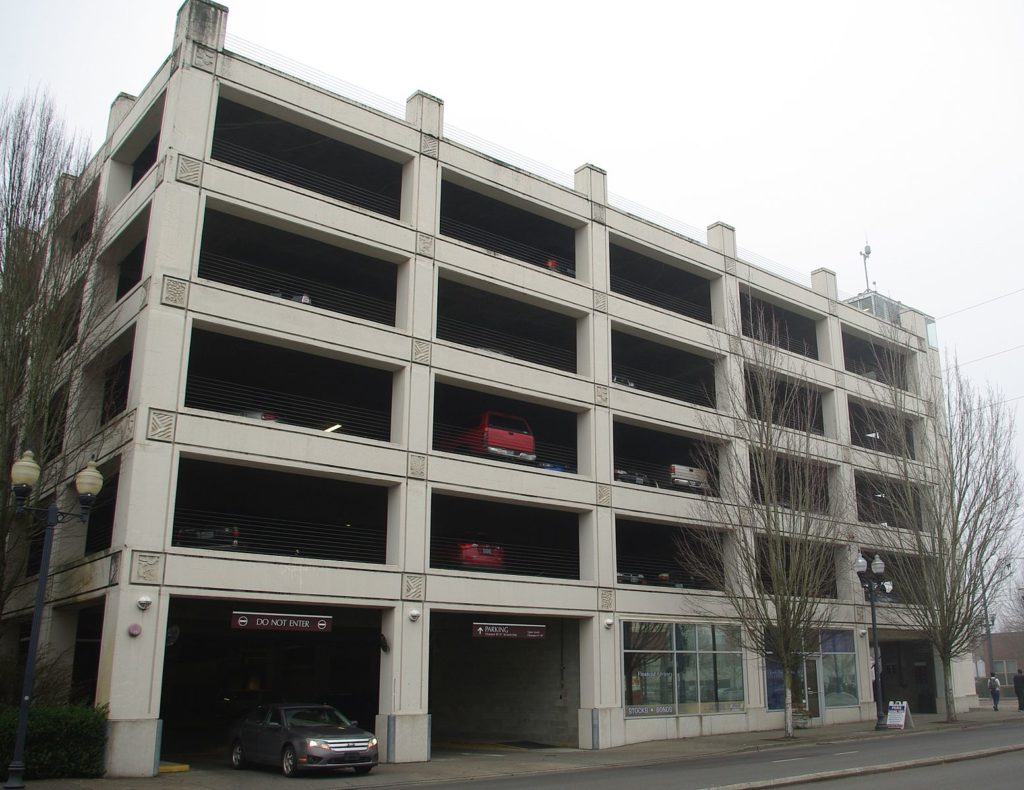 Report On The Meeting Of The Community Resources Committee Of October 26, 2021 – Part 2
The meeting was broadcast on Zoom and was recorded. The recording can be viewed here.

Present
Members: Councilors Mandi Jo Hanneke (at large), Shalini Baal-Milne (District 5), Dorothy Pam (District 4) (Pam had to step out but called in from elsewhere), Evan Ross (District 3), Steve Schreiber (District 3)
Staff: Christine Brestrup (Planning Director), Nate Malloy (Planning Staff), Rob Morra (Building Commissioner)
Note: The Community Resources Committee (CRC) is a town council-committee of five town councilors appointed by the council president.
The CRC conducted a second public hearing about whether to recommend a parking overlay district in case the town decides a parking garage is needed on the town-owned lot behind CVS downtown. The rezoning was proposed by Evan Ross (District 4), who with George Ryan (District 3) formally originated the idea about a year ago. The two councilors have been moving it forward and see the new garage as a Destination Garage for "Destination Amherst" proposed by the Business Improvement District (BID) in 2020. For them, this parcel is the preferred location for the destination garage or any other garage. Their first proposal, to change the zoning of the parcel from Residential General (RG) to General Business (BG) was refined and changed after the Planning Department got involved as requested, and residents identified problems with it. The Planning Department found that a Parking Overlay District for the parcel would be a better approach than changing the zoning.
Still, members of the public are raising questions about the wisdom of this project. For one thing, they are repeatedly told that a parking overlay district does not mean that a garage will be built there. It will simply make it possible.
Two recent professional parking studies, including one in 2019, concluded that a parking facility should be a "last resort" for solving the town's perceived lack of parking. The study conducted by Nelson/Nygaard consulting in 2019 found that the problem is one of perception only, and that there is ample parking except on Saturday and Thursday evenings, when the parking is still sufficient but does not feel sufficient to all drivers. They recommended a set of small improvements, such as signage and electronic systems to direct people to small existing parking areas, education to inform people about free parking on side streets after five p.m. and 24 hours a day when UMass and Amherst College are not in session, better maintenance, including cleaning up debris and clearing out interfering brambles, fixing some parking spots that are up to two feet larger than needed, and perhaps even valet parking and making arrangements to access businesses's parking lots during times when the businesses are closed.
At this CRC public hearing, residents asked for data about parking in Amherst in general, whether a parking garage is recommended or needed, and if so where should a parking garage be located?  There are clear contradictions between professional parking studies commissioned by the town and Ross and Ryan's certainty that a parking garage in that spot is necessary and advisable.
Asked to respond to requests for data pointing to a need for a parking facility to be constructed at that particular spot, Nate Malloy and Christine Brestrup of the Planning Department explained that they had been tasked with looking at this site and working with the proponents to come up with something that would be as good as possible, and added that they could look into other sites if they were tasked with that.
On a related matter, committee member Dorothy Pam (District 3) asked, as she does at nearly every meeting involving the effort to prepare for a parking garage there, whether the town could explore adding onto the already-existing Boltwood Garage, which was part of the deliberations when the town first built it. 
According to Ross, the Destination Amherst plan, a BID project to transform the town into a visitor destination with an expanded Jones Library as the main attraction, "…is very specific about a parking building at that site. The town has supported it. That's why we didn't ask the town to look at other sites." However, resident Janet McGowan said that she had looked at the Destination Amherst proposal but did not see any suggestion that this property had been identified and selected as the site for a parking garage. "And if it was selected, who did the selecting?" she asked.
Ross summed up his experience of parking and the relevance of a parking facility to Destination Amherst, saying that future visitors from places like Brattleboro and Northampton "don't always know where there's parking, such as behind the Ann Whalen, where I park — there's always parking there — but if you have a destination place and visitors know they can rely on one central place to park…" He also made a more convincing argument for a parking garage based on post-Covid habits and needs: "I have a feeling that there's going to be a demand to consume parking spots for outdoor dining, which will mean…replacing parking places."
Much of the public hearing was taken up with details of proposed regulations for the overlay district, such as height, access, height of trees, noise, how to respect not only customers of the planned music venue(s) and bar(s) but the year-round residents across the street.


But the discussion continually returned to the need for data to support a parking facility at all and if so, a parking facility in that particular place. Resident Michael Serduck commented, "The lot there is never full, never busy when I go there, which is everyday, as a parishioner of St. Brigid's," although he was quickly rebuffed by Ryan, who said that he, too, is a parishioner and he finds the parking lot to be busy on Sundays.
During the period for questions, resident Rani Parker said, "As a person who supports development, and I believe that there can be a beautiful parking lot if we want it, it would help me a lot to see data. My question is, why is the need for this parking in this spot not studied — with numbers? There has been no study of this parking garage. There is no evidence that it is needed. The evidence is all anecdotal. Why aren't there numbers that show us what is projected…? The only numbers I've seen show that the demand for parking and the use of parking had actually declined consistently since 2015." She added that before she and her husband moved here, they always found parking spots with no problem.
When another resident mentioned that more people seem to oppose this garage than support it, Ross said, "We have letters from many businesses who are in favor of this [but] they are busy people. They don't have the capacity to attend every single meeting, but I want them to be recognized." Ryan added, "Evan and I represent downtown and many students. I have a responsibility to represent them and their interests. They aren't here because they are actually working, they're trying to make a living." He provided a list of businesses downtown, many of which he identified as woman- or BIPOC-owned, who he believes would be the people to benefit from a parking garage behind CVS.
"Don't be so sure," said resident Jay Silverstein. "All this is based on assumptions and deception. [These businesses] don't need that parking structure."
Parker, too, pushed back at Ross and Ryan's assertions about people who are too busy working to make comments unlike those who come to meetings and use public comment time to make comments. She said, "I'm a business owner. It isn't easy to be here, waiting for hours to speak, not sure my questions will be answered. Please, let's refrain from saying that people who work can't be here."
Another resident, Karin Winter, asked if it would be possible to explore developing the space "as a beautiful retail space, with a plaza and so on, and put the parking garage across the way on Amity Street and not destroy a residential area. Is it too late to be keep flexibility?" She offered other alternatives for the parcel than a parking garage.
Resident Harry Peltz said, "Instead of Destination Amherst, let's look at this town, what we want, and then we have to plan. You went into great detail about 20 percent here and 30 percent there [for mixed-use buildings] but I don't think anyone has looked at the entire town and said, 'What is the best thing to do?' You're putting the cart before the horse. What you're doing is going to destroy the town. Look at Greenfield and the garage you showed. It's a nice structure — that's among parking lots and office buildings. The planning department should plan for a community in a way that's realistic in the future, not what we're looking at here."
The committee voted to continue the public hearing on November 9 at 2:30 p.m. because they had not had sufficient time to ask questions. Before adjourning, Hanneke announced that there has been one applicant for two vacant positions on the ZBA and that this person had not responded to further inquiry. Minutes from two meetings were voted on and passed.
The meeting was adjourned at 4:51 p.m.