Amherst College Donates $200,000 For Downtown Initiatives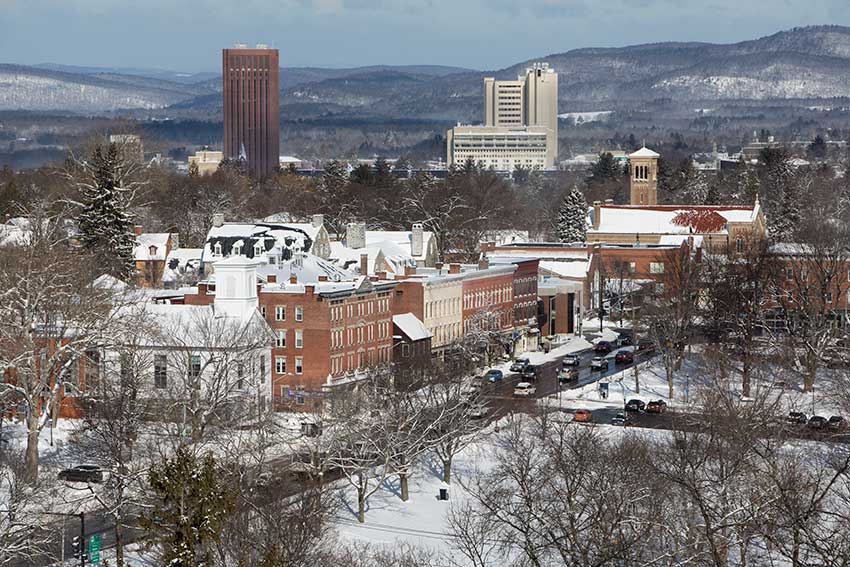 Source: amherst.edu

As part of its bicentennial celebrations, Amherst College will donate $200,000 to support the Jones Library and The Drake, a new arts and cultural performance venue in downtown Amherst.
"Amherst College and the Town of Amherst have had a 200-plus-year relationship, beginning with the establishment of a charity fund in 1818 by the citizens of the town to give free instruction to 'indigent young men of promising talents and hopeful piety,'" said Biddy Martin, president of the College. "As we mark the college's bicentennial, our ties to the town remain strong. We are especially pleased to be providing support for two projects that will benefit the town and are also aligned with our mission."
The donation to the Friends of the Jones Library will support a $36.3 million restoration, renovation and expansion of both the original 1928 structure and 1993 addition, adding 15,000 square feet of space. The project is designed to modernize the interior, repair building systems, increase the facility's accessibility, add space for children's and teen rooms, create a climate-controlled area for special collections, and improve space for the library's English as a Second Language program.
"Amherst College has been important to the Jones Library from the Library's inception," said Sharon Sharry, director of the Library, "recognizing both its centrality in the life of the Town, of which the College is an integral part, and the many ideals they share. We are excited—and grateful—for the College's help in providing a facility that will allow us to preserve that role."
The Drake will be the town's first purpose-designed and dedicated live performance and music venue hosting live music of all genres, comedy and improv, spoken word, and other types of performances. Funding for the project will come from public and private sources, and its operation will be overseen by the Downtown Amherst Foundation.
"The Downtown Amherst Foundation is blown away by the generous support to both The Drake and the Jones Library capital campaign," said Gabrielle Gould, executive director of the Amherst Business Improvement District. "We see these two ventures as the most remarkable economic development opportunities, community and diversity builders, and destination creators for the Amherst area. We are very excited to work with the Amherst College music department on the many opportunities to collaborate with its students, faculty, visitors, and alumni. Together we will create experiences through music and performances for generations to come."
"The Drake will provide opportunities to students to present their work outside their campuses with higher stakes and more diverse audiences than they can experience with on-campus performances," said Darryl Harper, Amherst College associate professor of music, chair of the music department and director of the college's Center for Humanistic Inquiry. "This kind of engagement fits squarely with our mission at the college. It will bring more artists to the area and will deepen the college's collaboration with the local community."