Conservation Commission Approves Plans To Extend Multi-Use Path To Groff Park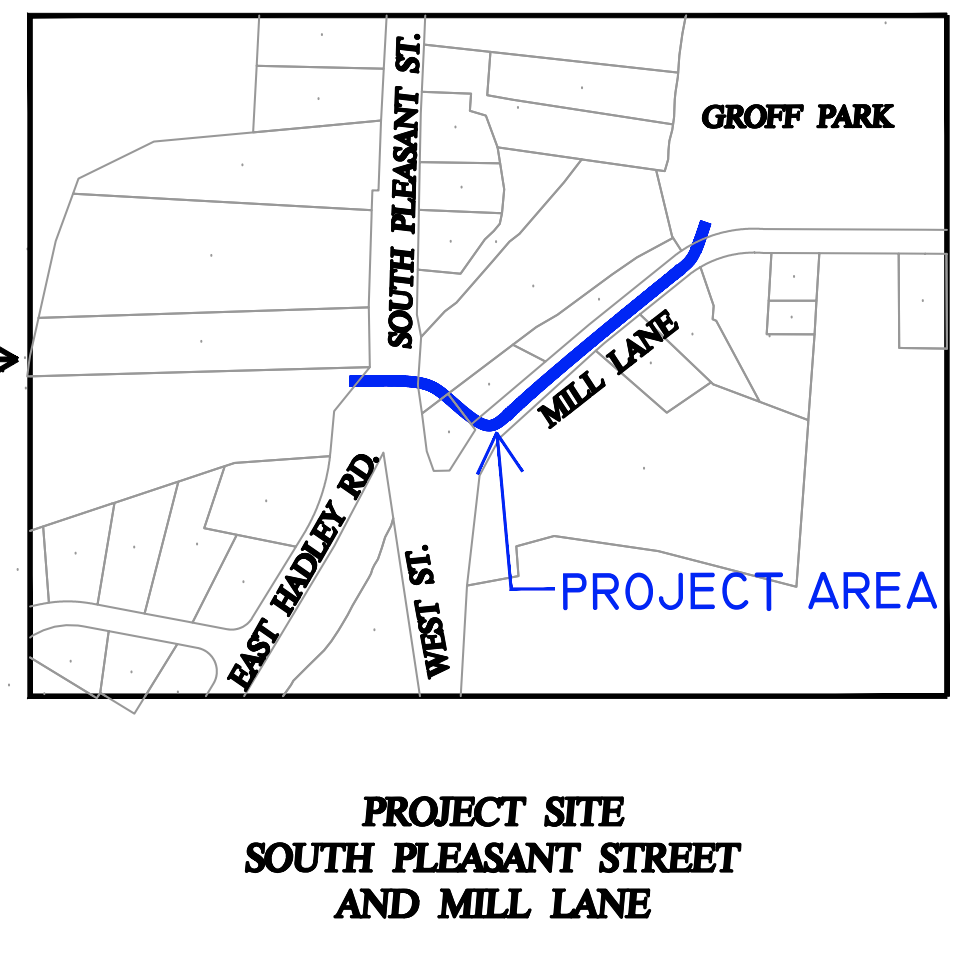 Report On The Meeting Of The Amherst Conservation Commission, January 12, 2022
This meeting was conducted over Zoom and was recorded.
Present: Jenn Fair (Chair), Michelle Labbe, Gaylord LeRoy, Fletcher Clark, and Lawrence Ambs. Absent: Laura Pagliarulo
Staff: Dave Ziomek, Director of Conservation and Development, and Erin Jacque, Wetlands Administrator
Department Of Public Works Presents Plans To Extend Bike/Footpath To Groff Park
The Conservation Commission held a public hearing on the extension of the multi-use path recently completed along East Hadley Road. The extension would run across West Street and along Mill Lane to Groff Park. Paul Dethier presented the plans on behalf of the DPW. The application includes realigning the crosswalk across West Street and widening the sidewalk on the north side of Mill Lane to permit passage by pedestrians and bicyclists. The sidewalk on the south side of Mill Lane will be removed, and the road will be repaved to just beyond the entrance to the park.
There are also plans to create a small seating area overlooking the river between West Street and the park, but the commission was not sure if this is desirable due to an increase in nonpermeable surface it would entail. They left the final determination up to the DPW. Most of the project is within 100 and 200 feet of the Fort River and is outside the 100-year flood line.
There are no plans to modify the existing footbridge across the river at West Street or to relocate any utility poles. Eventually, DPW would like to extend the sidewalk northward to the Norwottuck Rail Trail and along the parking lot to Groff Park.
There were no comments from the public. The Commission voted unanimously to recommend the project.
Hickory Ridge Purchase Likely This Month
Dave Ziomek said that he expects that the town will close on the purchase of the former Hickory Ridge Golf Course by the end of the month. The town will then need to develop plans for use of the property, most likely using Community Development Block Grant and Community Preservation Act funds.
Ziomek thought construction of the privately owned 26-acre solar array on the property would not begin until Fall 2022 to minimize interfering with wood turtles at the site. Trail work can begin when the town takes ownership.
Conservation Department News
Ziomek announced that the department has received a new truck to replace a 16-year-old vehicle. A second truck is on order. The search for an assistant land manager is underway. Available state and federal funds are permitting the department to tackle its backlog of projects. The town is expecting $30,000 reimbursement from the state for work done on the Robert Frost Trail.
The meeting adjourned at 8:20 p.m. The next meeting will be on January 26 at 7 p.m.