Potential For Geothermal And Solar Power To Factor Into Site Selection For New School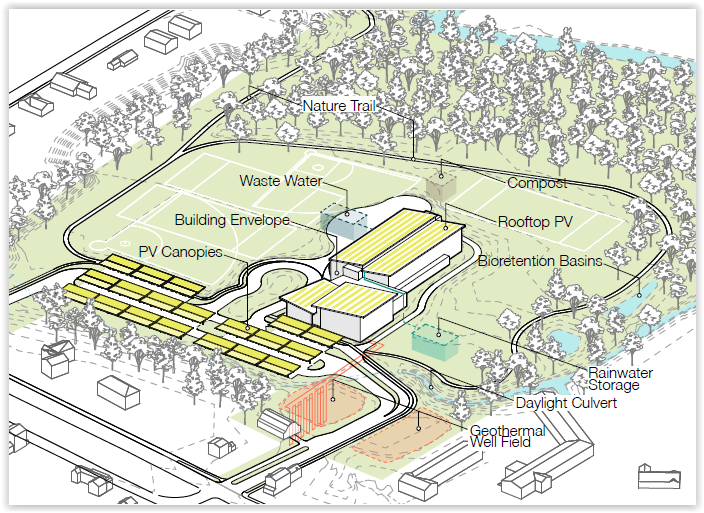 With a new elementary school slated to be the first town-owned "net zero" energy building, funding has been requested by the Town Manager for a study of the potential for using solar and geothermal energy sources on the Fort River and Wildwood sites. The potential for each source will be one factor in determining on which site to build the replacement for the Fort River and Wildwood elementary schools. The funding ($14,000 for the solar study and $71,000 for geothermal) will cover the evaluation of both sites as well as subsequent design work once a site is selected.
The site evaluation was discussed by green design consultants to the project, Vamshee Gooje and Sunny Du of Thornton Thomasetti, at a January 13 meeting of the new Net Zero Energy Working Group, a subcommittee of the Elementary School Building Committee. Responding to a question from resident Sara Ross on whether a geothermal system would be the default choice for heating, ventilation, and air conditioning in a net zero energy school building, Gooje said, "geothermal is the most efficient system available and it would definitely get us the lowest energy possible, but there are other considerations, like site issues and also life cycle cost analysis." Gooje said that, in other projects they have completed, a partial or hybrid geothermal system made more financial sense.
Inferring that both sites present challenges for the use of solar and geothermal energy sources, Donna DiDisco from the design firm said, "we have wet on one and ledge on the other." Fort River is close to a floodplain and the Wildwood site may sit atop bedrock. Geothermal involves drilling vertical ground loop wells, 200 to 600 feet deep.
In addition to the study of solar and geothermal potential, the working group discussed setting an Energy Use Intensity (EUI) target of 25 or below for the new school. (EUI is a measure of a building's energy use per gross square foot of building per year. For comparison, Gooje said a typical Massachusetts school building has an EUI of 58.) The working group will also review recommendations on the building envelope, massing, and heating, ventilation, and air conditioning options. A preferred building and site option is expected to be chosen by mid-June.
The requested funds will be voted on by the Town Council on January 24 as part of a $280,000 Elementary School Feasibility Study package to supplement existing borrowing of $750,000 authorized in February 2020.