A Few Questions For Jazz Guitarist Freddie Bryant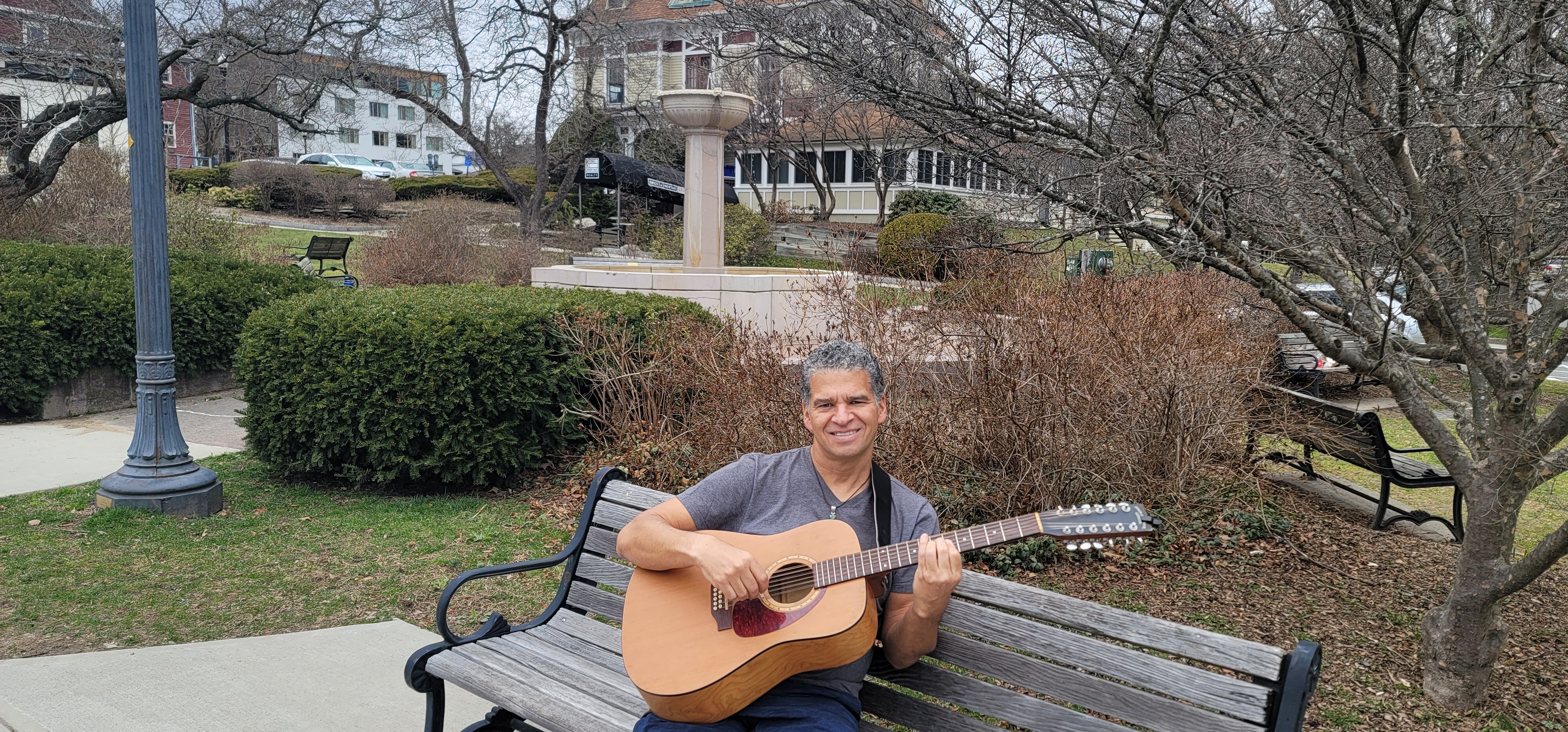 Guitarist and professor of jazz at Berklee Conservatory, Freddie Bryant grew up on West 87 Street between Columbus and Amsterdam Avenues, near the fictional setting of Leonard Bernstein's "West Side Story", and returned there after graduating from Amherst College, teaching guitar and jazz at Williams College, living in Leverett (where he still teaches a week-long Jazz and Tai-chi workshop every summer), and being awarded an honorary doctorate from Amherst College.
The premiere of his 90-minute song cycle, "Upper West Side Love Story," took place in late March at Bombyx Center for Arts and Equity in Florence, with a packed hall of jazz musicians and afficionados from near and far, and featuring an all-star cast of Carla Cook, Regina Carter, Gwen Laster, Akua Dixon, Donny McCaslin, Steve Wilson, John Benitez, and Alvester Garnett. "Song cycle" refers most often to Franz Schubert's sets of music and poems with a common theme and narrative that is not self-focussed, and this might be the first song cycle in a jazz idiom. For a comprehensive discussion of the form look here.
Disclosure: I've been close friends with Freddie and his wife, Heather, for many years, have stayed in the neighborhood apartment that's central to the piece many times, and have walked west to Zabar's and east to Central Park many times.
Kitty: Freddie, this is going to be a little backwards for an interview about an amazing premiere of a jazz song cycle about life in the Upper West Side when you were a kid. l think of the Upper West Side as "hoity-toity" and wealthy, partly because of Lincoln Center, Central Park West, Riverside Drive…but when you were growing up there, it wasn't that way?
Freddie: As a child, I was, "Oh, I'm hanging out on the street and I've got all these friends [on the West Side] and the East Side — well, I went to a lily-white school on the East Side, with very rich people, I'd take the bus over there in my school uniform, but on the Upper West Side we'd hang out with African-Americans and Puerto Ricans and white people, and rich people and poor people were living next to each other. It was very mixed and very progressive. Or I felt that way, because my parents and our community were very progressive, left leaning. This was in the 1960s and 1950s even. And they had a wonderful community center called Goddard Riverside on Columbus Avenue, with lunches for senior citizens, after-school programs for anybody in the neighborhood. It was accepting for so many cultures. There were a lot of neighborhoods, like San Juan Hill, a black neighborhood, where at least half of it was destroyed to make Lincoln Center — 7,000 families had to move, 800 businesses were lost, and that was a big controversy. It was also one big neighborhood on the lower east side (of the upper west side).
That's what the reference to San Juan Hill is, the neighborhood that's now Lincoln Center. And in song #13, "Moses the Pharaoh: Who will stay and who will go?" Robert Moses is "Moses, the prophet for profit".
Yeah, and that neighborhood wasn't the only one. Another neighborhood, called Manhattanville, above 97th Street on Columbus Avenue, that neighborhood was declared a slum and torn down. Certain people like Robert Moses were declaring parts of the Upper West Side slums…. I was interviewing people from there, before I wrote my lyrics, and there are people who wouldn't go above 86th Street. Or they wouldn't go to Columbus Avenue or Amsterdam Avenue there. They'd walk to Eighth Avenue to get to Central Park from Broadway and 90th Street — they'd walk down to 86th Street and then up to the park because in-between the rich avenues like Riverside Drive and Central Park West there was everything, gangs… and the Bronx is only a couple of subway stops away. You'd have to be careful, know how to deal with certain blocks.
For me it was a great, wonderful place to grow up, but when I interviewed some of the interracial older people who were the age of my parents, they said "your idea of the neighborhood is pretty different than our idea of the neighborhood." It's true that we had to get our apartments with the white person in the couple going there and signing the lease. That's what happened in our building — my father [a white musician] went and got the apartment and my mother [an African-American musician] was a surprise. In the 54 years we lived in that building, there was never another family of color, and it's right in the middle of the Upper West Side.
So at the same time, on the corners there were tenements. And I remember being six years old and hearing my parents saying "oh, they're paying people to leave, but they're paying them chump change." And then where did they go? I remember one corner where they built these big tall buildings that were supposed to be kind of accessible to different income levels…and on the same block we had an SRO, a single occupancy residence…but still, the parents let kids run free.
One of your songs is about playing outside freely, taking the bus by yourself, and in "Roses and Rubies: The Cost of What We Lost" you point out that while you were seeing roses, there were also junkies, and the neighborhoods that were demolished after being declared blighted.
Actually I remember being six years old and riding the bus, that was until there was the kid who disappeared, this was in the 1960s or 1970s, and it sort of woke people up, they wouldn't let their kids walk around alone anymore. And yeah, I went to school by myself — but later on my mother told me that she followed me when I was really young and would take the bus up Broadway and back.
I'm particularly wondering what a neighborhood is because it's been a divisive word in the face of downtown infill projects. Is it a neighborhood if the residents live there for a year or even less, and then move back to what they say is their real homes? I'm referring to undergraduate students who are highly mobile, as much as we love them here. What is a neighborhood?
I don't know, I think neighborhoods are natural, just a community that's nearby, and if new people move in, the neighborhood's definition might change. The Upper West Side is really expensive now, like you were saying.
Maybe your neighborhood would be where you could walk. We had a neighborhood within a neighborhood, and we had block parties and days when we'd clean up the block. I remember playing music there — at the end of the block there was an old abandoned lot, and an abandoned brownstone that was used as a stage. People who lived on the block asked themselves, what do we want for our block? You're living next to people and you decide to come together and do something, and it gives you an identity together.
In the seventh song, "My Home Sings", there's this verse that keeps resonating for me:
"Melodies drift from block to block
Through alleys and courtyards
Day by day a year has passed
by summer's end, unknown we've grown
with songs our own"
Is continuity, the passing of days and years, part of what makes a neighborhood?
Well, there could be a neighborhood where no one stays long, a different type of neighborhood. Our neighborhood was really nice because we were all there. But we definitely had the feeling the whole time that our neighborhood was changing, with new people buying buildings and being more rich and renovating their places — it's called "improvement". So, there's always a feeling about the new people, like "we used to hang out or have a picnic on the stoop and now they don't want us to"…
But one time that was really nice was when we had a blackout [decades later] and everybody came together. When there's adversity and you have neighbors, you know it's a neighborhood — people come out and support the older people. Maybe they can't use the elevator because the electricity is down, that kind of thing that shows you that even the new people are all part of that neighborhood now.
Parts of the songs feel nostalgic but also upbeat, like how it's time to say goodbye and start a new part of life.
Yeah, you can feel sad for too long. In terms of Amherst and people coming in-and-out with semesters starting and ending, I don't know if you could consider students to be like part of the community, they replace themselves each four years if they stay that long, and they replace themselves with more students…so if there's an identity of students who are in-and-out, then that would become part of the neighborhood's identity, the neighborhood is say 40% students, and that's still a neighborhood.
You and your family were forced out of your neighborhood when investors bought your building, right?
In our neighborhood it got started with the landlord saying "we're going to go co-op but you can buy your apartment." We were given an "insider price" which we couldn't afford. Then the owner sold the building and the new owners were waiting for people to die or waiting to be able to get them out. Then another company came and bought the remaining rental units. There were nine. They were corporate people and we didn't even know who owned the corporation. They decided to not accept my rent check, and said I wasn't the tenant. We were fighting them for three years and finally gave up. We had three lawyers, three judges and thousands of pages of documents and witnesses, and it would have cost how many extra thousands of dollars to prove that, for instance, I'd been living there taking care of my grandmother for two years after my mother died.
Let's get back to Upper West Side Love Story. It's such a radiant score! I was sitting next to a well-known jazz musician who said he had to go straight home after the performance because there was so much to think about, the score was so innovative. He meant musically, nothing to do with the lyrics. I just know that the music felt meaningful and deep, but also uplifting. You wrote it in Turks and Caicos, where you and Heather stranded yourselves at the start of the pandemic, right?
It was by accident, but we went with it. We'd bought tickets the previous November and got there the day before Trump declared the state of emergency and Caicos decided to close its borders. They said, "You can all leave on Saturday but if you stay after Saturday, our airport will be closed for an indefinite amount of time." And we decided to stay.
It was an expansive time without the pressure of teaching and performing?
Actually, I wouldn't say there was no pressure. I'd decided to write this a year before that, and had booked the premiere at the Vermont Jazz Center in Brattleboro for October, and I hadn't written it yet. I realized that October was going to be canceled [because of the pandemic], and I had more time, but the piece still had to be built…on words and poetry.
Did you write the words and poetry before you wrote the score?
My brain is very linear. I like to be more organic and let things flow, but I'm a Capricorn, although I don't necessarily believe in all that stuff, so between March of 2020 and July of 2020 I wrote the poetry.
Did you know beforehand that it was going to be 16 different poems, segments, pieces?
I decided to write haiku and long poems, and arranged it in terms of subjects that I wanted to talk about. I didn't know there were going to be eight haiku and eight long poems, it ended up being that way. I wanted to talk about things like the playground at the end of the block, and about rich people and poor people living next door to each other, and Robert Moses and development — and about music and dance [Lincoln Center] growing on the bones of San Juan Hill. I placed it all out and then wrote the poems and edited them. (see the Upper West Side Side Love Story website.) Then I started from #1 and ended at #15, and I didn't do anything out of order. I didn't do 16 until this January because I wanted to see how all of that other stuff worked out.
There was one time when I had a terrible writer's block. I was in the middle of this huge #5 called "A Walk in the Hood," which is based on three songs [Thelonius] Monk wrote and played. I changed the melodies and added my own words – in jazz that's called "contrafact". It was such a huge process to figure out how to do all this with the poetry and put it to music, and then in November I got asked to do a concert for a classical guitar festival so I had to record it in Turks and Caicos, and edit it, with video. When people are talking about "what did you learn to do during the quarantine?" that's what I learned to do. Besides writing this piece, I learned to record on two phones and edit the music and make the video and edit that. I didn't write any of the music then because I was having that writer's block. Then in February I started again and finished in July of 2021 so it took me basically March [2020] to next July [2021] to write everything. Then I had the problem of figuring out, can I get these people to play such a huge piece.
Did you know all of those amazing performers beforehand? Or only by reputation? Two had Grammy nominations, one had a MacArthur Genius Award. Violin, viola, cello, sax, flute, bass, drums, guitar, and voice…and spoken word, too…
They were all on my grant. This whole thing started with a grant I got in August 2019 from Chamber Music America, which was traditionally a classical chamber music nonprofit and they decided to include America's own indigenous art form, called jazz. Jazz has its own section, not competitive with classical chamber music but specifically for jazz and improvised music. It doesn't have to have European instruments like strings. Basically, my Kaleidoscope Trio, guitar, bass, drums was the group and then I invited six guests, all on the original grant. You can change some people but not more than 50% of them or they won't give you the grant money. I did have two people who were subs. Two of the people in my trio live overseas now and couldn't be in the program, so that was the bass and the drums.
You seemed to have great rapport with each of them.
Well, I've played with almost everybody on the stage and some of them for decades. The only person I hadn't played with was Carla Cook, the singer, and I knew of her work, and knew she had [grown up] with Regina Carter, who grew up with] Gwen Laster, the viola player, in Detroit and they had a really great chemistry. And I knew she was a very soulful singer, a very great singer, so basically the whole time I was in Turks and Caicos I was listening to YouTube videos of Carla, listening to her voice, listening to the range of her voice, what she does with it, and I kept calling her up and texting her, saying, "Is this one good?" "Do you think that one's good?" She'd say "Yeah, I think that's good." "Really, really, are you sure?"
The greatest thing was in September or October I finally met her. And with 16 songs she basically changed one note. It could have been that I got there and she'd say, "No, this doesn't work, this doesn't work, you can change the key of this, this doesn't work…are you crazy?" I was very careful to try not to write things too high for her — she has a really great low voice.
I noticed that the way she sang the lyrics was a beautiful interpretation, when the words on their own could have been kind of dire, but instead they felt enlightening.
You're talking about how the music that accompanies the lyrics changes the feel of the lyrics. I guess that happens with all lyrics. If you just look at the lyrics, you don't have any context of what the music sounds like and you'll just go with what you feel from the words. But when you add music!
Again, the individual has to deal with it themselves and each individual audience member is a different person, but still, the music has another aspect to it. It's a little bit less dire, I guess, when you can sing a song and have nice rhythm going with it.
Even the song about Robert Moses, the prophet for profit, didn't feel accusatory the way she sang it. Realistic but not blameful.
Well, I feel like it's connected with some of John Coltrane's music, where he was very spiritual, and he wrote songs about tragedy, like Alabama, civil rights…massacres, and he would have it sound like prayer. Since Moses is a biblical figure, I wanted that opening with the saxophones, saw it wailing but wailing a prayer, a prayer of "can you save me", a prayer of salvation and hope but also adversity dealing with that adversity. So "Moses was a prophet for profit" explains the situation, and that he did these things—the poor people had to leave but it was more like a spiritual [retelling], it wasn't about hatred…cranes were everywhere, taking down buildings, building new buildings. It's a complicated song. Moses wasn't a pharaoh, he was persecuted by the pharaoh and running from the pharaoh, but in New York, Robert Moses was part of naming neighborhoods and streets—good street, bad street. I felt, growing up, that I was in a totally integrated neighborhood because I had friends with all colors, but when you look at the details, not everybody was on the same page.
What are your hopes for this piece? You mentioned being funded by a chamber music resource, and chamber music gets played over and over again.
Hopefully I'll play it over and over again! Because of the huge scope and length of the piece, I don't expect hardly anybody will play the piece from beginning to end, so I'm looking forward to recording the whole piece and also releasing [segments] as single pieces that can stand alone. Someone decides to do one song in their concert.
I wrote some of the poems to be not only about those neighborhoods but about love and breakup. "You" [the neighborhood or a person] left me or treated me badly or something like that. The second and third songs, "love can't live on nostalgia", I realized had to be individuals coming together. I'm hoping other people will sing it regardless whether they were attached to the neighborhood.
"My soul is built of brownstones turned to song" is another of my favorite lines, and another is the opening haiku about Columbus Avenue in the quiet, with heavy snow falling through the night and then, White, green, yellow, red, which I didn't quite get until I heard it sung.
I remember clearly coming home from playing a gig at two or three in the morning and being able to walk down the center of Columbus Avenue, no cars, no plow trucks, nothing, just snow falling down, and I'm dragging my amp on a pulley through the snow.
I would love to see this piece performed all over the world. Could that happen, with these performers?
It would be very difficult with this group, where we only found two days [over months] that everybody was available. There'll be a performance on September 10 and 11, hopefully in New York and Woodstock, part of the original grant. After that we have to raise more money or get people who want to pay for it. We're going to make a promo so that people will get excited about it and hopefully book it, and then I want to record it in the studio. But if this performance was so great (cross fingers, musicians are always very self critical), it's all been documented so hopefully something will come out by the end of the year. And I want to get the recording and videos from Bombyx onto YouTube to support the studio recording, if we get a studio recording.
Going back to the Amherst connection…you were a student at Amherst College, got your honorary doctorate from Amherst, and still have strong Amherst College connections…
That's how the Bombyx concert happened. Professor Darrell Harper, a great clarinetist and former classmate of mine, a little younger than me, he proposed during the Omicron phase of Covid that I come to teach at Amherst, and then the students could see this concert, which would be outside and the larger community of the Valley could also come — the Amherst campus was closed to non-students then. He thought it was important that the whole community would be able to see this, and it's really Amherst College's gift to the community because they could have just had it in Buckley hall, and only Amherst College students and faculty would have been invited. Amherst College has been very supportive, and Chamber Music America, and it was presented by Pioneer Valley Jazz Shares, Amherst College Department of Music's "Music at Amherst" series, and Bombyx Center for Arts and Equity.
---
The website for "Upper West Side Love Story" includes the lyrics, as well as information about the musicians, and extensive notes about the neighborhood and jazz references in the piece.