Letter: Senior Center Lacks Necessary Space, Budget, And Staffing To Meet Needs Of Amherst's Older Residents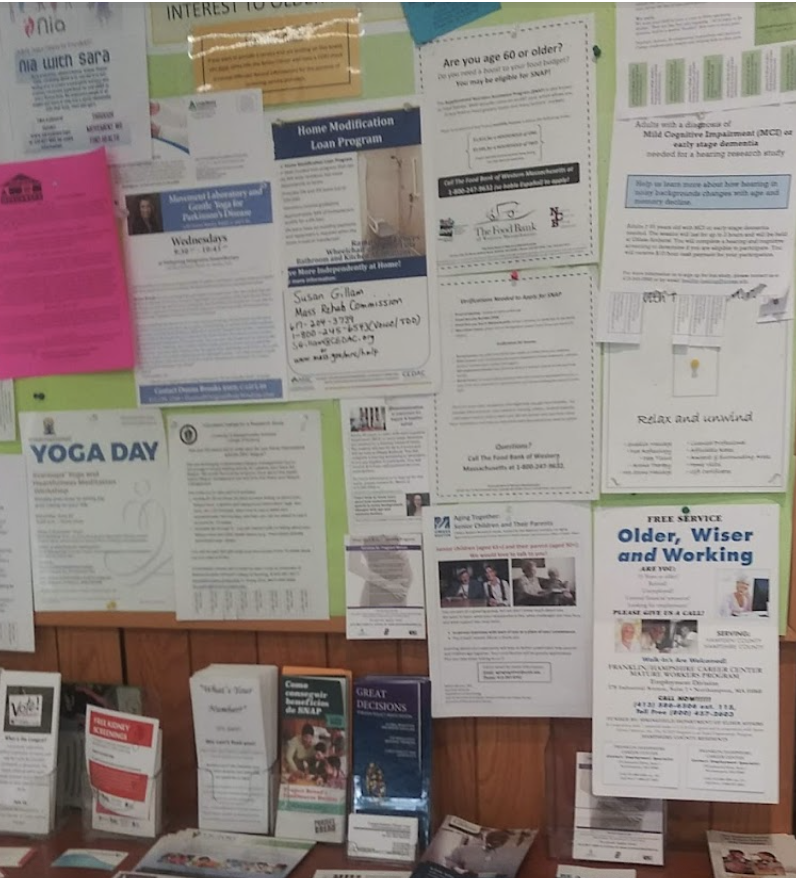 The following letter was sent to the Amherst Town Council on April 4, 2022. It was signed by nine members of Friends Of The Amherst Senior Center.
We thank you all for your service to the community and for your important work toward achieving town goals, community growth, and strategic planning.
We want to share a concern we have and want to raise your awareness of what is an increasing problem at the Amherst Senior Center. We are concerned about the limited space the center has for programs and classes.
Now that COVID restrictions are lifted and the doors to the senior center are once again unlocked, classes, programs and services can be resumed. Yet, we are struggling to find sufficient classroom space for those activities. The large room that was once used for health-supporting exercise and dance classes is now being used by the Town to store the Civil War Tablets. Some of the dance and exercise classes can meet in the large lunchroom but scheduling for that room is limited because it is used for four hours during the middle of the day for lunch distribution or congregate lunch. There are only two modest-sized classrooms and one small classroom that can be used for all programs – food distribution, education classes, computer tutoring, Shakespeare class, numerous dance & exercise classes, Yoga, Tai Chi, support group meetings, cribbage, bridge, health clinics, and more.
Currently, there are 5,239 seniors over the age of 60 in Amherst. The classes, services and programs at the senior center are critical to many of those elders. Like everyone, they have been living an isolated existence for years due to COVID restrictions. The impact of isolation, especially for the majority who live alone has been crippling, and the impact is even greater for those who do not drive, are not technologically capable and cannot afford a private gym membership. The result can lead to loneliness, anxiety, depression and even failing health. The senior center is a safety net for those folks. It becomes like a second home as they rely on the center for social activity, exercise classes to keep fit, nutrition, age-related information, mind-stimulating games and more. Those programs and activities help to keep elders active and able to age in place. The need for socialization and human connection is extremely important for all older adults.
The solution to the space problem may not be simple. However, to acknowledge that the problem exists and to make others aware of it is the first step. We invite each of you to tour of the Senior Center to get a better sense of the space limitations.
Several of us have looked at how the Amherst Senior Center space compares to other senior centers in the area. The attached document is rather revealing in several categories. As you will see, in addition to a lack of space, the senior center also lacks budgetary support and staffing compared to other centers in the area.

The purpose of the programs and services at the Amherst Senior Center is to enhance dignity, support independence, maintain health and strength, and promote the involvement of older adults in the community. These goals cannot be met with inadequate space, inadequate staff and an inadequate budget.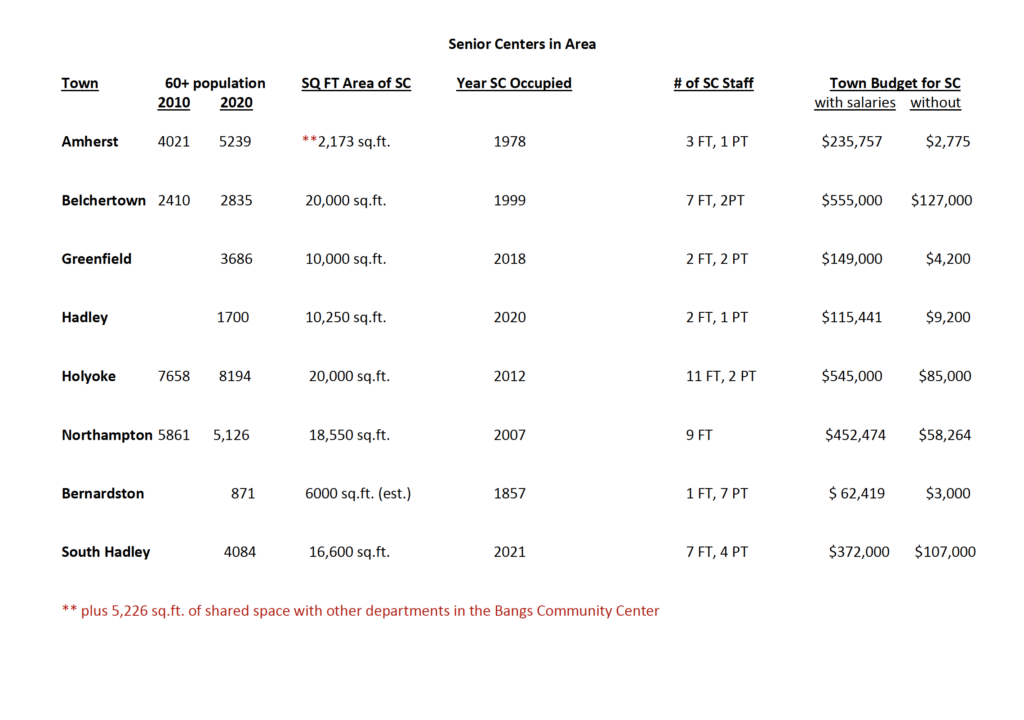 Richard Yourga, President rcyourga@aol.com
Dennis Vandal, Secretary
Mary Elmer, Treasurer
Barbara Slovin
Norma Hallock
Kay Weinberg
Rosemary Kofler
Mary Hough
John Magarian
The signatories are members of Friends Of The Amherst Senior Center