Regina Carter Wows A Packed House At The Drake's Grand Opening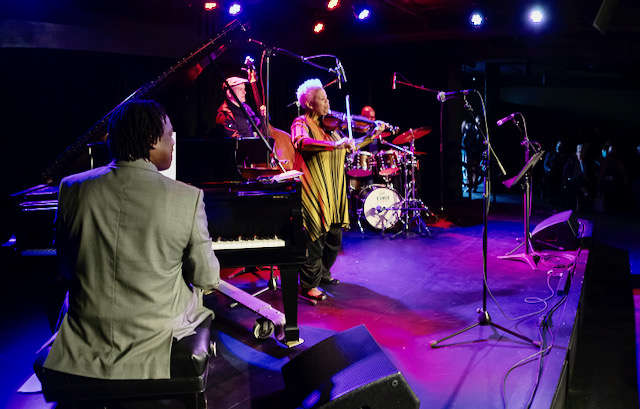 The Regina Carter Quartet made the official Grand Opening of The Drake in Amherst a rousing success. The band was relaxed and genuinely seemed to enjoy the knowledgable and appreciative packed room.
Regina was accompanied by pianist Brandon McCune, Bassist Ed Howard, and Alvester Garnett on drums. A guest clarinetist, Darryl Harper, joined in on the unannounced sixth number, which sounded to me like a stylized version of The Beatles "Can't Buy Me Love", as well as in the Encore. I await being corrected on the title!
The opening number was a jumping version of "Squatty Roo", a swing era piece written by saxophonist Johnny Hodges for the Duke Ellington Orchestra. The crowd got into it quickly, clapping with the beat. The rhythmic command by the group was ever-present. Carter's mastery of her instrument was obvious, and her solos were marvelously creative. McCune showed both drive and sensitivity in his solos as well as in short responses with Carter.
Next was "When I Grow Too Old To Dream", a pop song from 1934 which has become a standard. With a slower tempo, the finesse of Carter's technique shined. Both Howard and Garnett had tight solos. There was an exceptionally quiet solo by Carter, which silenced the room.
Third came a song from her childhood, "These Are Few Of My Favorite Things." It brought back memories. as I saw the movie myself. The renditions of the standards provided ample opportunities for improvisation by the band members. Everything fit, and the audience was ecstatic.
Unfortunately, I missed the title of the fourth piece. It was a slow ballad, with great interplay between Carter and McCune. Towards the end, a compressor kicked on in the rear (where I chose to sit). Perhaps an insulated panel could be installed to muffle that.
Fifth was a tribute to Ella Fitzgerald, my favorite female jazz vocalist. "I'll Never Be Free" was performed widely beginning in 1950. I can't help repeating myself, as both the arrangement and performance were outstanding. McCune and Harper soloed, and Carter used finger picking for a solo which was a refreshing change.
Then came the mystery tune I mentioned at the beginning. Darryl Harper was introduced, and his clarinet meshed in seamlessly with the band. Carter and Howard had a fun improvised conversation.
After an extended standing ovation, the members returned to the stage for an encore. It was a much more modern, minimalist piece, with multiple short conversations between all five. The silences between sounds were as communicative as the notes themselves. I couldn't stay for the second show, and hope to read or hear about it elsewhere. The Drake is off to a fabulous beginning.