Truth School Will Offer Eight Free In-Person Classes In May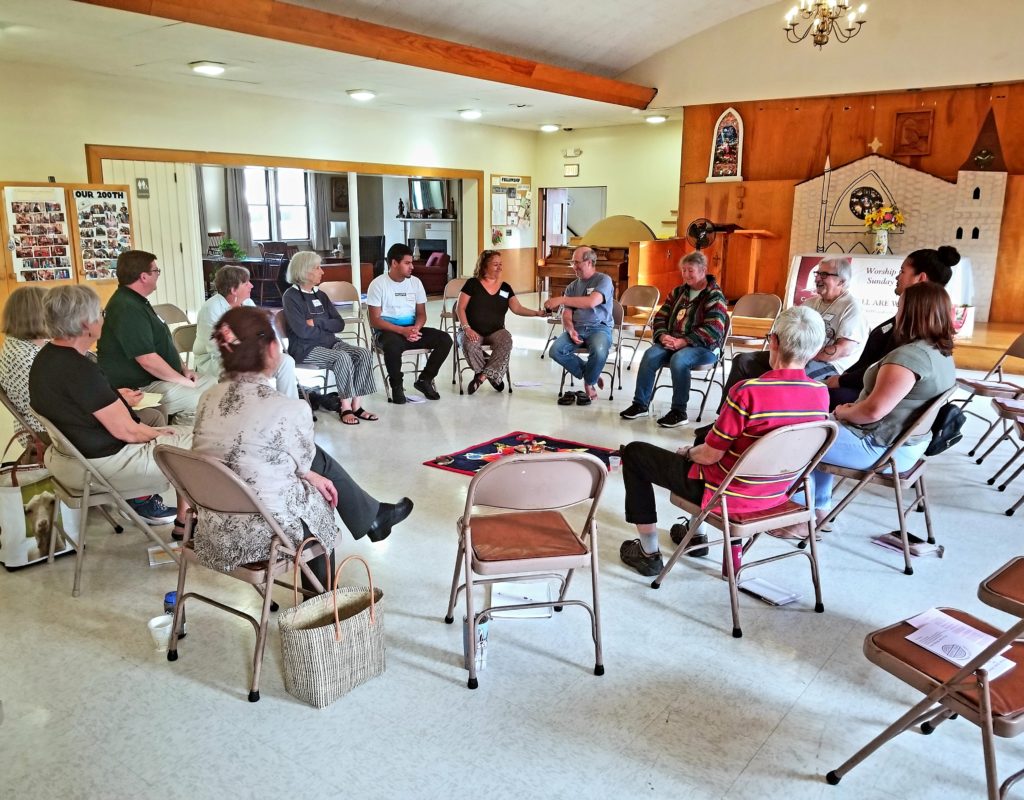 Source: Sojourner Truth School for Social Change Leadership
The Sojourner Truth School for Social Change Leadership has announced its lineup of classes for May. As always, all classes are free.  Classes will return to meeting in-person after being held on Zoom throughout the pandemic. (view the school's COVID protocols below). In-person classes will take place throughout Western Massachusetts in Springfield, Holyoke, Amherst, Easthampton and Greenfield. All classes are taught by BIPOC people or biracial pairs. Most classes are one-session and a few are multi-sessions.  A listing of classes is provided below. Find more information or register here.
Understanding Social Media
with Dr. Sut Jhally, Thursday, May 5, 6:30 PM – 8:30 PM
Location: Media Education Foundation, 60 Masonic Street, Northampton, MA
This workshop is for young people who are consumers and older people searching for a way to understand what is happening to their kids and grandkids – and how they are unwitting targets for surveillance capitalism.
Spirituals: Reflections and Meditations
with Dr. Ruth Bass-Green, Saturday, May 7, 2:00 PM – 4:00 PM
Location: First Churches of Northampton, Chapel, 129 Main Street, Northampton, MA
Come and be inspired to learn about the music that encouraged members of the Civil Rights Movement to sing and play. Dr. Ruth Bass-Green's arrangements of sacred songs has a singular, dynamic focus that generates visions of hope and healing in the souls of all people. Participants will gain an understanding of how social justice ideology helped people of color share their views of who they are in an inclusive world.
"We Who Believe in Freedom Cannot Rest,…Until it Comes"
with Evelyn Harris, Wednesday, May 11, 6:00 PM – 7:30 PM
Location: Treehouse Community Center, 1 Treehouse Circle, Easthampton, MA
In this workshop, Evelyn is excited to teach a repertoire of original Sweet Honey in the Rock songs from Bernice Johnson Reagon's songbook Compositions, published in 1986. These songs speak to issues, struggles, and hopes for the future from Black women's hearts and perspectives. Please join along for this soulful, revelatory, and inspiring musical experience.
Do Muslim Women Need Saving?
with Tahirah Amatul-Wadud and Safiyah Bey, Thursday, May 12, 5:30 PM – 7:00 PM
Location: Arise for Social Justice, 38 School Street, Springfield, MA
In this class, these two Muslim women will explore commonly-held perceptions, assumptions, and stereotypes about Muslim women. This dynamic mother-daughter pair will approach these issues through the lens of contemporary socio-political trends as well as through their own cross-generational lived experiences. Discussing issues of being part of a multi-faith family, wearing the hijab, independence and self-expression for Muslim women, Tahirah and Safiyah will speak openly before opening the floor to questions, thoughts, comments, and reflections. All welcome, join us for this mind-expanding and heart-opening sharing.
In the Legacy of James Baldwin: Ta-Nehisi Coates's and Imani Perry's Letters to Black Boys
with Dr. Rose Sackey-Milligan, Saturday, May 14, 3:00 PM – 5:00 PM
Location: Arise for Social Justice, 38 School Street, Springfield, MA
In this session, using contemplative (mindful) attentiveness, participants will communally read selections from Coates' Between the World and Me and Perry's Breathe. In these letters to their sons, race, racism and the challenges of being a Black boy in America are highlighted. Through a facilitated dialogue, the significance of these writings, given the current political and cultural landscape, will be explored and reflected upon.
The Middle East Without the US
with Dr. Sut Jhally and Dr. Michael Klare. Thursday, May 19, 6:30 PM – 8:30 PM
Location: Media Education Foundation, 60 Masonic Street, Northampton, MA
The U.S. troop withdrawal is only one sign of a declining U.S. role in Middle Eastern affairs, occurring at a time when several regional powers – Iran, Israel, Saudi Arabia, Turkey – are asserting greater influence and other external powers, including China and Russia, are playing an increasingly prominent role. This class will consider how these geopolitical realignments are affecting the struggles and conflicts long underway in the region.
Take a Walk in Sojourner Truth's Shoes
with members of the Sojourner Truth Memorial Committee, Saturday, May 21, 10:00 AM – 12:30 PM
Location: Meet at the Sojourner Truth Statue, corner of Park and Pine Streets, Florence, MA
This special offering is a guided tour via the Florence African American Heritage Trail, which provides an opportunity to see the homes and historic places where a rich legacy of abolition and women's rights resides. This Trail commemorates the Florence of the mid-1800s, when Sojourner Truth lived in this small Massachusetts community. Engaging the local community to explore historic Florence – both physically and virtually – is the cornerstone of the Sojourner Truth Memorial Committee's mission to honor her legacy. To that end, we offer walking tours of the African American Heritage Trail to the local community. [Note: The tour is about 1 mile long; please wear comfortable walking shoes and bring a snack with you. There will be a group discussion of how Sojourner Truth's life is relevant to today's social issues.
The Prison Fix
with Dr. Sut Jhally, Thursday, May 26, 6:30 PM – 8:30 PM
Location: Media Education Foundation, Community Room, 60 Masonic Street, Northampton, MA
The focus of this class will be the mass incarceration system, which took off in the United States in the 1970s and is directly related to the emerging black freedom struggle. At a time when black labor was made superfluous to the economics of an emerging global neo-liberal system, and when black demands for justice found expression in urban uprising, the prison system became a way to house and contain a potentially revolutionary class. Our discussion will center on the exploration of that issue and its consequences.
Truth School Spring 2022 Covid-19 Safety Protocols
The Truth School will be transitioning to some in-person classes in April and May 2022. We are committed to protecting your health and safety while you attend Truth School classes so we ask you all to comply with the following COVID-19 safety Protocols.
Masks – We require that all participants and trainers wear masks at all times during the class.
Physical Distancing – We will arrange seating so that there is adequate spacing in between participants, and between trainer and participants. We will limit the number of participants in each in-person class to ensure that we can safely space people.
Ventilation – We will provide ventilation in training rooms by opening windows. If a training site does not have windows that will open, we will provide an air purifier, and will notify participants ahead of time.
Illness – If you have any signs of a cough, cold, fever or are not feeling well, please stay home.
Sanitizing – We will provide hand sanitizer and sanitizing wipes at each class.