State Senator Jo Comerford Holds Virtual Town Hall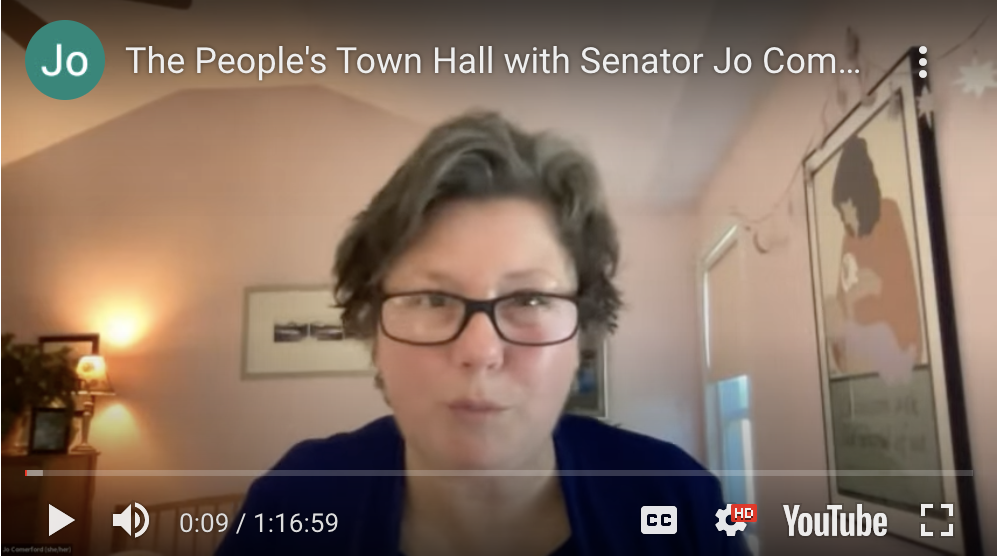 State Senator Jo Comerford held a virtual town hall on May 11 for 400 pre-registrants. Comerford reviewed her initiatives in state government and then answered numerous questions from the audience. The recording of the 75-minute event can be viewed here and the slide show can be viewed here.
Comerford began by noting that her district will change with the fall election due to changes in population in the 2020 census. Whately, Colrain, and South Hadley will no longer be in her district, but Petersham, Athol, Winchendon, and Ashburnham have been added. She is the Senate chair of the Joint Committee on COVID-19 and Emergency Management and Preparedness and the Joint Committee on Public Health, as well as being a member of numerous other committees, task forces, and caucuses.

She highlighted her efforts to elucidate the special problems of the small towns of Western Massachusetts that must manage greater areas of land and roads with much smaller tax bases than the more densely populated cities of Eastern Massachusetts.
In the question and answer period, Comerford highlighted her work in promoting renewable energy in an equitable way, but also finding a balance with carbon sequestration through saving forests. She has been working on making health insurance more fair and affordable, and in helping to promote affordable housing. She has also supported safe use sites for observed use of opiates and reduced cost for phone calls from inmates of state prisons. Another of her areas of focus has been to change the funding formulas for charter schools and for special education, especially in smaller school districts.
Comerford ended by inviting constituents to contact her or her staff with concerns and questions. She is continuing her tour of all public libraries in her district.