Juneteenth Festivities This Weekend Include History Walk And Jubilee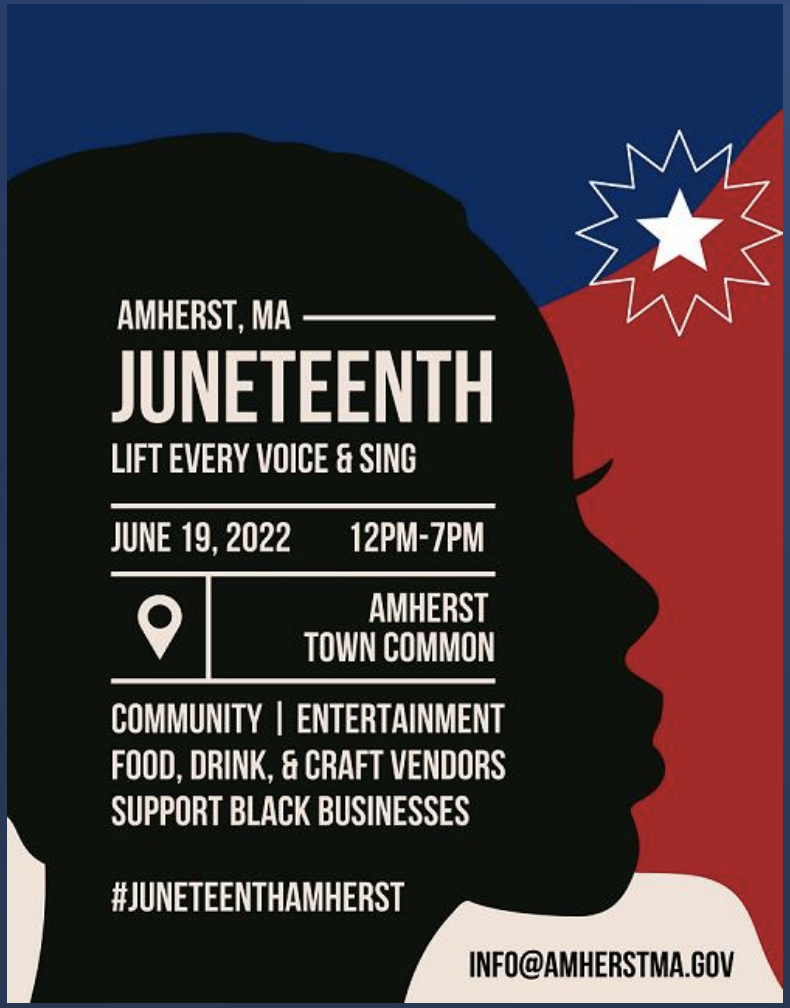 Massachusetts declared Juneteenth a state holiday in 2021, but this year will mark the first time that the day will be celebrated as a federal holiday. Juneteenth commemorates June 19,1865, when the Union Army marched into Galveston,Texas, the state's largest city, and Major General Gordon Granger read a field order declaring an end to slavery in the United States. The order read:

The people of Texas are informed that, in accordance with a Proclamation from the Executive of the United States, all slaves are free. This involves an absolute equality of personal rights and rights of property between former masters and slaves, and the connection heretofore existing between them, becomes that between employer and hired labor. The Freedmen are advised to remain at their present homes, and work for wages. They are informed that they will not be allowed to collect at military posts; and that they will not be supported in idleness either there or elsewhere.
The federal holiday will be celebrated on Monday, June 20, but Amherst's celebration will take place on Saturday and Sunday, June 18 and 19.
First Juneteenth Heritage Walking Tour Scheduled For Saturday, June 18
Councilor Anika Lopes (District 4) has coordinated a Juneteenth Heritage Walking Tour from 11 a.m. to 5 p.m on Saturday, June 18. The tour is sponsored by Ancestral Bridges and the Amherst History Society and Museum, as well as other local organizations. The tour begins at the African American section of the West Cemetery at 11 a.m. The tour is open to all, with no charge and no preregistration required.
At the cemetery, the newly created Ancestral Bridges organization will be introduced, and there will be some literature distributed on the history of African Americans in Amherst. The tour expands on the lives of Black individuals and families in Amherst, many of whom are connected to the Civil War soldiers of the 54th Volunteer Regiment and the 5th Cavalry. The tour will be led by William T. Harris, President and CEO of Space Center Houston and a descendant of several of the families featured.
A statement issued by the Amherst Historical Society notes, "This is the first time an historic tour like this has been descendant-led, and we are thrilled to be partnering in this celebration that helps explore and understand the lives of Black residents through the decades. To hear stories and reflections by descendants presents an engaging perspective that is only guessed at or surmised in reading the books and research by people like James Avery Smith, Joseph Carvalho III, Bob Drinkwater, and Robert Romer."
The Emily Dickinson Museum will provide a conversation on the Dickinson family and their relationship with abolitionist, Unitarian minister and Civil War soldier Thomas Wentworth Higginson. Harris will share the story of Charles Thompson who played the fiddle for some of Emily Dickinson's gatherings.
The History Museum will have displays with photographs depicting neighborhoods not visited on the tour including McClellan and Beston Streets, Northampton Road, and the National Historic Register West Side District of Baker and Snell Streets and Hazel Avenue. There will also be a special art installation by artist/physician Shirley Jackson Whitaker on the recently formed Tote2Vote campaign against voter suppression http://tote2vote.com/ . In addition, there will be an immersive Civil War encampment on the museum lawn and a special exhibit of Civil War artifacts.
In a link between present and past, descendent and milliner Lopes carries on a tradition of the prolific hat industry in 19th century Amherst. Teamster Henry Jackson, a Black man, once delivered palm leaf for hats to household laborers from the train stations in Palmer and Springfield. Railroad Street was once named Jackson Street in honor of his home.
A complimentary lunch will be served on the grounds of the Amherst History Museum. Water will be provided at all stops, although participants are encouraged to bring their own. From the History Museum, the walk will continue to the Hope Church, the first Black Church in Amherst. The last stop will be the Goodwin Zion Church at 3:15. The Heritage Tour will conclude at the Drake at 5 p.m. for more music and celebration.
Transportation, courtesy of UMass, will be provided to all stops, leaving from the high school parking lot at 10:30 a.m. An accessible van will be available for those with advanced mobility issues. The shuttle bus and van will return passengers to the high school between 4 and 5 p.m. Anyone is welcome to join the tour at any location. There is no limit on the number of participants.
Town Jubilee On The Common, Sunday, June 19
On Sunday, June 19, the town will be sponsoring its second annual Juneteenth celebration on the Amherst Town Common. The celebration takes place from noon to 7 p.m. and will include music, poetry reading, dance, and local vendors of African Heritage.
The program begins with a libation ceremony and the reading of the 2022 Juneteenth proclamation by town councilors and State Representative Mindy Domb, followed by a bell ringing ceremony and a performance by the Amherst Area Gospel Choir. Performances continue throughout the afternoon and early evening.
Food vendors include Hazel's Blue Lagoon, Auntie Adrienne's Restaurant, Hummingbird Restaurant, La Mesa Food Truck, Southern Belle Pastry, Paris's Hot Dogs and Lemonade, White Lion Brewery, and Holyoke Humus among others. Craft vendors include Africana Home Goods, Exotic Sensations, Africana Dance and Fitness, Alex Evora Green Arts, Paper City Clothing, Dimples & Daughters, Liv Nu Accessories LLC, and The Rock and Soul Boutique.