Amherst College President Biddy Martin's Farewell Letter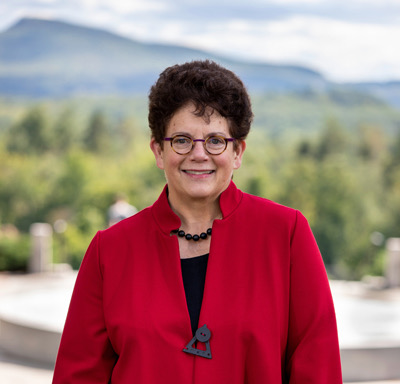 Source: amherst.edu
Amherst College President Biddy Martin will retire with the start of the fall academic term.
The first woman to serve as Amherst's president, Martin joined the college in June 2011, and will close out her 11th year in the position before ending her tenure. She will leave office as the longest-serving president in 50 years.
During her tenure, Martin presided over a number of transformations at the college, including an overhaul of sexual misconduct policies, the replacement of Lord Jeffery with the Mammoth as an official mascot, racial justice reforms prompted by Amherst Uprising and other student-led movements and the college's response to the coronavirus pandemic. Martin also oversaw the adoption of the Climate Action Plan, the construction of the Science Center and an increasingly diverse student and faculty body.

Her farewell letter to the Amherst College community follows.
July 28, 2022
Dear Friends,
This past fall, I announced that this year would be my last as Amherst's president. I will leave with gratitude that Amherst was the unexpected culmination of my unexpected career. After eleven years here, I cannot imagine a more perfect place to have spent this chapter. I love the purposes that Amherst aspires to serve, the combination here of intellectual seriousness and incisive thinking with a commitment to teaching and learning that is unparalleled in my experience in higher education. We bring faculty, staff, and students together from all over the country and the world in the conviction that our different experiences, cultures, and points of view will offer opportunity, growth, discovery, friendship, and community. That we do not fully realize all of our ideals does not diminish the aspiration or the effort. It does not negate the positive impact of our efforts to ensure that everyone feels engaged and able to make Amherst their own. There is a great deal more work to do, of course, which creates more openings for the new thinking and creativity to come.
Out of every window in this marvelous house, I see the beauty of New England foliage and, in the distance, out back, the Holyoke range. Recently, I referred to my eleven years at the feet of these northeastern Appalachian mountains as a redemptive reminder of the landscapes and the natural beauty that helped me through my childhood and adolescence in then-rural Virginia. Looking out, I have loved the ginkgo tree, especially after it was shorn of so many of its branches by the ice storm on one of my first Halloweens here. I loved the beech tree that we lost last year and I now love the still tiny dogwoods that grow in its place. I open the shutters every morning to a view of extraordinary pines standing tall next to oaks and I look out over the future Lyceum to the mountain range beyond. There is no view equal to the one from Memorial Hill, but there is grace, and light, and beauty everywhere. Gabi, Oscar, and I have taken so many glorious and healing walks on the bank of the nearby Connecticut River. During COVID, Gabi became a very active member of the Pioneer Valley Hiking Club, one of the many outdoor activities she pursued while missing the life of the city she loves. Oscar has learned to play soccer on our porch with a Styrofoam ball that is at least his size. Indeed, the local landscape and the campus buildings have provided the backdrop for and perhaps the guarantee of the great fit we have found here.
A great college or university is more than its on-campus community. I have often quoted or paraphrased the writer, Marilynne Robinson, on the importance of college and university alumni bodies as sources of community in a country where we have far too few such sources. I will paraphrase her point again here, with particular relevance to Amherst, by noting that Amherst's alumni pay the gift of their own education and subsequent opportunities forward by treating current students, who are many years their junior, as though they were kin and heirs. Amherst's endowment has its roots in the founders' belief in education and opportunity, and specifically in their commitment to making education available to "indigent young men of piety." Providing opportunity could not be more important today, because it is increasingly out of reach for so many people. I know this on-campus and alumni community will continue to push to do more.
I knew it would be hard to leave. Knowing rationally and perhaps dimly emotionally that something will be hard in advance is very different from the experience when it comes. It has been extremely hard to sift and winnow through our things and pack up. I am excited about the life Gabi and I will live in Washington, D.C., with its abundance of opportunities. And I look forward to the chance this year to teach in Cambridge. I also can't wait to be in a classroom with Amherst students thereafter. But, at the moment, I am acutely aware that this transition brings loss. All change is loss, despite the anticipated gains, and losses have to be mourned. Over the past few days, I have turned to some of my favorite poets for solace or sometimes just as a way to refocus. Adrienne Rich's poem, "Stepping Backward," has pointed me to the importance of saying goodbye, even when we know the separation will be short, even when the goodbye is painful. Goodbyes to those we will see soon again matter because they allow us to step back and see the full measure of a person, of an experience, a community, or a college—to see things whole. In the normal course of life, "we meet each other in segments and pieces during the day," reads one line of the poem. Sometimes we let the most recent or vivid, even the most distressing impression or exchange gain outsized significance. A goodbye can be the step back that restores our appreciation of one another, our work, and our purpose, now from a bit of a distance, but without false idealization.
Over the course of this year, I have relished, while also grieving, the many "last opportunities" I would have as president of Amherst—to enjoy a particularly compelling talk or panel of speakers, a student performance or an athletic event, a thesis competition or poster session in the Science Center, our seasonal festivals, a random exchange on campus with a student, with a member of the staff, or with a treasured faculty member, the last staff picnic (at which I was given a most beautiful gift), the last meeting of the Committee of Six, a group with changing membership with whom I have met at least once a week for eleven years. Today, I will have my last senior staff meeting with a group of people I could not admire more and for whom I feel great affection and friendship. I have had my last meeting with the Board of Trustees, another group of remarkably accomplished, dedicated, and delightful people with whom it has been a gift to work over these eleven years. I have had my last visits as president with a number of our most fascinating, engaged, and generous alumni, people from very different walks of life from whom I have learned a huge amount about worlds I would never have known but for this position. And today I will have my last gathering with the president's office and house staff, a group on whom I have relied for everything I have been able to do. My mother was the secretary of a small elementary school in Campbell County, Virginia. I watched as she seemed to be running the place for a pittance of a salary while the principal was out hunting or fishing. I have not gone fishing or hunting when I should have been working, but I am keenly aware of my dependence on my marvelous staff. I will miss them terribly, their talent, their patience, their deep commitment, and their humor.
These months of internally "stepping back" have let me feel astounded anew by this place, the people who make it what it is, the connections and opportunities it creates, the quick and agile minds among students, faculty, staff, and alumni, the senses of humor among us, and the love all of this inspires. I step back aware of what we leave undone and of the work that remains, but also full of admiration for Amherst's achievements, its seriousness, excellence, diversity of people and ideas, and extraordinary beauty.
The past eleven years have been difficult years to be a college or university president. The next ten are likely to be harder, given the extraordinary challenges we face on so many different fronts. Trust in institutions, including higher education, has fallen still lower. Attacks on what we value come at us seemingly from all sides. It will be more important than ever that Amherst hew to its fundamental scholarly and educational values, principles, and purposes, that the community, despite its differences, pull together with courage and compassion to ensure that democratic institutions and the principles that undergird them can survive the onslaught of attacks that they face. Stepping back, in the ways Rich's poem imagines, reminds us that imperfection is part of what it means to be fully human and also to be a human-created institution. But extreme cynicism and wholesale destruction of fundamental principles and institutions are not. We would all be fairer to one another and wiser about institutions and what they require if we were better at acknowledging our own vulnerability, our own shortcomings, and remembering the vulnerability of others. Rich offers us some wonderful lines of poetry on this front:
How far dare we throw off the daily ruse,
Official treacheries of face and name,
Have out our true identity? I could hazard
An answer now, if you are asking still.
We are a small and lonely human race
Showing no sign of mastering solitude
Out on this stony planet that we farm.
The most we can do for one another
Is let our blunders and our blind mischances
Argue a certain brusque abrupt compassion.
It is possible to combine critique with compassion. Even if that compassion must sometimes be "brusque and abrupt," it still allows for more education before ultimate judgments, even when people's blunders irritate, even when they hurt. A community that is not open to one another's mistakes, sympathetic to one another's lack of exposure and knowledge, and open to continued learning is not a truly educational community. Let us remember that:
It takes a late and slowly blooming wisdom
To learn that those we marked infallible
Are tragi-comic stumblers like ourselves.
The knowledge breeds reserve. We walk on tiptoe,
Two-edged discovery hunts us finally down;
The human act will make us real again,
And then perhaps we come to know each other.
These lines mean a lot to me at this moment because I have grown so much by virtue of my eleven years here with you—in knowledge, friendships, emotional resilience, and, I hope, in wisdom. With this farewell letter, I am not saying goodbye. My attachment to Amherst is forever. And I hope to see many of you when we celebrate our 20th president's inauguration in October.
With warmth, admiration, and love,
Biddy