Viability Of Four Building Projects Called Into Question As Library Awaits Cost Estimates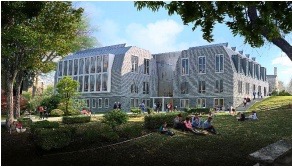 Jones Library News Highlights For The Week Of July 25, 2022
Finance Director Gives 'Chilling' Presentation On Town's Ability To Fund Four Building Projects
In a sobering presentation to the Amherst Finance Committee on July 19, Finance Director Sean Mangano described how deteriorating economic conditions have rendered a 2021 financial model for funding the Town's four major building projects no longer workable.
[See related Changing Economic Conditions Result In Revision Of Capital Plan]
"There's not going to be a happy ending," said Mangano. "We're not going to share a single model that checks all the boxes of what we hope to achieve."
Inflation, rising interest rates and volatile economic conditions have necessitated reevaluation of the financial plan.
Where the Jones Library, Fort River Elementary School, DPW and Central Fire Station building projects were estimated to cost $90.8 million back in February 2021, the current estimate has risen by $40 million to $130.8 million.
Mangano also provided a chart showing that the 30-year mortgage interest rate has gone from 2.67% at the beginning of 2021 to 5.81% in June 2022, indicating that borrowing will be more expensive for the Town.
Over the same period new spending priorities have emerged. The operating budget now includes two new departments — CRESS and DEI, and salaries for four new firefighter/EMTs. On the capital side, purchase of a ladder truck has been approved and funding for the Climate Action, Adaptation and Resiliency Plan is anticipated.
The bottom line is that future support for Town Services may need to be limited and a debt exclusion tax override required for the school project will likely be significantly larger than originally projected. The presentation did not provide an assessment of how taxpayers have fared financially during the economic downturn.
Town Council President Lynn Griesemer described the presentation as "chilling," while Councilor Cathy Schoen stated, "I'm not sure we can go for all four [building projects]."
Schoen continued, "You have removed $70 million [from the cost to the Town] because it's coming directly from the taxpayers. If we were to say that we don't want to go out for that much, but for $45 or $50 million, where are we going to get the rest of it?" She asked to have a discussion of the question "sooner rather than later."
Current estimates for the Town's share of project costs are $15.8 million for the Library, $70 million for the school, $25 million for the DPW and $20 million for the fire station.
In the meantime, the Jones Library renovation/expansion project is challenged by funding issues of its own. Fennessy Consulting Services reported this past April that project construction costs were estimated to exceed the budgeted amount by $3.4 million. Costs have continued to rise over the summer. The Jones Library Building Committee (JLBC) is now waiting on two separate construction cost estimates – one by Fennessy and one by an independent cost estimator chosen by the Town. The two resulting estimates will be compared and reconciled, and the final estimate presented to the JLBC at their August 9 meeting. Should the estimate exceed what has been budgeted, the committee will undertake a value engineering exercise to decide where construction costs can be cut.
Open Government Questions Surface At PPP Committee Meeting
The Jones Library Personnel, Planning and Policy Committee (PPP) met in person in the Goodwin Room on July 27 to discuss formation of an Equity Subcommittee and continuation of the Library Director Annual Evaluation.
Asked during public comment why the meeting was held in person unlike other Amherst government meetings, Director Sharon Sharry explained that she had posted notice of the PPP meeting and venue prior to July 15 when the special state provision allowing remote public meetings had been expected to expire. With remote public meetings now once again allowed by legislative order through March 2023, Sharry confirmed that future PPP meetings will be held over Zoom.
Sharry initially objected to the meeting being video recorded by phone camera. However, after being informed that state law (MGL 30A Section 20f) permits any person to make a recording of an open session of a meeting of a public body after notifying the chair, she agreed that it should be allowed.
Library Construction Grant Recipient Gloucester Adopts Taxpayer-friendly Funding Model
Gloucester's Sawyer Free Library recently received a sizable matching construction grant from the Massachusetts Board of Library Commissioners (MBLC). Examining Gloucester's approach to funding its library project may help Amherst officials and taxpayers to better evaluate the impacts and soundness of the Town's plan for a $36.3 million Jones Library renovation/expansion.
The history of Gloucester's effort to modernize and enlarge its 23,528 sq. ft. public library has been covered in the Boston Globe and Gloucester Daily Times. In 2007, city voters rejected a $7 million debt exclusion tax override for a proposed project. In 2017, the library applied for an MBLC construction grant to support a 15,000 sq. ft. renovation/expansion and were placed on the waiting list.
However, the library's plan to replace its 1976 building, located in the heart of the Central Gloucester Historic District, drew opposition from many community members who argued that the existing brick-façade building better fit the historic character of the area. So the library spent two years on a redesign that was met with wide community approval.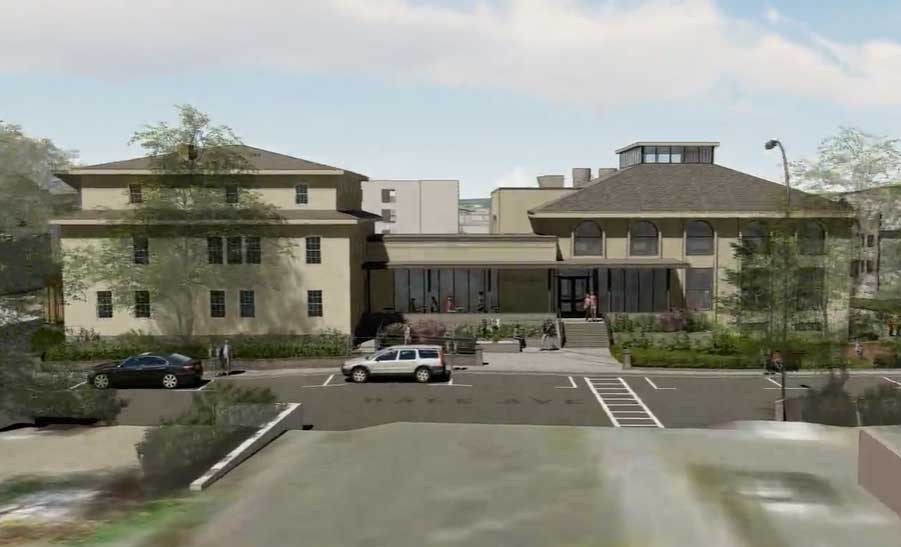 The MBLC announced on July 7 that it is awarding Gloucester $9 million toward a $28 million renovation and expansion plan. An additional $316, 052 will be awarded if the project can meet green building standards.
The grant is contingent on the library funding the remaining construction costs. Sawyer Free Library, Inc. like Jones Library, Inc. is a non-profit corporation, owned and managed separately from the city. After receiving advice from consultants that a campaign to fundraise the remaining project costs is feasible, the library has asked the City of Gloucester for a $28 million bridge loan to be paid back over five years.
Gloucester City Council is expected to draw up a Memorandum of Understanding with the library outlining terms and conditions, and vote on borrowing $28 million to advance the loan in October.
Gloucester's goal of paying for its library project without spending taxpayer funds differs from Amherst's agreement with the Jones Library to contribute $15.8 million from its taxpayer-funded capital budget toward the library project cost. The Town will be shouldering this expense while simultaneously pursuing three other building projects costing $115 million, and a debt exclusion tax override to support a new elementary school is expected to be placed on the ballot for a town wide vote in the spring.