A Better World Is Possible: Greyston Bakery Tackles Generational Poverty, One Blondie At A Time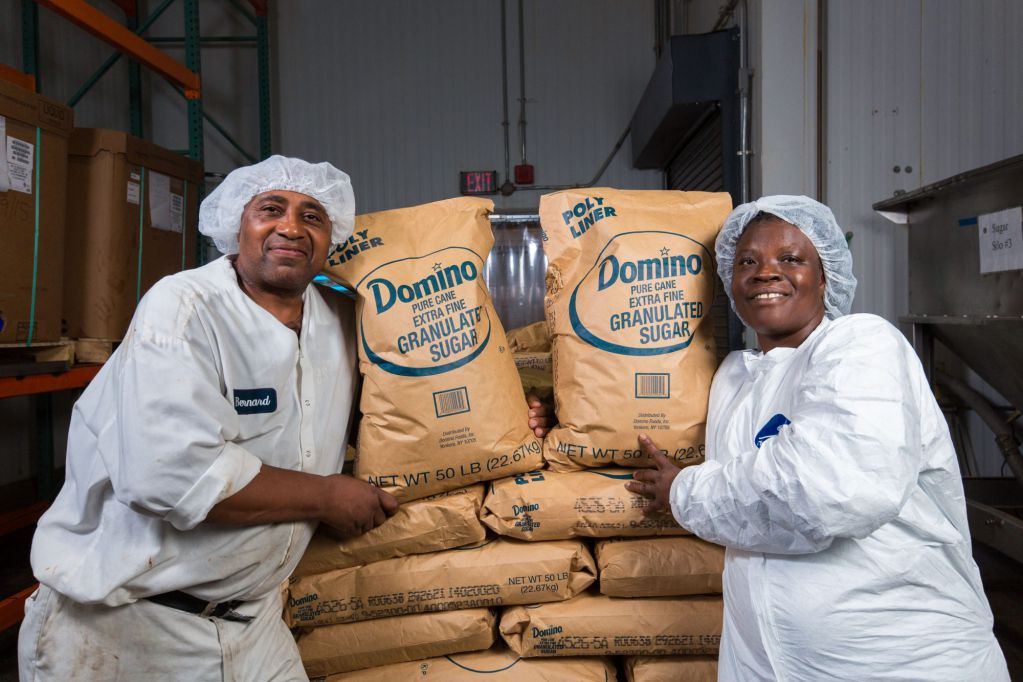 The following article by Kate Cox, appeared originally in The Counter, on 10/27/15 under the title Zen and the art of social enterprise. It is reposted here with permission.
Bernie Glassman wasn't planning to go into the food business when he founded Greyston Bakery in 1982 in suburban Riverdale in the Bronx. He was thinking about the poverty and unemployment that had snaked their way up the Hudson River from New York City to his community more than 15 miles away.
And certainly it is hard to look at the company he built as just another food business. Yes, Greyston's 100 employees turn out as many as 40,000 pounds of brownies a day for Ben & Jerry's and a line of co-branded cookies for Whole Foods, generating upwards of $13 million in sales in 2014. But it also has an aggressive social mission: To date, Greyston has provided jobs for thousands of difficult-to-employ members of the community, built affordable housing for 530 people, made childcare available for 130 children, planted six community gardens harvesting more than 23,000 pounds of produce, and housed 50 people living with HIV/AIDS. Today, with sales growing at an unprecedented rate, it is looking to its next challenge: Exporting its remarkable model to other communities with similar needs.
Zen Master Makes Cake
At the heart of the story is the unlikely entrepreneur Bernie Glassman. Born in Brighton Beach, Brooklyn, Glassman moved to California in 1960 to work as an aerospace engineer at McDonnell-Douglas. (He also holds a Ph.D. in applied mathematics.) In California, Glassman fell in with the fledgling Zen community and over the years was accepted as a Zen Master. He brought Zen back with him to New York in 1980, and the bakery was originally conceived as a way to fund work among the poor. Why baking? Mostly, it seems, because there was a big kitchen in the stone mansion where he lived.
Greyston started the way lots of food businesses do, with four or five employees, making high-end cakes and pastries for Manhattan restaurants and stores (Bloomingdale's, which in the 1980s had a fresh food department, was a Greyston customer.) The product mattered less than providing paychecks to people who were struggling against generational poverty. Greyston Bakery's mission was to meet that need; its motto said everything: "We don't hire people to bake brownies. We bake brownies to hire people."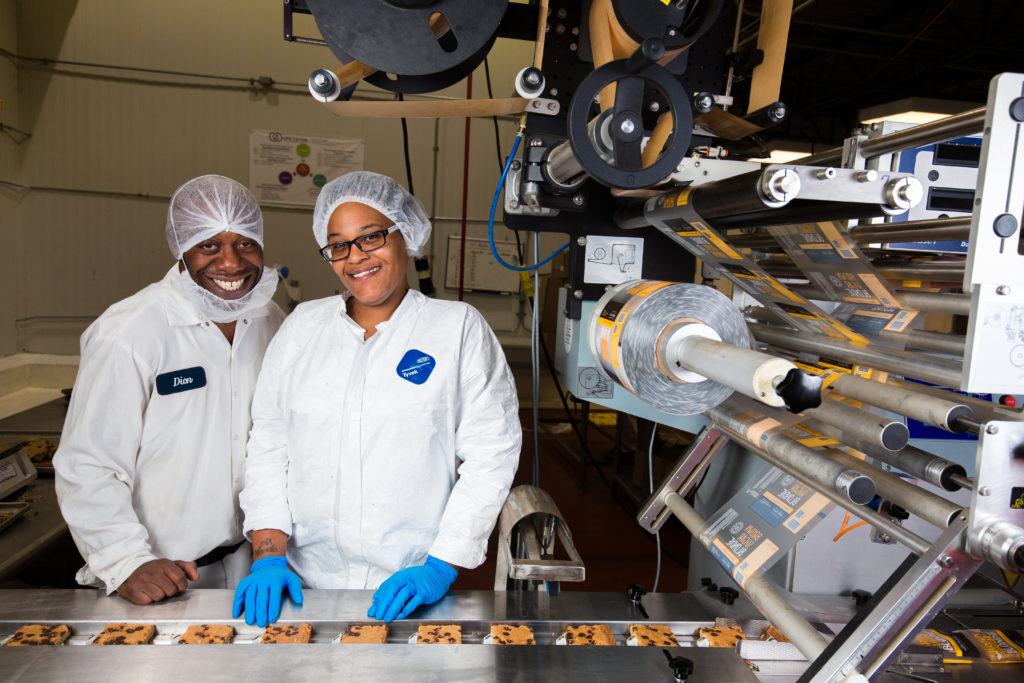 Over the next three years, the bakery scaled up and took a more industrial approach. Today it occupies a 23,000-square-foot facility on the Yonkers waterfront, a light-loving building designed by Maya Lin, whose credits include the Vietnam Veterans Memorial in Washington, D.C. The bakery tour takes you above the production floor. You can look down on it through big glass windows and see brownies en masse—baking, cooling, being chopped; sifted, flash frozen, boxed and palletized for shipping to Ben & Jerry's in Vermont, and abroad.
Training For Life
Social enterprise is business as usual for Greyston, but its open hiring policy is unusual, even among mission-driven companies. Open hiring means anyone who wants to work can be hired, even if they are chronically unemployed, formerly incarcerated, or lack a formal education. Greyston not only hires the hard-to-employ, it helps them map a path to self-sufficiency. Wherever a worker starts—at the mixer, on the production line—she'll get training for life and jobs beyond the bakery, and access to social services, like career coaching and parenting support.
Cee Cee Robinson is 34 years old. She's worked at Greyston since she was 20, longer than the average stay of three or four years. She greets me in a white suit and hair net. A pair of goggles hangs around her neck. "Greyston was my first job," she says. "I started from the bottom, baking brownies on the line, but I've been here so long, I get to dip and dive into everything. I got classes in the science of baking, food safety. I know how to make the recipes. I got to meet Ben and Jerry. They're some funny dudes." Robinson's real takeaway is an exit strategy; eventually, she'd like to open a restaurant. "The bakery made me think about what I wanted to do with my future," she says.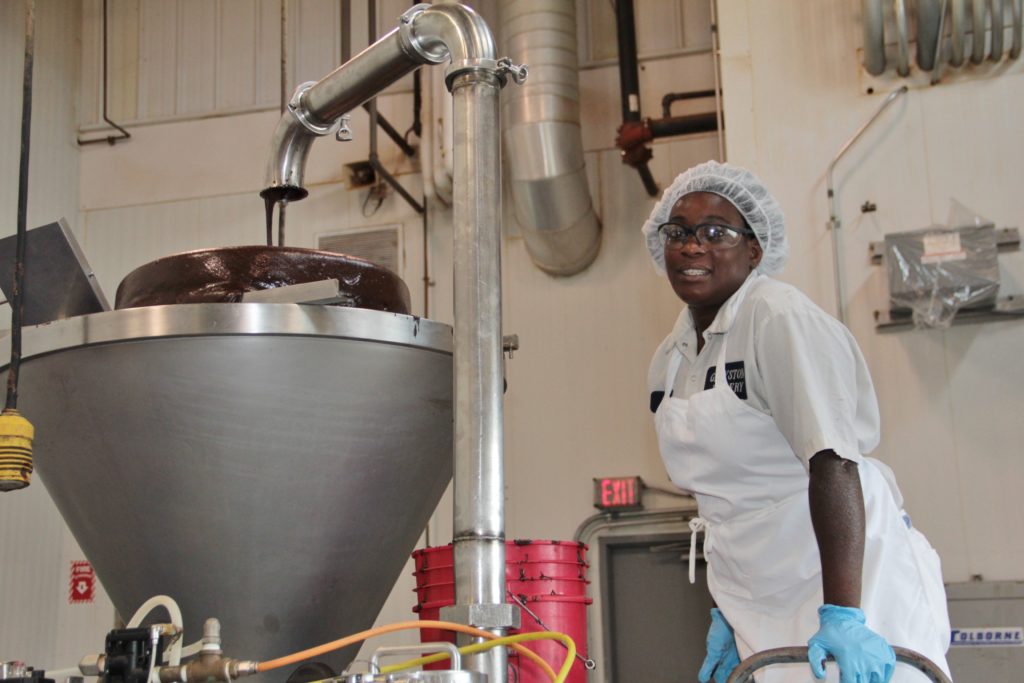 Passing The Torch
Bernie Glassman, now 76, still visits the bakery and is still an important presence, but these days he invests most of his attention in speaking, teaching, and guiding Zen Peacemakers, an organization he founded in 1996 with his late wife, Sandra Jishu Holmes. Since 2012 Greyston has been led by CEO Mike Brady, who "Significantly improved the quality and efficiency of the business," says Greengrass. The bakery runs 24 hours a day, five days a week, and business has been booming. Sales hit $10 million in 2012, $13 million in 2014. And the social mission hasn't been neglected. Greyston became New York's first certified B-corporation in 2012, and in 2013 it opened a $32 million housing development in Yonkers with 92 apartments for local families.
Greyston's getting exposure like it's a start-up – albeit one with an already diverse do-good portfolio—in part because Mike Brady's great at being public, he's familiar to food and tech worlds, and appeals to cultural interest in values-driven businesses. The morning of my visit he was scheduled to appear on MSNBC with Dion Drew, another of Greyston's baker success stories, to discuss open hiring. "While we make great brownies, we really want to encourage other businesses to look at this model and say you can be successful with any types of people that are coming into your business – and make world-class products," Brady told MSNBC's Tamron Hall during the segment.


Brady's comment may hint at Greyston's future growth strategy. The best way for a people-before-profit business to increase its bottom line is to clone its model over and over. "We are an entrepreneurial organization," says Greengrass. "We're in the process of codifying what we do and how we do it…we get one to two requests a week from businesses in other industries who want to consider our alternative hiring model."
The hope is they'll also consider the philosophy of a cake-baking roshi. "Loving action is right action," writes Bernie Glassman. "It's as simple as giving a hand to someone who stumbles or picking up a child who has fallen on the floor."



Kate Cox is The Counter's editor. She oversees partnerships and edits investigative, feature, and senior staff reporting. Prior to joining The Counter in 2015, Kate was a freelance reporter for radio and text, focused on health policy and the American age boom. She has written for The Guardian, The Nation, Huffington Post, and others. She holds a master's degree from Columbia University's Graduate School of Journalism, where she produced and reported a three-part radio documentary on the nation's first emergency shelter for victims of elder abuse.

---
Read More
Greyston Bakery: More Than A Brownie.   Greyston Foundation Website

Greyston Bakery:  Helping People Of Yonkers Thrive (from aim2floujrish.com)

Geryston Bakery: A Lesson For Revitalizing Communities (from aim2flourish.com)

Bernie Glassman's Memoir:  Instructions For The Cook