State Library Board Delays Release Of Funds For Jones Expansion Project Due to "Financial Capacity" Uncertainty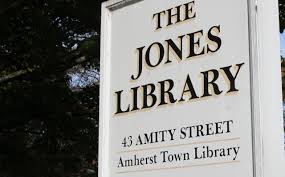 At the meeting of the Amherst Finance Committee on September 13, the committee was informed that the next payment from the Massachusetts Board of Library Commissioners (MBLC) to the Town will be delayed. The MBLC sent a letter (see below) explaining their decision to delay the $2.7 million expected mid 2023 until after a contract has been signed with a general contractor and a building permit has been issued. Those milestones are now projected out to late 2023 or early 2024. This will prompt a new cash flow analysis by the Town to determine how to cover costs in the meantime.
In strong wording, James Lonergan, Director of the MBLC, describes the multiple accommodations the commission has already made for the Jones Library Project and implies that further accommodations should not be expected.
According to MBLC Library Building Specialist Andrea Bono-Bunker and outlined in the contract the town signed, "the Board will not be held responsible for meeting any increased costs or increasing the amount of the grant award beyond the provisional award".
Owner's Project Manager Craig DiCarlo has also stated that the MBLC had communicated that further reductions in the size of the building will not be accepted.
One argument put forth for continuing with this project in the face of skyrocketing cost estimates that exceed available funding by between $10 and 17 million, cites the possibility of intervention by state and regional representatives to either increase the grant or allow other changes to the existing contract.
These recent communications from the MBLC are at odds with that hope. Lonegran concludes, "We (MBLC) have been as flexible as possible with your project to assist the Town in its fiduciary duty to its taxpayers. The same flexibility is warranted for the fiduciary responsibility our agency has to the Commonwealth's taxpayers"

The Letter from the MBLC follows.